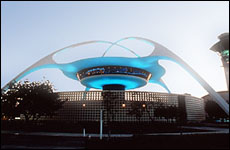 This week, Diana visited LAX to talk to business travelers about their feelings on flying. Did they really have a choice? And if they did, would they be flying right now?
No Choice

By Diana Nyad, 9/28/2001
I went to Los Angeles International Airport on Wednesday to talk to business travelers - People who are traveling because they have no choice. People who couldn't just stay home, even for a week or two.
Makai: "Myself I don't feel fearful or apprehensive about traveling. My heart of course is heavy and it bleeds for the individuals. However, as a strongblooded American, I feel that we can't let this get us down."
Makai Ali is flying to Washington DC for a Congressional Black Caucus gathering. He's typical of the business travelers I meet here tonight. They say - they're not scared. But their families aren't so calm.
Voice Montage: "My family's scared to death. They didn't want me to fly. My wife. My wife. My wife didn't come because she was very scared. Actually my girlfriend worried the most. I call her as soon before I take off I call her as soon as I land, she's concerned."
Most of these frequent fliers don't mind the tougher security, although you can come across a few who are aggravated by the delays.
Patty: "I don't want to go because of the hassles at the airport."
Make-up artist Patty Bunch is on her way to Florida for a meeting at the Home Shopping Channel.
Patty: "I wanted to just to be able to run on and got to the gate and then I found out, no you have to stand in line with everybody else. And that bothers me more, it's the wait."
Diana: "Aren't you glad they're taking all these precautions?"
Patty: "Yes, the answer's yes, but I think they're taking too many, which is gonna stop people and I think that's the problem, that Mr. Bin Laden is like, going 'Yay, look at what we've done to them.'"
A few more passengers arrive. But there's no bustle. It doesn't feel like an airport. One guy comes by almost running with his carry-on - He's obviously just in the habit of hurrying - everyone else is sauntering.

Perhaps even more remarkable is that everyone is willing - no, they're outright eager - to talk to a stranger with a microphone...just as Tony Kahn found earlier in the week in New York City. It's as if we all need to keep a conversation going about what has happened, and what it means.

Tony Loomis from Connecticut works in finance.
Tony: "Any nervousness: Not really, its probably a safe time to fly now. (Nervous laughter.) I wasn't really nervous about it, maybe I should be(ha ha)."
John: "The plane was full of people, so you start looking around behind you and who's sitting around you."
Diana: "Is that a brand new feeling, had you ever done that before?"
John: "No, not at all I mean, you kinda realize how helpless you are in that situation, because if anything goes wrong, there are a limited number of things you can do."
John Satram is in the aerospace business - he's on his way back home to Washington DC. This will be his FOURTH flight this week. As I listen, I realize that what he - and Tony, and Makai - what all these business travelers are doing - is summoning their courage. They're not just thinking about what might happen to them; but about what they will find in themselves to do about it.
John: "The first couple of times I got back on plane, its like you're thinking about the numbers and what's the probability of another terrorist attack. But after you take that objective look at things, the subjective starts filtering in, it becomes an emotional response, and you put yourself in the position of someone who'd been in one of those planes that day, and you just can't even comprehend it."
Makai: "If I'm on an airline and somebody gets up and looks suspicious, I'm going to sit them down. I'm going to sit 'em down."
Diana: "You have a mom and you have grandma, do they like the fact you're getting on a plane?"
Makai: "I usually call my grandmother every time before I fly, I always call and we always have prayer, every time."
Diana: "Are you going to call your grandma now?"
Makai: "Oh yeah."
Diana: "Is she going to ask you not to go?"
Makai: "I don't think she'll ask that because she's a strong believer in God, I think she'll probably tell me, you know, if anybody gets irate, set em down."
Return to Feature Archive