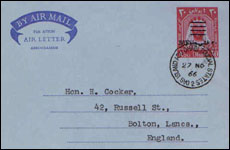 We heard earlier in the show from an American writer living in China and it was interesting to get a sense of what it's like to be far away when crisis hits home. Well, now we turn to another American who experienced the disaster from foreign shores. As Scott Rosenberg describes it, there's both frustration and heightened emotion to being far away as the details emerge. Scott sent this post card from Mexico, looking at tragedy from paradise.
Postcard - Far From Home

By Scott Rosenberg, 9/21/2001
I am standing in the Pacific ocean. People are surfing, playing Frisbee, working on their tans; who are they? I feel ashamed to be so safe, in Mexico on vacation, and yet I'm stuck here for the time being.
That night, I go back to the room, where there is no TV, no phone, and of course, no computer. It feels very, very quiet and far away from where I'm supposed to be.
A couple of days pass. No flights are moving, so I'm still on forced vacation, exiled in a beach paradise. There are moments when I start having fun, laughing - then suddenly it hits me and I feel guilty, out of place, weightless. I am not experiencing the fear and heaviness that I read about in the emails from my friends.
More days pass. I travel to Oaxaca City as originally planned because I don't know what else to do. I climb ruins and browse artesinias markets with half-hearted distraction. I taste chocolates, moles, mezcals. Nothing tastes particularly memorable. Nothing feels real. I stop taking pictures.
Mexican Independence Day comes. The entire city is gearing up for a blow-out. News of the attack is replaced with images of parades, salsa bands, marching school children in uniforms.
My stomach seems to revolt at the thought of celebration. I'm sacked out in bed by 8 o'clock. Around 11pm the party start in earnest - thunderous explosions, gunshots, fireworks. Lying there in the dark, my brain transposes the noisy celebrations into an ominous nightmare that feels too close to reality.
I want to go to California to be with my family. I want to go to Chicago to be with my friends. But after being so far away and feeling so out of touch... most of all, I want to go to New York, and try to understand for myself what's going on.
Return to Feature Archive