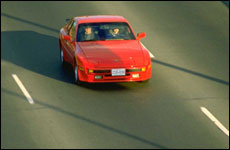 Sharing cars may be a new concept for individual drivers, but parents have been carpooling their kids for decades. Thousands of kids hop in their parents' and their parents' friends cars to get dropped off and picked up at school, soccer and guitar practice. Reporter, and mother, Pippin Ross inspired herself to dig down for a positive attitude about a trip she used to dread - her turn at the carpool wheel.
The School Carpool

By Pippin Ross, 9/7/2001
When it comes to car pool...I admit, I've had a bad attitude. I believed the only good thing about it is when it's not my turn to drive. And I did all I could to negotiate - okay make that dump - my turns on my husband.
Pippin: "We sort of forgot to discuss this, but I have to go to boston in about 20 minutes...so you're on."
John: "Boy oh boy...carpool..."
Pippin: "Nick! Come down for breakfast!"
Our carpool involves my son Nick, the three Melikian boys - another Nick, Victor, and Marky - and Dan Ryan. Five boys, ages 9 to 14, who must be dropped at three different schools. This complex arrangement is our punishment for living several blocks out side of the school's bus route.

The other problem with carpool? Afternoons. Not only does the mid afternoon trek to three different schools rip the guts out of your day, but with this gang - maxed out as they are on extra-curricula activities - someone's always forgetting they're doing something else and don't need a ride...or they do need a ride - later.
Nick: "I have a variety show rehearsal, so I can't come today...it ends at four so can you just come get me at four?"
Pippin: "Grrrrrr can you get a schedule for this?"
The whole schlepp could really get under my skin. But then I realized, contained as we were in my old van - this was rare chance to listen in on the kids. Like the day when big Nick, a freshman football player, told the other boys a story about a moment of being accepted by the older kids at school.
Nick: "I was freezing...and I saw my whole team they were all sitting with the sophmores and juniors and it was really hot over there because of all the body heat. They were blocking the wind for me..."
My heart melted, awash in the memories of the scary world of dances, romances, and multiple choice exams. I felt maternal and protective knowing that despite new hair growth and the bouquet of manly deodorant, they were still little kids.

The member of carpool who brought the most pleasure and mystery to the slow, 8 mile trip was Dan. He's autistic. Out of the blue, he'll remember something he's seen before and passionately relive it - giving us all access to his intriguing mind.
Dan: "Don't worry Pippin...it's an accident! The jeep got a flat tire and the car behind it crashed into the back of it. The police got out of their station and rushed to the accident...."
I began to think of carpool as a chance to in some small way contribute to the development of the next generation
Pippin, as Nick sings hip-hop: "Nick, you're a white boy from suburbia..."
After a while, I became possessive of my time with the boys. I'd happily volunteer whenever another parent had to bail. When I learned I wasn't their favorite driver, I was crushed.
Pippin: "You like Joanne Melekian more than me? Don't tell your mother that it will swell her head!"
But I knew how to win them back...I'd stop fighting with them over control of the radio.

And so something as seemingly banal as carpool has taught me an important life lesson - with the right attitude, it can be more than a commute - it can be a downright trip.

I'm still going to see if i can get my son on the bus route this year. Wonder who I have to bribe?






Return to Feature Archive