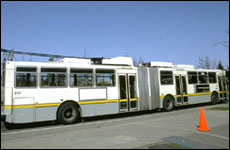 This week on the Savvy Traveler, we'll see what it takes to rule your commute. When it comes to the daily trek to and from work, what's the fastest means of transportation? Perhaps more importantly, what's the most creative way to deal with the rigors of traffic? We'll find out during the Savvy Traveler Commuter Race...

Meet our contestants. Jane commutes from the Oregon countryside to Portland. She and her husband drive part of the way, and then Jane takes the bus for the final leg of her trip. In Alabama, Craig and Natalie walk to their offices in downtown Birmingham. Leslie takes the subway to her job in New York City. In Los Angeles, Ben rides his bike to work. Finally, Megan in Nebraska telecommutes. Now, we know that - barring a tanker spill in her hallway - Megan's going to win the race. But who will come in second? And who will win our Artistic Merit prize? Find out by staying tuned...
The Commuter Race

9/7/2001
Race Notes:
Our commuter contestants got us wondering about how most Americans get around. This is what we found out. Americans don't walk much. We only take 5% of our daily trips by foot, whereas the Europeans and Japanese take 20 to 50% of their trips by foot. And we don't bike much, either. In one American Transportation Policies study started 20 years ago, the word bicycle is not mentioned in 527 pages. Most of us drive. We spend an average of $5,000 a year to own and operate a car. And in big cities, close to half of all urban space is dedicated to the automobile, meaning more land is devoted to cars than to housing.
Return to Feature Archive