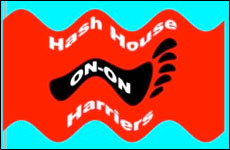 It started about 60 years ago. Ex-pats, business travelers, vacationers. None of whom know each other. All of whom have two things in common. They like to run. And they like to drink. They meet up on easy-going afternoons to jog a few miles and lift and few pints, sort of instant fraternity pals. They're called Hash House Harriers and there are chapters all over the world. We sent our contributor Anne Marie Ruff to join in as an honorary member of the Harriettes Chapter of the hashers, which is a lively group that runs and drinks and laughs quite a bit, every week in Bangkok. The Hash House Harriers have 15-hundred groups world-wide, so if you're in that fraternity frame of mind, chances are you can - Like Anne Marie - join in for a jog and a quaff.
Hash House Harriers

By Anne Marie Ruff, 8/17/2001
I am what hashers call a virgin. This will be my first run of the venerable hash tradition which traces its roots to bored british soldiers stationed in Malaysia. I was convinced to do it by a Dutchman I met in Turkmenistan. He told me that the hash was a great place to meet travelers, make friends and even do some professional networking. Right now though i'm more worried about whether i will be able to keep up With the three dozen hashers who have gathered here.
But my worries disappear as I discover it is less like A run and more like a wild goose chase. The object is To follow a trail of shredded paper tossed on the Ground every thirty feet or so...set out by some enterprising hasher the day before.
I spend an hour or so getting lost with hashers from Kobe, Japan, and Vientien, Laos. We run through rice paddies, people's front gates, and Buddhist temples before winding our way back to the starting point. There I get a crash course in hash jargon. There is The hash cash...the guy who collects the fees for food and beer...or piss as they call it. There is the hash trash...the weekly newsletter that someone devotes far too much time to...and the hash crash...the act of showing up on the doorstep of a Fellow hasher.
Helen: "So when we travel, we look on the internet to the place we're going and see if theres a hash and get a contact number and get in touch with them."
Andy: "So all you got to do is get yourself a cheap flight and you got a cheap holiday for a couple of weeks."
An instant international network of friends and welcoming homes sounds like a pretty good deal...but why all this running back and forth in the tropical heat? Two guys who call themselves Bug and Qadaffi offer some reasonable reasons.
Bug: "Because people from ambassadors down to managers of very large organizations can go out there and relieve the pressure on their life, their business life...and just run crazy through the bush like we did today."
Qadaffi: "But we are a bunch of crazy people and the things we cannot do at work we do in hash, you will find out in the evening. All the crazy thing all the things we can't do at home cause There are kids or the wife is very serious..."
But the reason a guy named Ringworm gives seems more realistic.
Ringworm: "Idiocy basically, idiocy and alcohol."
These guys may be upstanding individuals at work. But professional networking seems to be the furthest thing From their minds. Out here their only job seems to be proving their prowess as vulgar...boorish hashers...more interested in dirty jokes than local cultures.

Indeed the humour gets pretty base as I am Symbollically deflowered of my hash virginity in the circle that forms after each run. My rite of passage consists of my consuming a piece of chocolate in the Shape of...you guessed it...a human phallus.

But I am not alone in my humiliation. Bug is made to wear a set of rubber breasts over his sweaty t Shirt...the Italian Stallion is ridiculed for trying to impress the ladies. The circle of torture is eventually dismissed and we all devour a traditional Thai meal before settling back to the bawdy song swap.
Song: "Yankee make love on silk pillow, British soldier throw me on the floor and Yankee pay five dollar more..."
While this run hasn't gotten me any in's with powerful politicoes or well connected bankers...and while I may actually question the sanity of people who are devoted hashers...there is no denying that they have all opened their vulgar arms to me...and they open a doorway into almost any country I could ever hope to visit.
Bug: "The hash is just great fun, end of Story..."
In Bangkok, Thailand, I'm Anne Marie Ruff for the Savvy Traveler.


Savvy Resources:


Anne Marie ran with the hash house harriettes, a club run by women that runs every wednesday afternoon in and around Bangkok.

You can find out more about harriers around the world at http://www.gthhh.com/.





Return to Feature Archive