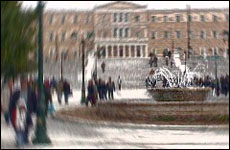 Now, we've heard about being the victim of a crime, but what about being a victim of the criminal system? Performance artist Hank Rosenfeld (;o) ) is the kind of guy whose life sounds like a Hemingway short story...or maybe a Hunter S. Thompson creation. Hank's always mixing it up with unsavory characters and winding up in sticky situations...like this one.
Hank's Crime Drama...or, My Greek Salad Days

By Hank Rosenfeld, 8/3/2001
The day the Athens cops got me for robbing the National Bank of Greece, I pretended it was all a movie. I'm an American, I've seen too many movies, so I want to immediately zoom out when things get larger than Life, larger than...my life can handle. Like these five huge GRECIAN guys...detectives pulling me off the ferry...minutes before we hoist anchor out of Piraeus port.
"Do you know a Richard Glass?" the littlest of them asks – this one's a cross between Oliver Reed and George Herman Ruth. "I know OF him" is what I say, because it sounded so - I don't know - NOIR. But by the time they'd cuffed me and led me from the dock - thrown me into the back of their unmarked car, I'm pulling out wide-angle on this "WHATS WRONG WITH THIS picture", detached enough to actually believe the world IS like what Philip Roth wrought...er, wrote, "Its all some kind of - show! And we are all only...talent...assembled by the great talent scout up above!"
Well, then, who do I play? Ug-i-ly Affronted American? Outraged yet very-bribable tourista, open 24/7 – How bout vagabonding Global Hobo who should Just beware of Greeks bearing guns? "THANK YOU, I'LL BE IN MY CELL ALL WEEK!"
Because by the time I meet the Chief at police H-Q, they've pretty much pegged me: short, sandaled, scraggly-beard, khaki-backpacking, commie-Zionist-Jew. In the middle of Thornton Wilder's definition of An Adventure: "You know you're in the middle of one, when you wish you were home in bed."
Back up. Just the facts, phile man (that's greek for brother)...
Just before I was so rudely apprehended, I'd been sleeping two weeks straight on Richard Glass's floor. He was the editor of The Greek Times, a new daily newspaper fronted by a Mr. Costas, a Conservative in the upcoming Greek election. Costas used the "Times" as we called it, to buy himself a party voice. Glass staffed it with a bunch of Brits and Northern Euro-layabouts, freelance ink-stained subversives like me, all thrilled to all of a sudden be - FOREIGN CORRESPONDENTS!
I watched this nutjob Canadian, by that I mean editor Glass, drink six Pepsis, and scarfing non-stop smokes at "Socrates Prison", his favorite hangout in the Plaka. He treated us to every meal on Costa's dime. But when Costas's phile lost the election...BZAPT! Plug pulled, no more flow of dough so, poor Richard panicked, went out and grabbed six thousand drachmas from the National Bank of Greece in the middle of Athens. (That's about three thousand, American)
Okay, a savvy traveler I obviously am not...I've got at the most 15 words of Greek, which I repeat over and over to let the cops know, you know...Parakalo! Efharisto!...please and thank you. "Karpouzi:" "Watermelon." Mmmm...who doesn't love KARPOUZI! ...it's OREAH — beautiful. And there's the winning political slogan I've been hearing the last two weeks: "ALLA-YI! ALLA-YI!" Change!...yes... Change. Unfortunately these police detectives kinda liked things just the way they were...back since the days of say...the 1974 Junta, like in the movie "Z," so who are you calling a beautiful melonheads?
But they're laughing so I go for my Grand Finale - raising my arm like I'd seen a million Hellenicians do the VERY night before when hopes ran high for the Kosmos, AY...and for the young staff of the Greek Times...there I was swinging around Syntagma Square in a circle dancing with Melina Merkouri movie star and soon-to-be Minister of Culture, oh yes, where have you gone, Zorba the Greek, a nation turns its lonely eyes to you..."Opa!"
Then all of a sudden, out in the hallway...appears Richard Glass. He looks like one of those common thief characters on the prowl in the Plaka, gritty and unshaven. He lifts his handcuffs and winks at me under them! Just like in a movie...so what can I do but point my dirty finger back at him for all to see: "J'accuse!" Then I look down in disappointment, a turncoat turning his back on a former colleague.
What I hadn't told the Chief was how Richard told me that night in Syntagma Square he needed money to get out of here to get to Canada...something about a a job with the Toronto Star. Yeah right.
Instead I said, "Chief, you gotta see, Glass, he is... Karpouzi...crazy because he's scared. He's afraid to be open, afraid to love." Not that they're interested in a psycho-bio profile from their little commie-beatnik-Jew in handcuffs. But yeah. Glass was crazy. He had to be, didn't he, to steal 6 Thousand Drachmas?
But now they had him, and So were done with me. Less an accomplice now, than a "GUEST?" I'm told I could sleep in the police station and catch the ferry the next day, but I needed out of Athens Now - And feeling a bit of the upper hand ala Ken Kesey's "Cops and Robbers game," I made my stand – but not before Yannis kicked and slapped me around a bit...a quick taste of the old regime...and I DID use the wrong word once or twice. But I DID get them to pay for a night flight instead...straight to Rhodos ahead of the ferry. Outraged, bribable, ugly American me.
The next morning covering half the front page...is Richards's face. Funny, says they caught him with the stolen drachmas on "Amerikis" Street. A security guy from the National Bank tackled him, with the aid of a good Samaritan from Germany - but not before, falling to the ground. Glass, it said, "threw thousands of drachmas into the air, the multi-colored bills blowing all over Syntagma Square."
Yeah. He was crazy. And he never liked my writing. Before the cops put me on the bus to the airport, they drove me back to Richard's apartment. Throwing me and my backpack onto the street, Yannis said, "Here are his keys, take anything you like."
They pealed off. I went inside. Nothing to take, really. I fed his cat...and took his typewriter.
Return to Feature Archive