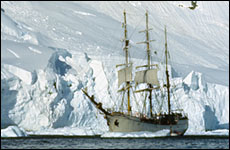 Literature has long promoted the island of Tierra del Fuego as a mysterious place - in a league with Zanzibar and Timbuktu. Seafarers, in particular, regard it with abiding respect, for its most renowned feature is Cape Horn. The clash of oceans and bitter Antarctic storms make this graveyard of ships and sailors the infamous Everest of sailing. Writer Todd Jarrell sailed from there recently on the tall ship Europa, en route to points South.
The End of the Earth

By Todd Jarrell, 7/13/2001
This nether tip of the American continents has long held a fascination for adventurers. The pall of native warming fires along this stark, forbidding coast caused Ferdinand Magellan, in 1520, to chart the place as Tierra del Humo - the Land of Smoke. Magellan's boss, King Charles V of Spain, preferred a snazzier label and so it became known then, as now, as Tierra del Fuego - The Land of Fire.
Here are the isosceles peaks children draw, wind-whipped and sheer, leaving no doubt as to their simple wildness. This island is the end of the Andes, the period at the close of the Continental Divide's long meandering declaration. When people speak of "the last place on earth," they are referring to a place such as this; the locals call their home "El Fin del Mundo" - "The End of the World."
Despite the short warm season, the area is full of life. Penguins practice their odd waddle and fur seals belch and laze on the rocky islets of Beagle Channel. Dolphins frequent the bay where seabirds snip morsels from the icy waves. Kelp Geese and flightless Steamer Ducks pluck and mutter in the thin margin of wetlands.
Another species, a distant cousin to the North American Snow Bird, also visits these shores. Normally land-bound, they arrive in great, curious migrations from the sea. An entire flock of hundreds - sometimes thousands - arrive as one, marking their presence with an single unmistakable voice…
Cruise Ship Horn: "BBBWWAAAAA!!!"
They disembark in this island town of Ushuaia for a few hours to stroll about buying postcards and souvenirs. Though their stay is short, their cumulative financial impact is notable… not to mention their social rituals.

Spurred by government incentive programs the town's population has swelled. Many newcomers move here to Ushuaia to service the influx of visitors not only to Tierra del Fuego, but also to the real End of the World - Antarctica.

This season twenty ships ran tours to Antarctica. Most of these were luxury cruise liners which, with their amazing profusion of lights resemble nothing more than Darth Vader's Death Star on a black night time sea. They steam into town for a few hours to reload with fresh passengers arriving through Ushuaia's spanking new jetport, the nearest runway to the farthest continent.

There are those doomsayers who warn that the end of the world is coming. The prophecy might be more accurate were they to say that the End of the World is going… as El Fin del Mundo becomes more and more just a stepping-stone to the Last Place on Earth.






Return to Feature Archive