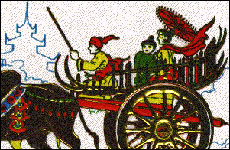 Are there places in the world you would never visit? Places that offend you too much, whether it be human rights policies or treatment of animals. Indonesia, Turkey, China, Tibet and Cuba are all on a list that groups such as the UN International Labor Organization suggest we reconsider as vacation choices at the moment. But the hottest debate among those advocating politically correct travel right now focuses on Burma.

Nobel Peace Prize winner Aung San Suu Kyi is the elected leader of Burma, but her cabinet is waiting in the wings, powerless behind the violent military junta. She implores foreigners not to give precious tourist dollars to the violent regime where individuals are routinely imprisoned for even discussing the military's actions. The anniversary of the assasination of Aung San Suu Kyi's father and his staff, so-called Martyr's Day, is coming up this week. It's a time of unrest in Burma - or Myanmar, as the natives call their country. We sent our contributor Jeff Tyler to this land of controversy to find out for himself how the Burmese people are living under the current regime.
Feature: Should We Go to Burma?

By Jeff Tyler, 7/13/2001
People first settled in what is now Burma about 5000 years ago. And I'm pretty sure they arrived on this ancient bus. Seats like stone, no headrest… and of course no heat for the chilly nights and no AC to off-set the tropical heat. I rode with my knees on my chest, my feet on crates of tomatoes, following the muddy Irrawaddy River out the window, as it cut through golden fields of wheat. The radio worked more reliably than the motor, and we stopped repeatedly for repairs.
As the bus left the capital, Rangoon, we passed huge portraits of serious old men in uniforms. The ruling military junta. The same guys who refused to recognize the country's democratically elected leader, Nobel Laureate Aung San Suu Kyi (Ong San Sue Chee), and keep her under house arrest. The same men who ordered soldiers to crush the democracy movement in 1988, killing over 3 thousand people.
I almost never dealt with the military during my two weeks in Burma. Every few hours, our bus was stopped at a checkpoint, and the driver jumped out to get his papers stamped. The young soldiers rarely came onboard. And when they did, they never hassled me.
The government did, however, try to keep tourists at a distance from the Burmese. The moment I arrived at the airport, after getting my passport stamped, the Burmese were funneled one way -- to baggage claim. The tourists detoured to the currency exchange, where we were forced to change 200 dollars into a nearly worthless money used only by foreigners.
At customs, a man in a military-style uniform searched my bags. I was sweating here. Journalists are rarely allowed into the country, so I was traveling on a tourist visa. I figured, if the customs guy discovered my microphone and minidisk recorder, I'd get kicked out. Before ever leaving the airport. But the official inspected my bags halfheartedly. I slipped past.
I took a taxi into Rangoon and dropped my bags at a budget hotel I picked at random from my Lonely Planet guidebook. Down near the sleepy railway station. Where the asphalt turned to dirt. Five bucks a night, including cable TV that picked up The Tonight Show. As I watched Jay Leno win laughs at the expense of George Bush, I remembered reading about two Burmese political satirists. Tame by the standards of American late-night monologues, their jokes poked fun at the military leaders here. The comedians fast found themselves in prison doing hard labor.
Around eight that night, I turned off the tube and wandered around downtown Rangoon. It was shuttered up like a small town on Sunday morning. I pressed on to my destination: The Strand, the kind of place that might attract ex-pats on a Friday night, who could share insights on life in Burma.
The only other customers in the bar: Three European backpackers in their early 30's. Hippy types playing pool and drinking half-priced cocktails. I chatted with one barefoot woman, a Brit, who I'll call Lisa - she asked me not to use her real name. She'd been to Burma in 1994 and was on the last day of her second trip. But when I told her I was a journalist, she scanned the room for eaves-dropping waiters, then walked away. When I approached her again more discretely, she agreed to talk to me, but not here. Not where we were being watched.
We ended up back at her 12-dollar a night hotel room. Well-maintained, like an upscale Motel 6. With a phone, a mini-bar, and cable TV.
With CNN on to cover our conversation, Lisa spoke freely.
Lisa: "When you visit certain areas of this country and you speak with certain people, you do gain a certain paranoia. And even when you're speaking with other travelers at tea shops, I found myself looking over my shoulder this time...and we were like, 'you mustn't speak too loudly. You don't know who is listening.'"
So it's hard to find people willing to talk? I asked. No, she said, it's better now. On her first trip, back in 1994, locals feared any dialogue with foreigners.
Lisa: "It's changed a great deal in that, now, you'll get everybody speaking to you. Whether it's just to say hello, whether it's to practice their English, or whether it's to put their side about what's happening politically in the country."
Jeff: "So they will talk to you about politics?"
Lisa: "Certain people will. Yeah."
Those 'certain people' had told Lisa stories of family members beaten by government goons. People who disappeared, never to be seen again. But when I pressed for details, Lisa said...
Lisa: "It's really difficult to explain, because then you'll obviously be able to pin-point who I've been talking to."
Jeff: "So you're reluctant to them me their stories because..."
Lisa: "I'm not reluctant to tell the stories, but most of the people I've met are very keen to give you information. But for example, if you we're to use that information in the form of a book or an article, they make sure to say that you're not allowed to use their names, and you're not allowed to use the place they came from, because even if I were to change the name of the person, but say they were from 'X' town, they say the government would be able to trace them. That it would be pretty easy to pin-point them."
After promising to take her responsibility for these people as my own, she gave me the name and location of a Burmese man who might speak openly.

She also suggested I visit a few of the must-see sights in Burma. So I set off to find a politically outspoken mystery man, stopping along the way at the temples of Bagan and the artisan village at Inle Lake.

Inle Lake is a tourist trap. The residents live in wooden homes on stilts in the middle of the lake, traveling by boat.

At the weavers shop, women pressed bare feet against the peddles of wooden looms. At the blacksmith, sweaty, shirtless men slammed hammers against molten iron. Turning out ceremonial daggers for tourists. . It reminded me of Williamsburg, Virginia, where actors re-create the life of artisans in the 18th century. But here, the poor men and women are LIVING in the past.

I struck up a conversation with a restaurant owner. When we were alone, the soft-spoken man said in halting English that he'd lose his business permit if he were caught talking about the military government. He'd be out of work and lose what little he had. I asked him to say THAT on tape... Surely, the government wouldn't object to him saying tourism supports small business? He stared into space. His eyes filled with tears. All he said was: "I have a wife and children."

Later, I walked along the river bank with a woman I met at my hotel: an introspective 28-year old Swedish backpacker named Maria. I wanted to know why the stigma attached to Burma as a tourist destination didn't keep her away.
Maria: "Myanmar has a great fascination and attraction because it's been a closed country. It's like an adventure. In my own naive, Swedish way, like an adventure of seeing something that is off-limits. It has an attraction to do stuff that is forbidden so to speak."
Ironic, isn't it: the Western boycott of tourism has helped make Burma attractive, appealing to those who like to venture WAY off-the-beaten path, where white people are still unusual guests. Fewer than 200-thousand thrill-seekers visited in the year 2000. Compare that to the 9 MILLION foreigners who flooded neighboring Thailand in the same year. And it's only in the last decade or so that Burma opened for tourists at all. After the military coup in 1962, the army closed the borders. Just the kind of place for backpackers who imagine themselves intrepid. Cocky travelers who engage in a game Maria describes as testosterone-driven one-upmanship.
Maria: "'OH, but you should have gone to THAT place. Oh, you didn't go there. Uh-huh.' It's the kind of status thing of going to the most un-touristic areas, doing the most un-touristic things...it's the same way of coming here to Myanmar. It also have a status, kind of. 'Oh, so you went to Southeast Asia, did you go to Myanmar?' No, I chose not to. 'Oh, it was a great place. You really missed something there. Pity.'"
Jeff: "Bragging rights."
Maria: "Bragging. Yah, it's bragging."
But when backpackers push the limits in Burma, somebody else pays the consequences. Back at our hotel, the proprietor told Maria and me a cautionary tale about another tourist. Flaunting his independence, this kid ventured into an area off-limits to foreigners. But like all travelers, he had recorded his passport and visa number at the hotel. The government apparently pays attention, because when he checked out and went off the radar for a day, stern officials showed up to harass the HOTEL OWNER. They forced him to take time off work to drive around the country until he found the guy and dragged him back to the tourist zone.

That night, I began to fear that the government might be tracking ME. If at some point down the road they confiscated my notes, they'd be able to trace my steps back to the people I interviewed. So I started writing the names of people and places in code.

The next day, I put my worries in check and got on a bus bound for what travel writers describe as 'one of the true wonders of Asia' and the place in Burma 'not to be missed' - the ancient city of Bagan.

There's no hyperbole in calling Bagan one of the greatest Buddhist monuments - up there with Angkor in Cambodia. But you don't get the same massive crowds. At the largest temple in Bagan, with the sacred Buddha footprints and the 900 year old statues. I bumped into a few tourists. But with hundreds of earth-toned pagodas spread over miles of desert, I could peddle my beat-up rental bike from temple to temple with only cactus and crows for company.

I returned again and again to one shrine. Along with bald-headed monks in cinnamon robes, I bought flowers for the altar. Then took off my shoes and squeezed in with the men and women, young and old, bowing in prayer before golden statues of Buddha. I sat still in the corner, intoxicated by the aroma of fresh jasmine and over-ripe fruit. But as any Buddhist will tell you, such peace is transitory.

A few days later, I finally found the mystery man Lisa had told me about. You'll understand if I don't tell you where he lives. Let's call him James. We met in a tea shop. Worried that my interview might get him in trouble, I insisted we go someplace where James wouldn't be overheard. So we sat behind the tea shop, under the drone of a generator.

James was eager to talk, but he understood why others were fearful.
James: "They have to risk their life. And they can be tortured, and probably they will be disappeared. Disappeared means that they will be killed. Because police officers and military intelligence are watching them."
I glanced nervously over my shoulder every few minutes, but James never whispered. In a defiant voice, he spoke about dangerous subjects. Like the drug trade. Burma is the world's second largest producer of heroin, and the drug lords and their kick-backs make the military leaders rich.
James: "Heroin is very PROFITABLE. It takes the whole year, hard work, but they make more and more profit. Half of their profit, millions, will go to the government."
James said Burma's economy is based on isolation and corruption. Remember all those road-blocks I saw on my bus rides? Turns out the drivers had to pay-off the soldiers at every checkpoint. James: "Their salary is 4500 kyats for one month. They can make three times more than one month's salary in one day. A good sideline to keep a gate. As a gate-keeper." Speaking of 'gate-keepers,' I wondered what James thought about the campaign to keep tourists away from Burma. So, I asked him the question that had weighed on my mind since I arrived...should I even be here? James: "It's a good idea to come to Burma. If the travelers come as a backpacker, individually, then they can meet with local people and will know what is the true color of the people. So it's better to come to Burma and see." But don't come on a package tour, James said. THOSE tourists spend their money at fancy government hotels and never meet the average Burmese people. Comforting words. Because they didn't apply to me. As an independent traveler, I could feel good about my journey.

A few days later, I was worried again. The panic struck during my last stop - Mandalay. A city that sounds like a dream, but is really just a mess of traffic jams and multi-story buildings. At a disco, I met a man who confirmed everything James said. But as I was leaving, he added a worrisome twist.

"You think you're being sly," he said. 'You think you're not being watched. But you're mistaken. The military intelligence was trained by the East German secret police, the Stazi. They know who you are. You should expect to be thoroughly searched as you leave the country."

Luckily, he was wrong. No one searched me at the airport. But of course, I couldn't know that. So I spent the night before editing the interviews on my minidisk. Erasing references I thought might compromise the speakers.

Then it hit me. I was experiencing the country from the local's perspective. I had learned that in Burma, you don't need to wait for the censor. If you wanted to protect someone, you censored yourself. Like other travelers I'd met here, I felt somehow responsible for the local people. Burma had become more than someone else's problem. In a small way, it became my own. Which is maybe the best reason to come here. To add a voice in support of people who are afraid to speak.

In Burma, I'm Jeff Tyler for The Savvy Traveler.






Return to Feature Archive