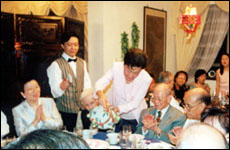 There are 7000 restaurants in Hong Kong. The choice of cuisine, ambience, and price range is dizzying. But Hong Kong offers one dining experience like no other. Tourists can now have a dinner at the home of Hong Kong's "Queen of Cakes." That may not ring a bell for you, but in Hong Kong, Dr. Maria Lee is a legend. She's a gastronomical celebrity, a philanthropist, best known for the rise and dramatic collapse of an empire of cake shops extending from Taiwan to San Francisco. The cake shops are gone, but at 73 years old, a time most people retire, the queen of cakes reigns again. This time, over her own dinner table with her tourist guests. Among them is our Judith Ritter, who finds out that dinner with Dr. Maria Lee isn't just about food.
Hong Kong's Martha Stewart

By Judith Ritter, 7/13/2001
Maria: "Hello, welcome - you just call me Maria!"
My daughter and I and a dozen other guests are being waved through a narrow doorway into a modest apartment by our host, Dr. (honorary) Maria Lee. She's a tall woman, black hair laquered into a confection, red lipstick, and meticlulously drawn eyebrows so black and animated that they positively command our attention.
Maria: I'm so happy you come to my house. I hope you enjoy my food today."
She fills a room the way Julia Child does. And, in fact, she's been compared to other domestic popstars like Martha Stewart and Oprah Winfrey. Maria Lee is all that. Over the years she hosted a t.v. cooking show, ran 70 cake shops, wrote books of poetry, raised children, raised money for the poor, and won dozens of awards for her good works. And she isn't reticent about telling us, her new friends, about her old friends.
Maria, giggling: "This is the prince of monaco. Grace Kelly husband..."
She guides us through fifty years of framed photos of Maria with the greats.
Maria: "And this is famous multi-millionaire Li K Shing...this is my favorite, Queen Elizabeth...all the bigshots."
And then, at 70, her cake empire collapsed. She paused...and reinvented herself with Maria Lee.com, a website that offers celebrity interviews, recipes, and the opportunity to reserve space for a dinner at home with Maria Lee.
Maria: "So excuse me for a few minutes and I will get the lunch ready. Do you like lychee tea?"
I sneak into the kitchen with her too. Hard to believe that in this small kitchen, she turns out 12-course meals every single day.
Maria: "This like a powder. This actually not powder. This rice...you have to grind it...this is the lettuce. I cut every piece into round shape...Isn't it beautiful?"
And with her two helpers, she stirs and mixes and puts the finishing touches on today's lunch. I feel as if I'm on the set of a cooking show. There are guests waiting outside and an extravagant meal to lay out, but Maria Lee wants to talk about why she devotes her days and nights to hosting these dinners.
Maria: "I like people. I like friends. Every night they come at 7:00. When they leave at 12:00 and they would not like to go, I have to tell them 'You have to leave now. I have to work...please leave me alone.' They love to stay as long as possible. I love to talk. I talk talk talk."
The devoted diners include politicians, movie stars, and diplomats, as well as ordinary folks. All come here for the food, but also for her wisdom. Along with the pumpkin soup, lotus leaf-wrapped chicken, she dishes out anecdotes and advice. The world according to Maria Lee:
On happiness: "What has happened has already happened. Why bother to think about it. No good to your health."
On home decorating: "You don't have to make the house beautiful. What you think is beaufiful is beautiful. Just be natural."
On children: "Just ignore them. The baby very smart. They know what's going on. They want to be carried and swing. I just don't do it. Let them cry. After a certain time they stop crying."
And on her old hobby of singing opera: "I can sing both voice male and female. What you want me to sing?"
I feel shamefully lazy and unaccomplished as we zoom out the swinging doors back to the guests who are thoroughly happy, slightly amazed, and more intrigued by this culinary dynamo than by her food. Today's guests are what are euphemistically called "older Americans," most white-haired, all prosperous, and just off a cruise ship. It's clear to Maria and me that this is not a firecracker crowd. And in a second, she switches gears and works the room like a veteran comic in a las vegas lounge.
Maria: "You must be hungry, huh. Please just take your seat. Feel like eating at home. This gentleman, you can take off your jacket if you want to."
Maria: "I hope you will like my food - if you don't, let me know."
The group, who are around the same age as Maria, are warming up and following her every move like cats to catnip.
Maria: "This soup is called fungus with the mince chicken inside. Since you're all here, shall we drink to your good dream all come true?"
Guests: "Maria, would we be ugly Americans if we asked for a fork? Just in case?"
Comforted by familair utensils the crowd loosens up.
Guest: "Can I take off my jacket now?"
Maria is thrilled and races around the table to try to get one of the guests to take off his bow tie. She is slightly coquettish, an effective strategy...he loosens his tie.
Maria: "This is fish, crunchy, no bone, I don't know if anyone would like chile sauce. You like chile?"
Assured her guests have transformed into admirers, and that the lazy susan is spinning and spitting off dozens of little treats fast enough, Maria zooms into the kitchen again, leaving us, all great friends now, to a little friendly gossip.
Guest: "She's an artist, she cooks, she talks, when she finds time to sleep, I don't know. What really strikes me is her wonderful attitude toward life. It spreads joy."
Back with her charges again, Maria spreads more joy and more food...things like sweet and sour eel, prawns stuffed with minced pork, and chinese doughnuts stuffed with taro. Then, when we're all stuffed and rounded up again at the door, she shakes hands with each of us, prounoucing each of our names...
Maria: "Robert, John...welcome all come back. Don't forget to call me up. I wish all of you a safe and happy journey back home."
Maria Lee isn't finished with me or you yet. She wants us to check out her online autobiography, come shopping at the local markets in Hong Kong with her, and since she's just opened up her lakeside country house in China for guests, why don't we come and cook with her and sing karaoke on her patio until the sun comes up? In Hong Kong, I'm Judith Ritter in Hong Kong for the Savvy Traveler.


Savvy Resources:


For Dr. Maria Lee's 6 course lunches or 12 course dinners, check out http://www.marialee.com or contact the Hong Kong tourism office at http://www.hkta.org.

A Sample Lunch Menu From Maria"
Soup with Minced Chicken and White Fungus

Deep-fried Twisted Doughnut filled with Marinated Fish Cake

Braised Duck with Mashed Taro in Special Seafood Sauce

Steamed Winter Melon with Mushrooms in Chicken Flavored Sauce

Braised Chicken Wrapped in Lotus Leaves

Assorted Seafood with Cabbage and Vermicelli

Deep-fried Fish Fillet with Assorted Dried Seafood Condiment

Steamed Rib with Sweet Potato in Bamboo Basket

Seasonal Dessert
How to Go:
Northwest Airlines has daily flights via Tokyo from both U.S. coasts: http://www.nwa.com
Air Canada has two flights daily (mid-day and late afternoon)from Vancouver: http://www.aircanada.ca
Where to Stay:
Upmarket accomodations are available at Hotel Intercontinental Hong Kong (formerly The Regent) (http://www.interconti.com) and at The Island Shangri-La (Check out the Sunday Jazz Brunch) (http://www.shangri-la.com).
Moderate accomodations are available at the Royal Plaza Hotel, Kowloon (http://www.royalplaza.com.hk), and the Salisbury/YMCA of Hong Kong, Kowloon (http://www.ymcahk.org.hk).
Return to Feature Archive