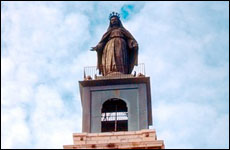 If gorgeous gothic churches stir you, Spain might be your next choice. Contributor Naomi Lewin reports from several Spanish cathedrals where she went a step further than just gazing at the architecture and the stained glass windows. Naomi visited these churches during mass for the locals. And the sounds of the nuns singing, the organ music swelling, seemed to fill her soul.
Mass Tourism

By Naomi Lewin, 7/6/2001
You're doing Europe, with your tourist bible of choice in hand. Your Michelin, Baedeker, or Lonely Planet is out to run you off your feet dictating all the three-star, must-see vistas, museums, and churches, with detailed descriptions of every important portico, altar, and piece of statuary. If it's Tuesday, this must be yet another breathtaking gothic cathedral - but suddenly you notice that they're all starting to blur.
The cathedral in Burgos, Spain houses so many artistic treasures that it's a designated UNESCO World Heritage Site. And every morning at 10, priests in Burgos still celebrate mass the old-fashioned way.
It'a a reminder that these surroundings were originally intended to enhance worship. And they do -- whether you're there to glorify God, or to glory in the masterpieces that human beings are capable of producing. The intricately carved choir behind a wrought-iron grille ... the lantern high above the tomb of El Cid ... the Golden Staircase ... the massive 16th century altarpiece. So what if some radio stations promise, "Give us 10 minutes, we'll give you the world!"? That's the New World, and you're sitting in the old one.
There's a poem that begins, "Small things can enchant us, too." When I got to Santiago de Compostela, at the end of a traditional pilgrim route, I ducked into the church at the convent of San Pelayo, in the shadow of Santiago's enormous cathedral.
San Pelayo's nuns are cloistered - they spend the day gardening, baking, and praying. And every evening at 7:30, they sing vespers. Their little church also houses a carved choir, an iron grille, and a beautiful altarpiece by the local Baroque master.
Somewhere between Burgos and Santiago, I began thinking about all the time and money spent on special effects for the latest blockbuster movie. I compared that to these special effects created by artisans in previous centuries. They were intended to dazzle people like you, who traveled long distances to be dazzled. But too often, time for dazzlement gets left out of a vacation itinerary. You spend hours sitting through Star Wars or Jurassic Park in order to get the total package, right? Next time you're on the cathedral fast track, why not hop off, listen to the music, and give yourself license to enjoy the surroundings as they were meant to be enjoyed?
For the Savvy Traveler, I'm Naomi Lewin.
Return to Feature Archive