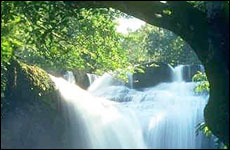 Judie Fein, our Brooklyn-bred contributor, recently met up with a group of fellow travel writers in the heart of Dixie to learn how different places try to sell themselves as tourist destinations. The event is called a Travel Writers' Marketplace, and Judie, her husband and another writer had just headed out with their guide, Debbie, to explore the delights of Huntsville, Lauderdale, and Florence. Florence, Alabama, that is.
Feature: The 'Bama Press Junket

By Judie Fein, 7/06/2001
I try to say "y'all" instead of "faggedaboudit." I try to eat fried food, even though I haven't even buttered my popocorn in a decade. I try to take it all in and write it all down as I tour ante bellum houses, a Mercedes Benz SUV factory, and even a snapdragon farm along with 40 other travel writers.

I'm loaded down with glossy brochures, engraved mugs, and a spiffy black Alabama briefcase. The writers all say good­bye and divide into small groups for what's known as "post­trips." My husband and I are going to Huntsville, Lauderdale, and Florence - not Italy, but Alabama. There's only one other writer besides us, and the three of us have the van and our lovely Alabaman guide, Debbie, all to ourselves.

The other travel writer turns out to be a man whose motto is: "I write about anything you can kill." He is not just a member of the NRA, but a spokesperson. They split us up. While Rifle Man sits in the freezing rain spearing worms in a fishing boat, Debbie drives us along a beautiful country roads and then comes to a stop at a cemetery. Lugubrious tombstones bemoan the loss of two hundred loved ones, honored with wreaths and flowers and annual visits. But this isn't just any old family burial ground. This is the coondog cemetery. Because we're VIPs, they've arranged a special welcome for us. L.O. Bishop, an influential hawg farmer, opens up his cooler and serves us his famous bar­b­q in the freezing rain. He waxes eloquent about coondogs, although I persist in calling them corndogs. If I weren't a travel reporter, he would probably punch me. But on press trips, no one hits travel writers.
Judie: "What's a coondog?"
L.O.: "It's a dawg people use to hunt coons...they run the coons and tree 'em - it's something they enjoy doing. They can be out away from home all night and don't have to worry about their wife, I suppose..."
Judie: "I'm gonna ask you the dumbest question in the world. What's a coon?"
L.O.: "Well, if you don't know what a coon is, hon, I don't know how you got down here - that's all I got to say about that. Everybody knows what a coon is - you've seen pictures of 'em."
Judie: "Is a coon a raccoon?"
L.O.: "A raccoon? Yeah!"
Judie: "But you don't call it a raccoon?"
L.O.: "We have our own language. We donšt have to put as many words to something as probably you would in New York to get it said..."
It turns out L.O. is a real practical joker. Although the cemetery is real, those dogs I heard barking - they were just a tape L.O. made.

On press trips, the general idea it to amuse and entertain the writer so she wants to rush home and share her experiences with her audience. When our hostess Debbie sees that we are fascinated by Alabama oddities, she squeezes in a special stop - the Ave Maria Grotto. I gawk at a two­foot high version of Noah's ark next to a miniature Tower of Babel, both sculpted out of bottle caps, rocks, broken glass and cement. One of the monks from the adjacent Benadictine monastery tell us all about Brother Joseph, the obsessive monk who was the sculptor.
Monk: "He was a very quiet type person...he was five feet tall and weighed about 100 pounds. Just a little guy. If he wasn't feeling so good he'd hide behind a bush, and no one would see him...other times he'd tell people about what was there, but he'd never tell them he did it...he was a humble person."
Back in the van, Debbie's looking at her watch. We're whisked through Helen Keller's house, an "outsider art show," and the sad spot where the Cherokee were kept in holding pens as they set out on the infamous Trail of Tears.

At the Music Hall of Fame, we glimpse Lionel Richie cast in plaster, Toni Tenille's embroidered jeans, and I get to record a humiliatingly off­key rendition of "Why do Fools Fall in Love" next to a lifesize cardboard image of Hank Williams Sr.

We stop in Zip City and get to do what the locals do on a typical Saturday night...have fun socializing and bidding on junk at an auction.

On press trips, they keep the writers moving, stimulated, excited. By midnight on Saturday, we're exhausted.

On Sunday morning, Debbie is gone and we have a new guide, Heather. The travel promotion business is very territorial, and Heather's beat is Huntsville. We tell her that we would love to go to a get­down gospel church. We imagine a charismatic black preacher and fabulous music...but instead, we're taken to a church where the white folks rock for Jesus.

The congregation starts singing and dancing in the aisles, and they are just about to talk in tongues when Heather tells us we have a breakfast appointment. I beg Heather to chuck the schedule and take us to the famed religious snake handlers. Heather says no, we don't have time. Then, seeing our disappointment, she comes clean. It turns out that Heather has an incontrollable horror of snakes.

Our breakfast appointment taps into my own horrors: Aunt Eunice's cholesterol­drenched restaurant. This is where policemen and politicos, country singers and motorcyle riders stop to chow down and chew the fat. Literally. At the table next to us, a man from the sheriff's department cuts himself a nice, thick slice of ham. Then Auntie Eunice herself makes a sprightly appearance at our table.
Eunice: "My specialty is country ham and I got the best there is."
Judie: "And what about those gravies?"
Eunice: "I have red eye and milk gravy. Red eye's made from the drippings of country ham and coffee and my sawmill's made out of milk and flour and shortening - we call it sawmill as a joke. My special is country ham - most places it's so salty you can hardly eat it, but mine is just right, known all over the world as the best ham."
Heather glances at her watch. Although it's officially closed on Sundays, they've swung open the doors of the Science Museum because we're travel writers. The highlight is - I swear this is true - the world's first permanent grossology exhibit. It's all about body functions, sounds and smells, and a museum guide gives us the inside scoop - or, excuse the pun, poop.
Guide: "You crank this crank..."
She does so, and we hear a huge belch and a voice says, "excuse me, I wonder where that came from."
Guide: "You turn the crank and this fluid fills up. You have a burp meter and it shows how acid builds up in your stomach."
She cranks again and we hear another belch and then a male voice says, "Oooh, doggie, that feels better."

There's about four or five things it says. If belching and flatulence and armpit and foot odors aren't gross enough, there is the skin climbing wall.
Guide: "This is the skin climbing wall where children can climb across a makeshift skin using hair, pores, blisters, scabs, pimples, warts, bruises, moles and wounds. They start at point one, and go all the way through, using the pieces of skin to climb across and ring a bell at the end."
I sort of wish the school kids were here today - punching each other and giggling about the most disgusting aspects of being human. That reminds me of what another travel reporter once said. "Organized travel is calculated to keep you apart from the people who live in the place where you are going." It's doubly true if you're a travel writer. You're always rushing around, exposed to the best, spared from the worst, with no free time. I long for a close, lingering encounter in the home of a southerner. And thanks to the privilege of being a travel writer, even lingering can be arranged. We drive into the woods, looking for a log cabin and a guy who plays a banjo. My husband and I have mutual, unspoken flashbacks to the movie "Deliverance." But instead, we are greeted by Bill Foster, a huge, bearded guy in a plaid shirt. He ushers us into the cabin, and sings straight to our Yankee hearts.

"Well, how do you like our state?" our hostess asks us as she heads for the airport. Personally, they've sold me on Alabama - the hospitality, the friendly, quirky, touching, even gross experiences. At the airport, with new friends and more souvenirs than I can fit in four overhead bins, this is Judie Fein, for the Savvy Traveler.






Return to Feature Archive