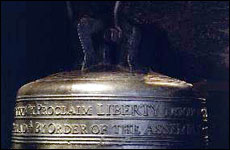 An important part of any holiday overseas is how warmly you are welcomed. But how good are we at welcoming foreigners here? We decided to put the idea to the test by flying our regular English contributor, Martin Stott, over from the UK. But just to add a bit of spice, we thought we'd send him to the home of the American Revolution. How welcome is an Englishman's face in Philadelphia?
Feature: An Englishman in Philly

By Martin Stott, 6/29/2001
I can't help feeling apprehensive. Obviously, I'm not expecting to be called a red coat and lynched in the street, but might there be some lingering animosity here? And how will I feel over the next couple of days? All defensive about my mother country? Probably wondering what might have been - if you lot had all put up, shut up and carried on paying your taxes, Britain would be rolling in money today.
Judy: "I'm Judy and this is Scooby. Scooby's a Belgian draft and weighs about 1600 pounds..."
You can't come to Philadelphia and not have a guided tour of the Independence National history Park in a horse drawn cart. But Judy - the driver - develops a mischievous twinkle in her eyes the moment she hears my accent. First stop, Carpenters' Hall.
Judy teases Martin: "When they built this one..."
So we charged you a few taxes, we billeted soldiers in your homes and the king ignored your letter of complaint...you were British - that much is obvious, only Brits would be such a bunch of moaners. But back in 1776, of course, we were beyond teasing each other. This was serious.
Park Ranger: "Folks, it's the General assembly room - the United States became that just here..."
It's the park rangers that bring history to life. At Independence Hall I find myself beginning to sympathise with the Colonists.

You can sense the tension and friction that must have been around this place as they argued over the wording of the Declaration and the Constitution, as they shaped the values of their new country. Watching the faces of visitors I suspect that for quite a few of them this place is almost sacred. A view confirmed by Alex Heppenheimer.
Heppenheimer: "It does make one feel patriotic..."
I begin to envy such patriotism, and then I stumble upon the house in which Thomas Jefferson penned the first draft of the declaration of Independence. There's a little film montage of modern Independence Day celebrations - all fireworks and dancing bands.

And then I remember what it is about America that we Brits find so irritating - that speech - the "God Bless America" attitude, as if America is God's favoured child -with spirit and talent unequalled.

And then I remember something else. At the turn of the last century, when Britain was still the world's most powerful nation, Rudyard Kipling wrote: "To be born an Englishman is to win first prize in the lottery of life." And suddenly I stop feeling quite so cross. We were just the same.

What's nice about this place is how many kids are here - learning their history. I bump into a bunch of Brownies from New Jersey and decide to test them. These kids were impressive - they really knew their stuff, right down to telling me George Washington had teeth made of wood - so Bush isn't America's first wooden president after all.

I'm really enjoying myself, and I end my first day at the Ben Franklin museum listening to the strangest contraption.
Errin: "Okay what you're looking at is the glass harmonica..."
The ingenious Franklin got a set of glass bowls made in descending size, screwed them on to a horizontal spinning pole to make a keyboard. You wet your fingers, and put them on the edge of the spinning bowl to play a note, and even a tune.
Errin: "Here's another song in honour..."
Ah the British national anthem. Now I feel at home. But afterwards, a couple of the visitors start telling me about British war crimes. Kathleen and Eric Dorrety from New Jersey are keen historians.

The lovely Errin - the Park Ranger who'd showed us the glass harmonica - quickly steps in to rescue me. But she needn't have bothered, seconds later the Dorretys confess they thought the colonists were spoilt brats and that deep down they feel British.

I like being cousins. And I like Philadelphia too. There's just one thing wrong with the place - three days of revolutionary talk and my complete failure to find a good cup of tea suddenly stirs my seditous streak. [Martin ceremoniously tears up a tea bag on a string and throws it into the River Delaware.]


Savvy Resources:


Visiting Philadelphia?
See Independence Hall, the Liberty Bell, and more at the Independence National Historical Park. Visit online at http://www.nps.gov/inde/.

The Philadelphia Tourism website is at http://www.gophila.com/.

Martin met Judy and Scooby through the Philadelphia Trolley Works and 76 Carriage Company. Their URL is http://www.phillytour.com/.
Return to Feature Archive