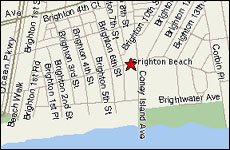 One of the most appealing aspects of visiting New York, is the city's international flavor. For three dollars - the cost of a round-trip subway fare - you can immerse yourself in a wide variety of cultures and cuisines. Have a hankering for Shanghai soup dumplings? Take the N train to Canal Street. Want to catch the latest Bollywood musical or buy some Indian spices? Take the 7 train to Jackson Heights in Queens. We asked contributor Jeff Lunden to take us along on his favorite $3 day trip - to Russia.
A Little Russia in Brooklyn

By Jeff Lunden, 6/22/2001
The minute you step off the D train at Brighton Beach, you enter a different world. "Little Odessa." My first stop is the beach itself, just two blocks away, where I can feel the cool Atlantic breezes and soak up the Slavic atmosphere.
A century ago, Brighton Beach was an elegant resort, where well-heeled Manhattanites took steam trains and stayed at big Victorian hotels on the boardwalk. These days, apartment buildings front the ocean, but the boardwalk's still there. And, everywhere you turn, you hear conversations in Russian.
Pockets of elderly men hover around chess boards, while groups of Russian twenty-somethings whiz by on roller blades. Women wearing babushkas sit on benches and chatter. And waiters and waitresses in crisp tuxedo shirts and vests, stand on the boardwalk, beckoning you to enter one of the outdoor cafes. I can't resist.
On a sunny spring day like this, I like to sit at the Café Tatiana for an hour or two, reading a book and watching the Russian parade pass by. The menu's a little tricky - one side is in Cyrillic; the other side is in shaky English. It usually helps to befriend one of those crisply dressed waiters.
Oleg: "My name is Oleg. Is Russian name. I'm from Russia....Ukraine red borscht. It's our national soup. Russian pilmeni, it's like Italian ravioli - with meat. And, um, vareneky; it's, uh, like ravioli, too, but with sherry, with cheese, with potato. It's very delicious."
I choose the borscht, which comes with a basket of hearty black bread, perfect for sopping up every last drop. I linger for a while, then make my way to Brighton Beach Avenue. That's where you go shopping in Little Odessa. I always return home with bags of produce - there are more fresh fruit and vegetable stands in this little corner of Brooklyn than any place I've ever visited.
Sofia: "Prices in the Brighton Beach, it's very reasonable. And, uh, Russian people likes, uh, fruits and vegetables."
Sofia Vinokurov, a short, vivacious woman in her sixties, is one of Brighton Beach's biggest entrepreneurs. Her family started with a small store, which has grown into a gleaming, two-level specialty supermarket, M & I International. The display cases are filled with an abundance of sausages, smoked fish, cheese and bread - the kind of bounty that seemed unimaginable in the Soviet Union that Sofia emigrated from 26 years ago.
Sofia: "We have it, uh, everything here made it on the premises. We have a very good café that people can eat it and we have a beautiful sweet department that people is take it home."
Sofia plies me with vareneky and, before I leave, I buy some smoked white fish and black bread. She invites me to visit her other business, the National Restaurant, one of Brighton Beach's several nightclubs.
Sofia: "We have beautiful show from Moscow, we have beautiful dinner and dancing. Live dancing. Live music. We are completely different from the American, er, night's clubs."
This is a part of Brighton Beach I've never seen. I can't resist. The room is furnished with Royal Blue French wallpaper, chandeliers and thousands of tiny lights. There must be 400 customers - ranging in age from eight to eighty - all dressed to the nines, eating family-style at long tables and dancing under two mirror balls. Vodka and wine are sold by the bottle, not by the glass.

At 11 p.m., eight dancers take the stage. They perform slightly naughty routines, in costumes that range from baroque get-ups to lime-colored leisure suits. It's the National's show, Moscow Time, and it's so square, it's almost hip. At midnight, the Rose Sisters take over. They wear skin-tight white-fringed jumpsuits.

An evening at the National isn't cheap - over fifty dollars a person. If you'd like to have a less expensive taste of Russian culture, you might want to stop at the Black Sea Bookstore, where you can not only purchase Tolstoy in the original, you can buy CDs of the Rose Sisters! But, the most popular recording artist, according to the store's manager, Jane...
Jane: "Is Alla Pugachova. Uh, it's uh, pop music. And I've, uh, been selling her CDs and cassettes for almost 20 years."
Alla Pugachova's greatest hits? For five dollars? I can't resist. In Brighton Beach, I'm Jeff Lunden for The Savvy Traveler.




Return to Feature Archive