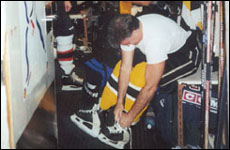 You pack your bags, you take your trip, you're looking for something different, right? Something to delight you, or something to shock. When you go away for a bit longer however, you start doing the opposite - searching out the familiar, yearning for a taste of home. The Brits took high tea with them as they colonized the globe. So many explorers have taken religion - their god, or gods, as the case may be. Well, these days, with sports inspiring at least as much fanaticism as religion, it makes sense that expats bring something else. Judith Ritter went to Hong Kong recently and found a group of Canadians and Americans who founded their own sect - they call it "Hockey Night."
Hong Kong Hockey Night

By Judith Ritter, with photographs by D.L. Ritter, 5/25/2001
It's dusk and 90 degrees in Shu Shui Po, in Hong Kong, a district which has the highest density population in the world...the street is lined with sooty, gray highrises with laundry hanging out of windows...weary looking merchants shutter up cut-rate electronics Shops. Tom Barnes is an expat from St. Louis, and the engine behind Hong Kong hockey. We make our way up to the 8th floor of a low-end shopping mall called Dragon Centre.
Barnes: "We have food courts as well as the ice rink that has a roller coaster going over the top of it. We got Two blue lines no centre lines, we have one changing room we keep our gear in. This is hockey Hong Kong style."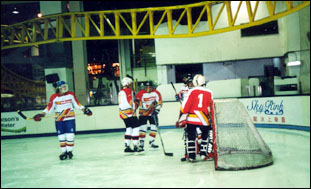 The ice rink is tiny...about one half the size of an official rink. But it's not the size that's most peculiar, it's that Yellow roller coaster track meandering overhead, so low a careless Hockey giant could swipe it with a high stick. A string of turquoise and purple cars shoots over the track every now and then, bearing the kids of tired shoppers. Senior citizens sit at plastic Tables rinkside, snacking on styrofoam plates of noodles and fish heads from the foodcourt. A blue neon sign above the patch of ice boasts "Skyrink." This is the centre of the action of hockey night in Hong Kong.
The first game tonite is between "Wellcome", a team of expats Sponsored by the local welcome supermarket chain, and team "Yellow Pages"...ditto. A rink for lilliputians, local sponsors...but a passion for puck, stick, sweat and the sweet feeling of home is so strong that these fund managers, financial guys, and internet commanders are known to rearrange work schedules for hockey...shh...don't tell their Stockholders...
Driscoll: "I have a trip to Indonesia two weeks from now and I just realized its during the tournament. I absolutely changed it. Next week I have to go to Shanghai and I made sure I would be back by seven o'clock to get to hockey...
That's Bill Driscoll, whose business card reads manager/director, but tonite should read hotshot hockey dude supermarket team. The teams are a raggle taggle mix of guys in their 20's-40's. Some are from Minnesota, Vermont, and Canada, where kids skate as soon as they walk. Some played high school or college hockey, and a few never even made the cut. Greg Smith, an internet entrepreneur, is from Ottawa. For him and many of his hockey pals, there's is a special thrill to playing in countries where the sport is rare and the fans' and players' level of expertise is almost non-existent.
Smith: "The best thing about playing in Asia: you're really good. The hockey isn't the same caliber, so you're looked on as a better hockey player than you would be in North America."
In the tiny dressing room behind the rink, the captains of industry strip to towels and underwear and begin to suit up...maybe scrawny or paunchy, but with the padding, the mouthgards, the brightly-colored jerseys, and the extra inches gained by blades, these guys are strutting.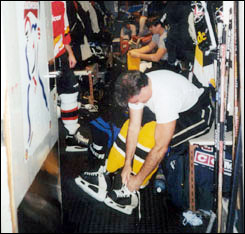 Smith: "Maybe I'm just playing for a phone book, but I am The Man."
Susan Hewitt, a British ex pat lawyer, has come tonite to see exactly what is this hockey thing that, as she puts it, her colleagues are slavishly devoted to.
Hewitt: "It's like a huge dose of masculinity smashing in your face. They're so noisy. They're so huge compared to the tininess Of the people in Hong Kong. It's very strange. They're so big compared to the people of Hong Kong who are so small and they're so polite, not like this shouting."
These noisy North Americans carrying big sticks and giant gym bags have raised more than a few eyebrows in Hong Kong. Players in transit have been asked if the stick is a weapon, for polo, for golf. One canadian player left his beatup but beloved college hockey Skates on the floor in the kitchen and his unknowing housekeeper threw them out.

I watch part of a game standing up with a few accidental shopping mall spectators, mostly elderly men in slippers. They chuckle indulgently as the big foreigners smack the puck and occasionally brawl with eachother on the ice. Mr. Limbo, a younger man, who is glued to game, tells me with certainty that this is a form of football. He does admit that the point system eludes him. Some braver souls,on the other hand, are giving the sport a shot, but the challenge for local residents like him is that they don't just have to learn hockey. They have to learn to skate. And then, there's the gear.
Local Player: "I'm getting all sorts of funny comments from my friends and my Wife .there not accustomed to seeing me in this fully awkward Costume. I look like a robot if you know what i mean, but we overcome That shall i say..."
After five years of ex-pat hockey here,about 30 percent of the Hong Kong teams have Hong Kong natives on them. Expats say the locals tend to high stick, slash, and play a little less aggressively than the ex pats, but according to Tom Barnes, there's one thing our boys can learn from the Asian players.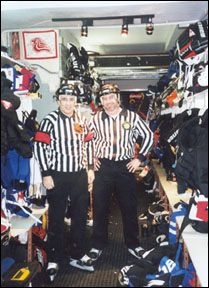 Barnes: "One of the big differences is they wash their equipment after every game. They wash their elbow pads, knee pads and we wash them once a season. And walk away from the rink sweaty. But these guys like to take a shower. They haven't gotten used to the smell of the game."
What started as a bunch of ex-pats in Hong Kong pining for a pick up game, has turned into an Asia hockey association with teams in Tapei, Singapore, Bangkok competing in tournaments in very hot cities on odd little patches of ice. But no business school course in cross-cultural management could ever prepare these ex-pat jocks for some of the local variants of hockey culture that their now seeing on the ice...
Barnes: "The chinese tend to eat a big meal before they get on the ice. I dont know how they digest it in time. The Thais show up on the ice in flip flops and gym shorts and they have a strange ritualistic chant before the game. They line up at the blue line and whack their sticks up and down on the ice. Over the years they're creating these endzone dances...it's the strangest thing I've ever seen."
While there's no Hong Kong hockey hall of fame yet, there are hockey lessons for kids, a women's league, and player stats on the internet. And any traveler to Hong Kong, nostalgic for the smack of puck ricocheting of the endboards, the soothing sound of Zamboni, and that very special ice hockey smell can check out the Dragon Centre's Skyrink...and take a ride on the roller coaster for a most unusual view of the game.

In Shum Shui Po, Hong Kong, I'm Judith Ritter for the Savvy Traveler.






Return to Feature Archive