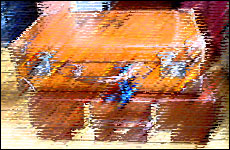 First, let's go to the Land of the Lost. No, not where your socks go on laundry day - nobody's solved that one yet. But if you're looking for where your lost luggage ends up, the place to start is Scottsboro, Alabama...home to the airlines' lost and not found store. Melanie Peeples has our story.
Lost Luggage

By Melanie Peeples, 5/25/2001
The Unclaimed Baggage store has become one of the top tourist attractions in Alabama, so it only made sense that I round up some friends: Elizabeth, Torin, Rebecca, and Josh and make it a roadtrip. We arrive one Saturday afternoon, the store beckoning to us as we approach the single-story, block-long building.
Rebecca: "Oh, I see the clothes, the unclaimed clothes! Alright. This is officially the biggest store I have ever been in. 7-thousand new items a day. Now we need to talk about..."
Torin: "I was really, I was expecting suitcases and things like that, but this is like a Gap or something."
Only no Gap Iíve ever seen has a section for Wedding Gowns.
Torin: "Actually, maybe thatís not so surprising, youíre very nervous or something."
Josh: "Well, once youíve used it what do you need to claim it for?"
Torin: "No, it must be people going to their wedding and then they donít have the dress. NO, but, Can you imagine, youíre going to your wedding, you have your dress and you forget your luggage, what are you going to do? Youíd have to buy one off the rack!"
Josh: "You know, some of this stuff is personalized!"
Personalized and monogrammed. Right next to the wedding gowns is the jewelry counter. Engraved rings and bracelets and more than a few wedding bands. Barbara Jones has worked here for 16 years.
Barbara: "We sell a lot of wedding bands. We have a lot of menís wedding bands. A lot."
Melanie: "Now what does that tell you that you have more menís than womenís?"
Barbara: "Well, it tells me that they donít get home with it and I wonder how they explained having it off their finger."
Hmmm. Me, too. Now, Iím no cultural sociologist, but if I was, this would be a great place for research. Bryan Owens is the storeís President.
Bryan: "You see what kind of books people are reading. You know, whatís the latest electronic gadget, CD player, the latest jewelry or camera."
Melanie: "If this were like Pompeii and there was a volcano that covers this place all at once and just freezes everything in place. If we were to discover it a thousand years from now you could learn a lot about society by just coming into this store."
Of course, it might raise a few questions, too. Like how some of these passengers managed to get separated from their lost items in the first place.
Bryan: "We happen to see a lot of wheelchairs that come through that are lost from travel. So, hopefully those people just got healed or something or were able to take up their crippled bodies and walk, perhaps."
They put the wheelchairs with the crutches, canes, and walkers over in whatís come to be known as ďThe Miraculous Recovery Department.Ē

Basically, anything people travel with can be bought here. Shampoo, conditioner, bagpipes. All kinds of suitcases. A story behind each one. And a question on every shopperís mind. Thankfully, we had the storeís marketing manager, Brenda Cantrell to answer it.
Josh: "Does anyone ever come in and say, 'Hey! This was mine!'"
Brenda: "No. Weíve had one story of a gentleman from Atlanta who was traveling through on business, had never been to the store before. And so he came through in March and he sees this pair of ski boots and thinks, Oh, these are great color, looks about the size for my wife. So he buys them for 45 dollars and takes them home to Atlanta and he lifts up the flap and they had her maiden name in them and they were her boots. And so she got her boots back."
Now thatís kind of a strange tale, but someone can always one-up you at the Unclaimed Baggage Center. Again, Bryan Owens.
Bryan: "You donít think about this kind of thing being shipped on an airplane but we had a guidance system for an F-16 fighter plane. It was in this box, this shock-proof container. It was a gyroscopic guidance mechanism and we got that back to the Navy. We didnít really have a use for it. But what was funny is the story that was going around the Naval intelligence circles was that the Iranians had stolen it and we said no, itís actually here in Scottsboroo, Alabama."
Well, no one discovers anything THAT weird today, though Rebecca and Josh definitely win the bargain shopperís award.
Rebecca and Josh: "All right, the 6-dollar Guy Laroche shoes. The menís button down shirt ó all cotton. Thatís a good find, Josh. Thanks. 8-dollars. Okay, my favorite purchase, the 35-dollar Gucci sunglasses. 15-dollar Kenneth Cole glasses frames. Oh, the fifteen dollar Pierre Cardin tie. The Brooks Brothers tie with the geese on it. My favorite..."
And when they finally finished ringing up that purchase, we called it a day.
Brenda: "Thank you so much. Yaíll have a great trip! Yaíll come back now, you hear?"
A good day. In Scottsboro, Alabama, Iím Melanie Peeples for The Savvy Traveler.


Savvy Resources:


Here's more on lost luggage...



The folks at Unclaimed Baggage like to say there are no lost bags, just lost passengers. So if you donít want to get lost, here are a few tips:
Clearly label your suitcase with a tag that has updated information on where to find you.
Put additional labels inside your suitcase, in case the outer tag gets lost.
Remember what you stowed in the overhead compartment; that stuff ends up at Unclaimed Baggage, too!
Here's the Unclaimed Baggage website: http://www.unclaimedbaggage.com.
Return to Feature Archive