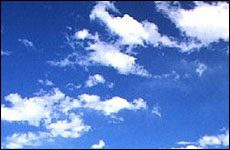 How's this: the sun-drenched hills of Sicily are a lush and vibrant palette of color and history...? Naw - too cliché.

How about: imprinted in the verdant terraces of Sicily is the complex Character of a hybrid of cultures - ugh - way too high brow. I know, simple and direct - sicily is pretty, friendly, and it smells good.

How do you capture the look, feel, color - even fragrance - of a place like Sicily? 22 aspiring travel writers and photojournalists from the university of Massachusettss were given that assignment recently. Reporter and travel writer Pippin Ross was invited to go along to offer a bit of seasoned guidance to the students. Instead,she learned a few things about herself as both a traveler and writer. And came to the realization sometimes the only way to describe the color blue is with the word blue.
Feature: Blue Sicily

by Pippen Ross (5/11/2001)
First, a few introductions...
That's the sound of a moderately comfortable bus. The windowed pod where we spent lots of time in a full-throttle tour of Sicily, the t-bone steak-shaped island off of Italy's toe.
B.J.: "It's a hard rule but if you've heard it before, it's Probably a cliché."
That's journalism professor B. J. Roche. Her job is to help her 22 students find their inspiration for a 3000 word travel essay on some aspect of a country of dizzying content.

Representing the visual side is photojournalism professor Rick Newton.
Rick: "Let me pass around the map. Today's route is appropriately marked by the color blue, sky blue..."
Along for the ride were an oddball assortment of so-called distinguished mentors.
Pippen: "What if I mentor badly?"
Rick: "Then you have your conscience to deal with."
Despite our disparate ages, interests, and life experiences, it was clear from the outset this group had two goals in common: A good time and a good story.

Our days had the pace of a Tarantela - the beloved and frenetic Italian folkdance. In reality the backdrop was mostly cheesy Italian pop music.

Each morning, we'd board the bus to make frequent stops to soak up the sights, inhale food and wine, and try - sometimes in vain - to reject cliché's that came to mind touring Sicily's sumptutous sun-dappled hills - see? This packed schedule is apparently typical of the group tour - what is not is to have each member of the group on a quest to find their own unique angle. To Rick, that meant - limited time permitting - plunging into the culture.
Rick: "I try to discourage long lenses, because it encourages that cowardly act of photographing someone from across the street without their knowledge."
As we disgorged at each location, the students would stream into the piazza, the hillside, the temple. Snapping pictures and scribbling in their journals, buffeted between prose and pictures. B.J. hounded them to translate what they saw into words.
B.J.: "Everybody ready to describe the color blue? What blue? We need some descriptions of what you saw today..."
The students weren't really ready to describe the word blue - many of them first-time travelers, they were enthralled by the things you just don't see at home: the chaotic outdoor market, bidets, the way Italian men ogle as if you're a piece of poultry: breast, thigh, tail,neck, beak.
Students: "Ohhhhhh, stop the bus!"
Sighting a sheep herd with an actual shepherd, they clamored to stop the bus.

With 22 people charging after a flock, shutters whirring, it was hard to imagine a photograph other than fleeing sheep butts in the dust.
B.J.: "It's like a wind chime."
Meagan: "Like a wind storm chime."
B.J.: "Here we go, here we go a wind chime storm alright! We'll have to have a metaphor contest when we get back on the bus."
Meagan: "Well, the only problem with that is that other people are going to go 'I like that' and then everyone else is going to get really bitter that people are going to use their metaphors on their papers."
B.J.: "That's the problem Hemingway had."
But back on the bus, the students are far from fighting over metaphors - most, like Aaron Saykin, a budding tv Reporter, still didn't have a clue what they are after.
Aaron: "I'm a man without a theme. Maybe it will just be all plot. A linear story with a really good ending. The Sicily behind the scenes. Yeah, that'll change in 5 minutes."
After a few days, their thrashing around for a theme and focus began to infect me. I fretted over what I would capture of Sicily. I lusted after their fancy cameras and regreted not keeping a daily journal. It reminded me of something rick said while we watched the students pay lira to photograph a man in old-style dress holding the reins of an elaboratly festooned horse.
Rick: "You walk in, you take the obvious shot - and then you take the one that's not so obvious, and the one after that, and the one after that. Force yourself into a different point of view."
For me, that meant breaking free of the group. It was only then - quiet and alone - that I began to feel like a real traveler. Obvious, naïve, getting lost and stumbling to communicate.
Pippen: "Being seductively swamped by Americana-obsessed teenagers...being spellbound by the birds that drip from the trees near the marketplace."
And the low voices of sicily's antidote to centuries of invasion - the formation of an impenatrable family...

My hiatus from the pod revealed I'm not a group traveler. It's too protected, too scheduled. Then B.J. Suggests there might be a darker motive for my need to get away from the students and their hunger for information. Their curiousity about what I do - and worse - who I am provoked a kind of performance anxiety. Are you famous? They'd ask. How come you don't work in television? B.J. Said that's because their wide-open eyes have a way of holding a mirror up to your own missteps and failures.
B.J.: "Do you realize how much you suck...it's not a pleasant feeling...then you get that thing, oh it's really true, those who can't do teach..."
By the end of the trip, the camaraderie was thick. Their competition had given way to the realization that they ought to help each other, 'cause they're all on this bus together. And it dawns on me that it doesn't really matter what I do or say anyway. When aaron grabs my microphone to deliver his definitive description of blue, I remember the good old days back when I was starting out. I didn't need or heed any advice or counsel - as far as I was concerned, I already knew it all.
Aaron: "For years it was just a color, just the other day Pippin Ross discovered it was more than just a shade, it was a state....splash the splashing of water..."
Okay, we never did come up with a decent description for the color blue...but we did learn the words to amore.




Return to Feature Archive