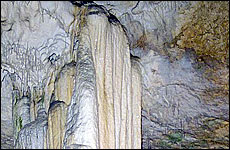 What started out as a simple Sunday outing in hills of Bologna, Italy, turned into an underworld of discovery for Jeff Biggers. He recently traveled to Bologna, the home of the famous Garisenda Tower and the medieval porticos that ring the city historic center. If you looked closely at the base of the leaning tower or the Santo Stefano complex, you'd find carvings in gypsum, quarried from the nearby hills. But Jeff didn't stay on the city streets.
Feature: Bologna Underground

On a cold wintry day, I was invited by Guy Lydster, a Canadian-Italian sculptor, to tour the Regional Park of the Gypsum Hills of Bologna. We could see the city from the hillside park entrance. Guy regaled me with stories of bison that used roam these hills in prehistoric times. Like an Italian Tom Sawyer ready to lead the innocent abroad, he didn't mention that we were going to walk back six million years in time.
Laughter comes from Guy, and Pino Rivalta, a veteran spelunker. I think they were amused by the look on my face when they handed me a frozen stiff Goretex jumpsuit caked in mud, a helmet and a gas lantern. I thought we were going to see a cave, not explore it. Changing my clothes, I felt like I was climbing into a zombie costume. I couldn't imagine what I looked like.
Guy: "A bit like a recovered relic, absolutely filthy from head to toe, but looking so spiffy."
Jeff: "Marco, a young park ranger, then prepared the torch on top of my helmet."
According to Marco, battery lamps are less efficient in damp and muddy caverns, and don't cast enough light. He lit a gas lamp on my helmet that burned acetylene: it was like walking around with a blow torch on your head.

We descended through a small forest to the bottom of a basin. Slopes of limestone sink-holes and streams veered off to the sides. Herds of deer, porcupine and even wild boars live in the area. The cave itself - Grotta della Spipola -- was named after a little bird in the local dialect. For Pino, an even more intriguing animal with wings might join our journey inside the cave.
Pino: "The area is very interesting for the bats. There are many kinds of bats. Nine or ten species."
Marco opened the locked entrance to the cave, where a hole for the bats had been constructed. We ducked our heads and entered. The foyer was dark, haunting. I had a flashback to Dante's warning before the gates of Hell: "No room for hope when you enter this place." Fortunately, the bats were sleeping for the winter.

Pino and Marco beckoned us to follow down a narrow staircase that had been carved by the cave's first discoverer, Luigi Fantini, in the early 1930s. Fantini must have been an intrepid soul. He entered the cave with a candle, a rope and a wood ladder, and then dedicated the rest of his life to discovering passages in the vast complex of caves.

We followed down the corridors and galleries, at times crouching under the massive slopes of gypsum. They looked like the fallen foundation blocks from various buildings in Bologna, which had been quarried from these hills. The passages got smaller, and I found myself completely bent over, my torch lamp and helmet banging against the ceiling. This was certainly not the right place for a claustrophobic traveler. Our world was reduced to a few feet of light, while black passages struck out on the sides like the abyss.
Pino: "There are the erosion at the top of the cave..."
Here were the "canali di volta," the channels formed during the glacier period by underground riviers. We walked through a perfect tunnel of gypsum. Some of the passages emptied up into larger galleries, including one which had beautiful golden-brown alabaster glaze on the walls. It looked like a frozen chunk of translucent candy. Further down another corridor, the low ceilings suddenly began to sprout these large round bumps. The speleologists had their own technical terms.
Marco: "Mammelle....Breasts or little breasts..."
Marco became quite animated by this rare phenomenon of crystallized algae on the gypsum, which was formed ages ago. Just think, he said, pointing at the round mounds, you can touch something which was created six million years ago.
Pino: "Now we go through this little hole, and enter a big room of mud."
A lot of mud. Nothing like squeezing blindly through a small hole for several feet, and then landing in a room of mud. My torch went out. But I could hear the words of Dante and his own descent into inferno: "There is a place below, the limit of that cave, its farthest point from Beelzebub, a place one cannot see: it is discovered by ear - there is a sounding stream that flows..."

We came into a room full of with small pools of water, which served as the home of little tiny invertebrates, who relish this dark chamber. It had also been the home of other refugees 50 years ago.
Pino: "During the last war, in this cave lived 2000 persons."
During the bombing of Bologna by German and American forces, people from around the Bologna hills hid in the caves for months. We even found some straw that was left behind.

At one point, after crawling on all fours across a narrow ledge, we had a mini-picnic - candy for us, and cigarettes for the Italians - overlooking a huge sink-hole. Marco and Pino lounged and gazed out as if they were dangling their feet off a cliff in the Alps, with a vast panorama before them. We turned off our lamps and sat in the darkness. I asked Guy, the sculptor, what he saw.
Guy: "What I see is a very low rock ceiling, which is inclined, the feeling is not so much of claustrophobia., but of free moving space. I don't feel in the least oppressed by the fact that we are literally closed into the earth, but it's quite fascinating. The atmosphere is dark, but warm, and almost fertile."
The cave changed not only our sense of space, but also of time. Lured by the endless dark side passages, I wanted to keep exploring. There was a feeling that so much more waited to be discovered in this remarkable underground world. Pino felt the same: as part of a Bologna speleological association, he has lead guided tours in this Acquafredda-Spipola cave network, the most extensive and important gypsum complex in Europe, since 1959. But it was time to head back. Having adjusted to the mud and slopes and narrow assages, we returned at a fast pace, a if we ere anxious to leave. And then, I found myself looking forward to seeing some sunlight, and an open view. We climbed the stairs - opened the door - thre was no more sunlight, but the early darkness of a winter night.
Guy: "As Dante said, and then we saw the stars."
For the Savvy Traveler, this is Jeff Biggers, in the underground of Bologna, Italy.




Return to Feature Archive