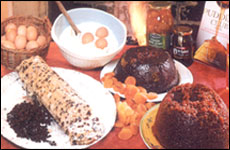 Imagine a restaurant dedicated to the art of the sweet – or as the English would call it, "the pudding." A place where you can eat as many sweets as you like. In fact, you're expected to try the whole menu! Sound too good to be true? Martin Stott has found this pudding heaven – one where they serve traditional, spongey British puddings. Think cakes covered in custard and you're getting there.
Feature: Pudding Heaven

This is a tale of temptation, gluttony, and lust...lust for something sweet, round and perfectly formed – the traditional english pud. Oh ye of sweet tooth, prepare for envy...
The Pudding Club started at the Three Ways House country hotel in the picturesque Cotswolds 15 years ago. At the time it seemed as though some of Britain's most famous puddings had been driven to the brink of extinction – by the ubiquitous black forest gateau and frozen strawberry cheesecake.
Those were cold, dark days for British cuisine. But then someone had the bright idea to form a club, meet once a month and eat in one sitting seven different traditional British puddings – the type that made this country great: spotted dick, treacle sponge and sticky toffee pudding
Rowlandson: "First we're going to make the toffee sauce...cream together..."
Mark Rowlandson is the head chef here. He gives lessons occasionally revealing, from his little red book, recipes passed down from generation to generation. Great sweet, stodgy, spongey puddings. He's agreed to give me my own personal crash course.

Eggs, flour, dates, sugar. I know this is going to be rich when we eat it tonight,along with all the other puddings, and I feel both excited and nervous. Will I last the course – or rather will I last all seven? After we've mixed our sticky toffee and date pudding and put it in the steamer for two hours, I leave the kitchen to prepare myself. I ask hotel reception if there are any dress requirements for the evening – "only trousers with an elasticated waist sir."

Our night starts with drinks in the lounge, before we're called to order by the pudding club chairman Peter Henderson.
Henderson: "Ladies and gentlemen..."
There are sixty of us – ten to a table and we're soon chatting away as we nibble at our first course – chicken or beef casserole. And then the contestants are paraded out for the main event.

Seven huge puddings, 7 gallons of custard. And the rules? Only one pudding at a time in your bowl but eat as much as you like...this is going to be a marathon not a sprint. My mouth's watering like one of Pavlov's dogs at a campanology class. Drooling, I jog up to the serving table, and limber up with spotted dick – that's currant sponge to the uninitiated. Mmmmm!

The record number of portions eaten is 18, but by the fourth bowl most of us are beginning to struggle. And suddenly we realise why – there's a Frenchman masquerading as a waiter – and he keeps filling our bowls too full.

The French man doesn't understand the word small..That's what I think, it's him isn't it. Sabotage.

I was immediately dispatched to have it out with him.
Stott: "I've been sent by table one here to complain about you we think you are attempting to sabotage our efforts to achieve all seven puddings by giving us too big a portion."
Frenchman: "I'm sorry I don't understand.
"I don't understand." Have you ever heard such evasion? Sabotage? It's a French word for goodness sake. I had no choice in the circumstances, but to complain to the chairman - but he was rather unsympathetic.

By round five I'm feeling stuffed. And I'm not alone.

By the final round only a handful of people in the room are capable of staggering up to the buffet – they're the real experienced, hard cases.

Finally comes our vote for pudding of the night:

Yes! My pudding! I was jubilant but the next day I had a terrible hangover – I'm not talking about my head, but my belt! My wife and I decided to try and walk it off with a stroll round some Cotswold villages. Contrary to popular opinion – foot and mouth isn't the plague, and they are open. Jill Combe, one of the owners of the ThreeWays hotel is deeply upset by the impression given that Britain is closed – it's cost her many thousands of pounds in cancellations from America.

Only footpaths across fields are closed – some of those are now beginning to reopen. And even if they haven't, that still leaves plenty to see – including nearby Stratford upon Avon – birthplace of Shakespeare. We've had a really good fun time. It's wonderful to be so indulgent – all that food and a stay in one of several themed bedrooms in the Hotel. Ours was Lord Randall's room – named apparently after a Victorian philanderer. The room was decorated in the 19th century style with antique furniture, books and a comical, larger-than-life painting of Randall on the bathroom door, staring through a monocle towards the shower. Dirty so and so!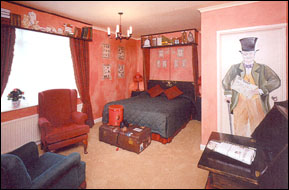 And now finally my confession – to my shame, I only managed five puddings. I'm going to have to come back later in the year for a second attempt.
From the home of the Pudding Club, I'm Martin Stott for the Savvy Traveler.
Savvy Resources:
Find out more about The Pudding Club, visit http://www.puddingclub.com/.
The Three Ways House Hotel can be contacted at...
Mickleton
Chipping Campden
Gloucestershire
GL55 6SB
Phone (01386) 438429
Return to Feature Archive