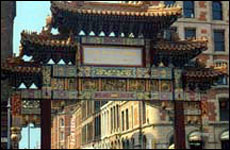 Cash Peters returns with a new stop on the Bad Taste Tour. This time, he takes us to the North of England and Manchester, a place he once called home. His experience proves that this once "dull and wet" place is...well...still less than "sizzling."
Feature: The Bad Taste Tour Goes to Manchester

People are always saying bad things about the north of England. It's not called the Libel Belt for nothing. I know that when I lived in Manchester, it was anything but a sizzling city. Just dull and wet - that's all I remember. It can be cloudy and raining one day, and brilliantly sunny and still raining the next. Drew Stokes of the PR group Marketing Manchester...
Drew: "I can do nothing about the weather."
Cash: "Can't we have a huge dome over the city? I've got these plans in my head."
Drew: "Yeah, sure...Manchester is meteorologically challenged. Sometimes we get rain."
Cash: "By 'sometimes' you mean 360 days of the year."
Drew: "No, not 360 days of the year. It just happens today."
Of course. And I went down with a cold the moment I arrived. Manchester does have some things to be proud of, though. It has one of the world's best tram systems, for instance, and was the home of the very first riveting machine. Do stop me if this gets too exciting.
Cash: "What do you think of Manchester?"
First Local Guy: "Shit, mate, shit."
Second Local Guy: "It's scruffy."
Cash: "Do you think it's a dump?"
Second Local Guy: "I do."
He's right. For years, we just wanted to burn the place down and start again. Well, oddly, in 1996, that's more or less what happened. The IRA, for reasons best known to themselves, unleashed a 3000 pound bomb in the city center. Luckily, nobody was killed, but on that day, Manchester quickly achieved another first - as the world's largest exporter of rubble.
Jonathan: "One of the newspaper articles said it was the bomb that backfired. There is a joke..."
Cash: "You're not going to tell a bomb joke..."
Jonathan: "...that Manchester is probably the only city where a bomb could go off and it would do countless billions' worth of improvements."
I wish they wouldn't tell bomb jokes. Anyway, when I heard that Manchester'd been rebuilt, I decided to go back. First time in 26 years. I found myself a guide - an amazingly knowledgeable man called Jonathan Schofield, who gives organized tours to visitors - and together we set off in the rain - what else? We began with the red mail box, or post box as we call it, which happened to be standing right next to the van with the bomb in it.
Jonathan: "The bomb went off down the road. At the time, this post box was next to it. Windows were broken for a kilometer, the wheels of the van ended up on the roof of the Arndale Center. But this cast iron post box from Queen Victoria's reign was untouched. A few days later, a postman came along, opened the gate, and sent the letters around the world. This is the lucky post box of Manchester."
Cash: "Perhaps we should kiss it."
Jonathan: "Like the Blarney Stone."
Cash: "I'm the first journalist to kiss...oh, it's wet. It French kissed me. I felt tongue!"
The two-hour tour takes in theaters and old schools and cobbled squares, places you'd normally pay money to visit. You event get to stand outside a souvenir shop for the local soccer team, Manchester United.
Jonathan: "They're just an incredible pull for the city. The United brand is now the fifth biggest in the world. In the AMazon jungle, you get Coca-Cola, and eventually get to Manchester United. There are 20 million supporters in China alone. The club's just unbelieveable, and they're getting bigger all the time."
And the strange thing? No matter how big the club becomes, some of us will never, ever care. Another thing I learned about Manchester - it's where Mr. Rolls met Mr. Royce. It's true. it was in the Midland Hotel almost a hundred years ago. And in 2004, they're holding a festival to celebrate.
Jonathan: "There's a massive international Rolls-Royce owners' club, so what they've done, they've given out the longitude and latitude of the Midland Hotel in Manchester, and at the moment, whether they're in Santiago, Chile, or Singapore, they're going to swivel their car to face Manchester in 2004."
Cash: "I wish I could describe the look in your eye when you told me that. As if to say, 'these stupid, stupid people."
Jonathan: "Thank God it's radio!"
Generally speaking, there are two ways to tell if a city is prospering. First, it gets a bunch of pretentious hotels. The one I stayed in had an elevator that spoke to you in French. I mean, come on, what's that about? And the second way to tell if it's prosperous is, you can't go anywhere without stumbling over large, ugly sculptures. Manchester has one that's shaped like a bar of soap.
Drew: "It's quite famous actually. It's the pebble outside the Bridgewater Hall."
Cash: "Well, it's horrible!"
Drew: "You're always so contentious with me."
Cash: "It's horrible."
Drew: "You're setting out to annoy me - what pleasure does it give you?"
Cash: "I've set the whole evening aside for this task."
***
Jonathan: "Oh, here's a tram."
Cash: "There we go. Look at all those happy people waving...they're the most miserable bunch of people I've ever seen!"
Jonathan: "Shall I tell you a wacky story about contemporary Manchester...?
No, thank you. But I must admit, it's changed a lot...and very much for the better! So next time you're in England and thinking, "where can I go to get wet?" Try Manchester. I still wouldn't say it's sizzling exactly, though Jonathan and Drew would, I'm sure.
Jonathan: "Yeah, sizzling."
Cash: I get the feeling it wouldn't sizzle if you put it in a frying pan and poured oil over it."
Jonathan: "No, maybe not."
Cash: "So when do you move out?"
Drew: "I don't think I'll ever leave here. I think I'm here to stay now."
Cash: "You're such a liar. Honestly...you are SUCH a liar."
Drew: "I do it so well."
In Manchester, England, I'm Cash Peters for the Savvy Traveler.




Return to Feature Archive