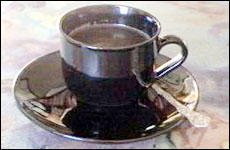 Vienna, of course, is famed for its concerts. After a performance, there's no better place to go than one of the city's fabled coffee houses. Veritable institutions, these establishments are more than just a place to unwind - they're practically a way of life, as the Savvy Traveler's Tom Verde discovered on a café crawl through the Austrian capital.
Feature: A Viennese Cafe Crawl

The legend goes that when Turkish forces abandoned their seige of Vienna in the late 1600s, they left behind two things Austrians had never seen before - delicate little loaves of bread shaped liked Islamic crescents which we now call croissants, and burlap sacks full of olive-colored beans which the Viennese thought were camel fodder. A worldly Polish mercenary named Kolschitzky, however, knew coffee when he saw it, and asked for the beans as payment. Before long, Kolshitzky was the wildly successful proprieter of Vienna's first coffee house. The truth is that it was probably Armenian merchants who in fact introduced coffee to Vienna in the late 1600s.
But, however it got here, savoring the beverage at a marble-topped table while scanning the daily newspapers is practically a civic duty in Vienna - an experience that no visitor to the city, no matter how much of a hurry he's in, should pass up.
You might begin your immersion in Viennese café culture at the city's oldest surviving coffee house, Café Frauenhuber, in the heart of Vienna's historic first district. Established in 1788, in what was once a medieval bathouse, the Frauenhuber has all the ingredients of a classic Viennese coffee house: glass chandeliers, crimson- and cream-colored marble tables, uncomfortable wooden chairs, an assortment of dog-eared newspapers, and decorous waiters in tuxedos.
The Frauenhuber was one of Mozart's favorite hangouts. He lived - and died, as it happened - just around the corner, and once gave a performance in the café. That's a pretty tough act to follow, unless you're Ludwig van Beethoven, another regular, who also performed here some years later. Local guide, Heidi Fedorczuk...
Heidi: "Beethoven and Mozart, they were composing here. They also liked to drink wine or coffee. The rooms have changed...they were more smokey, they were darker, they have changed nowadays because people don't like so much smoke anymore."
Just as in Beethoven's day, the Viennese continue to regard their beloved coffee houses as sort of second living rooms - places, wrote essayist Alfred Polgar, for those who want to be alone, yet surrounded by people at the same time.

Not far from the horse drawn carriage stands of Stephansdom Cathedral square, a narrow alleyway leads to just such a place, Café Hawelka, one of the most well preserved old time coffee houses in the city.

A century's worth of graffiti adorns the dark, tobacco-stained walls here, together with numerous, crookedly hung original paintings - the works of starving artists who couldn't afford to pay their bills with much else, some of whom went on to become locally famous. The threadbare, burgundy upholstery in the booths has seen better days, and I don't think the curtains of the place have been opened in forty years, but customers wouldn't have it any other way, says 88 year-old proprieter Leopold Halwelka.

Hawelka says that at his café, as in most of Vienna's 1500 or so coffee houses, customers are welcome to linger. Like a Congressman staging a filibuster, once you order a two dollar cup of coffee, you're free to hang on to that table all day if you like.

Some patrons have been known to take full advantage of this hospitality. At Café Central, a few steps away from the Imperial Palace, nineteenth century Bohemian writer Peter Altenberg practically lived at the place, listing the café as his mailing address. Another infamous regular was Lev Davydovich Bronstein, better known as Leon Trotsky, who is said to have plotted the Russian revolution here at these tables. The story goes that when news of the revolution reached Vienna, a waiter at the Central commented, "I knew Herr Bronstein would go far, but never thought he'd leave without paying for the four café mokkas he owes me."

Today, the elegantly restored Baroque interior of the Central, with its soaring, guilded ceilings, paladian windows, and live music in the afternoons, is more often packed with tourists than revolutionaries. And while it's pricier than most coffee houses, it's still well worth a visit.

Like many Viennese coffee houses, the Central offers a full menu and a bewildering array of variations on the theme of a simple cup of Joe . . . there's an einspanner, a large café mocha crowned with a genererous dollop of whipped cream...a Turkischer, strong, black Turkish coffee served in copper cups...or a Kaisermelange, black coffee served with brandy and, ugh!, an egg yolk. If you want to keep it simple, just order what most locals drink...melange...a double espresso with a little steamed milk.
Werner: "What you are tasting now is the original sachertorte...it dates back to 1832..."
Of course, what's a cup of coffee without a little slice of something on the side, in this case a piece of Vienna's famed Sachertorte, a rich, chocolate and apricot confection created a century and half ago by Franz Sacher, a 16-year-old apprentice in the imperial kitchens. The cake catapulted him to fame and wealth and his heirs now sell nearly 300,000 sachertortes annually here in the elegant café of the five-star Sacher hotel, one of the most luxurious in town. Back in the kitchen, there's a woman whose only job is to crack open the 1. 3 million eggs used to make those cakes. Now that's someone who really deserves a coffee break.

In Vienna, I'm Tom Verde for the Savvy Traveler




Savvy Resources:


More information from Tom on Vienna's coffee houses...



Café Frauenhuber
Himmelpfortgasse 6
Hours: Daily 8:00 a.m. to midnight; Sundays and holidays, 10:00 a.m. to 10:00 p.m.
No credit cards

Café Hawelka
Dorotheergasse 6
Hours: Daily, 8:00 a.m. to 2:00 a.m.
No credit cards

Café Central
Herrengasse 14
Hours: Mon.-Sat. 8:00 a.m. to 10:00 p.m.; closed Sundays and holidays.
Credit cards: Amex, Diners Club, Visa
Web: www.ferstel.at/html/e_cafe.html

Sacher
Philharmonikerstrasse 4
Hours: 6:30 a.m. to 11:30 p.m.
Credit Cards: Amex, MC, Visa
Web: www.saccher.com

For more info on Vienna's coffee houses and visiting the city, look here:

Vienna Tourist Board: http://www.info.wien.at

Austrian Tourism Board: http://www.austria-tourism.at/index.html.en

Tom's air transportation and accommodations were courtesy of the Austrian Tourism Board.





Return to Feature Archive