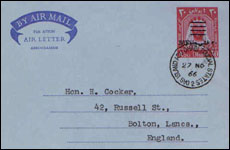 We received a postcard this week from Ken Miller. When he decided to study abroad for a year during college, he wanted to go to Peru. But at the time, the State Department had put it off limits. He then eliminated his second choice: Colombia, when the only person he knew who'd gone there was kidnapped. And so, he went to Ecuador: a place he knew almost nothing about...
Postcard: Uncle Juan

Dear Rudy,
I was miserably depressed within a week of my arrival in Quito. I had no clue what to do with myself: at one point I watched the Madonna movie "Desperately Seeking Susan" five times in a week. I attempted a mountain biking trip with a friendly new classmate, but that came to sudden halt when we got to the first uphill slope. Since one of the few things I DID know about Ecuador was that it was high atop the Andes Mountains, my near blackout from oxygen deprivation really shouldn't have been a surprise.
My host family was nice, except for the father, a gynecologist who was disappointed he hadn't gotten a girl student. The mother was known to the other host families as "la lora", or "the parrot," because she talked so much. But between gossiping and firing maids (which came and went almost weekly), she managed to talk me into visiting her brother-in-law. Little did I know I was being packed off to the most disreputable corner of the family. Uncle Juan was a middle-aged pharmacist married to a 15-year old and living at the run-down intersection of what passed for two highways. And if I was lonely, out of place and desperate for a good time, Uncle Juan was infinitely more hard up.
After a two-minute tour of his apartment complex, he announced he was taking me to an Indian reservation at the fringe of the forest. Turning off the cracked pavement, we pulled in at a soccer field for an awkward chat with the Tsachila's local representative. His traditional hairstyle - pasted down and dyed bright red with berries - was completely unmussed, though he was sweating a bit in his shiny polyester sports jersey. There really wasn't much to say: they were Indians, this was their home, we were visiting. Uncle Juan and I decided it was time to get lunch.
But instead of turning back, Juan continued deeper into the jungle. We drove for over an hour, creeping cautiously past a capsized truck and over a metal-cable suspension bridge, our Datsun sedan barely escaping innumerable axle-grinding skids through muddy pock marks in the dirt track. And just when I was about to wonder out loud what the hell we were doing, we got to our destination.
Now, I don't know who decided that a remote corner of rain forest was the perfect place for a bowling alley, but I'd like to tell them they were right. After a drive like that, ANY burger is the best burger possible and any Coke tastes a little sweeter. And as for the well-intentioned, confusing pointlessness of it all...well, I finally had a reason for being in Ecuador.
Return to Feature Archive