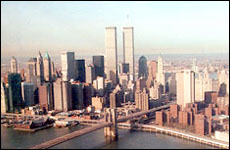 Being a tour guide for a wide-eyed foreign friend is tough work. Even though you're on home turf, you have to put yourself in his shoes to plan an itinerary. The pay-off, of course, is getting the opportunity to see your own land through someone else's eyes.

Tatiana Harrison had her tape rolling as she showed a Peruvian visitor around New York City, and learned a thing or two about the legends of punk rock and the myth of the melting pot.
Feature: A Peruvian In NYC

[Ice cream jingle plays...]
Quick! Name that sound!

It might bring back childhood memories and get you humming that catchy jingle - "I scream, you scream, we all scream for ice cream!"

Well, for my Peruvian friend Roberto, an ice cream truck ambling down a New York City street was cause for screaming indeed. "LOOK!" he yelled, "I didn't think they were real. And there are REAL kids running up to it! But I thought those trucks were made up just for that Starsky and Hutch show!"
Roberto: "No speak English. I am a Peruvian..."
That's Roberto. He's a news cameraman I lured to the Big Apple to help me film a documentary. It wasn't a tough sell. Roberto had never traveled, but as a film major, he'd strolled through Central Park with Woody Allen and ducked into Martin Scorcese's dark alleys. New York was one big movie set, and he was ready for his close up.
Roberto: "Leos Carax, mierda! Mis amigos pensaban que Leos Carax ya no estaba haciendo peliculas."
Roberto was thrilled to see the name of his favorite director on the marquee at that East Village institution, the Angelica. I shocked him by admitting that I'd never heard of Leos Carax, only one of the most important postmodern French directors.

And don't even mention my Jello Biafra faux pas! "WHO IS JELLO BIAFRFA?!" he cried. "Why, he's the lead singer of the Dead Kennedys, only one of the most important punk bands!! He totally influenced my band, los Testiculos de Jehovah."

Jehovah's Testicles?!

What of New York City do you show a Peruvian film buff who once was the lead singer of a punk band called Jehovah's Testicles?!?
Store clerk: Can I help you? - We've got the baby dolls or the platforms..."
First stop: St Mark's Place, checking out the eye-popping patent leather goodies. I can't tell you what he got his girlfriend, but, as we walked out, Roberto got an unpleasant surprise. "I'm SURROUNDED by people all dressed like me," he exclaimed. "In Peru, wearing all black means you're in deep mourning. On the corner of 7th and 2nd, it means you're in uniform."

In St. Mark's countless CD stores, Roberto marveled at all the new groups he'd never heard of. He explained he'd left the Peruvian underground music scene amidst the growing violence of the 80's, as terrorism ideology became all the rage and anyone who wasn't hip to that was not welcome.

The CD stores gave me an idea: Do you want to go to some club, I asked, have you ever heard of CBGB's? I might as well of asked if he had ever heard of the Statue of Liberty, which we did, by the way, visit - I'm not a totally irresponsible tour guide.

Roberto rattled off a list of the punk legends who had played CBGB's and then he cautioned, in a knowing tone: you better not bring that recorder and that expensive microphone you're always waving in my face. He had heard CBGB's was in a really bad neighborhood; he had read all about it in an interview with the band the RAMONES.

CBGB's is, as any real New Yorker can tell you, NOT in a really bad neighborhood anymore - there's a STARBUCKS practically across the street.

And guess what happened: THE Joey Ramone, the legend Roberto'd been talking about all night, took the stage. I was so livid about not having my recorder that I could really relate to punk angst for the first time.

Roberto drooled over his introduction to Vietnamese food. He may have known French cinema and punk rock, but I soon discovered he didn't even know what curry was. So I set us a culinary agenda that would showcase the benefits of living in a nation of immigrants. He tasted Pad Thai on 8th and 23rd, Greek Spanakopita in Astoria, Dominican Sancocho in Spanish Harlem, and Ukranian borscht on the Brighton Beach boardwalk.

In Queens' Little India, Roberto got a taste not only of curry, but also of baseball fever, courtesy of our Pakistani-born waiter.
Waiter: "Oh, yea, the Yankees are definitely going to sweep. They're going to win the next game at Met's stadium and when Fox's camera shows the Mets dugout, they're all going to be crying and that is going to be the happiest day of my life."
Since I know next to nothing about baseball, I was glad we had found someone American enough to describe the passion of our "national pastime."

One late-night hunt for Salvadorian pupusas turned into a lesson about modern American multiculturism. We found ourselves wandering Brooklyn's Bedford-Stuyvesant neighborhood, something of a no-no for non-natives at night. Roberto suddenly cried out: "Hey, there's the pizza place from Spike Lee's 'Do the Right Thing.'" "Roberto, just because I told you he grew up here..." "But look at the name!" "Roberto, there are A LOT of guys named Sal in Brooklyn."

Then, totally lost and like any good tour guide, totally bluffing, I directed Roberto to cross the Eastern Parkway, into Crown Heights. WHO Are THEY, he asked, pointing to a group of Hasidic Jewish families. My answer just seemed to confuse him further.

He was amazed that we could be in a all black neighborhood one minute and in a Jewish neighborhood the next; that people could live so close and have nothing to do with each other. You hear America's the place where different people live together in peace and harmony, he said, but they don't live TOGETHER at all.

His disappointment embarrassed me. Our nation of immigrants was no melting pot, or even tossed salad. Try: TV Dinner, with the differences buffered by keeping everyone snug in their own special section.

Roberto discovered his own culture's compartment on the TV dinner landscape as we got to work filming the Peruvian religious processions celebrating El Senor de los Milagros, Our Lord of Miracles.
Tatiana: "What miracle do you want?"
Woman: "That my family can be together"
This factory worker asked God to make it possible for her family, divided between here and Peru, to be together. One man was praying that his son would stay in college.

Most everyone urged Roberto to stay in the US. Stay here?! No, no, no, he replied. "I'm just a tourist! I'm going home!"

My favorite moments of the trip were as we walked along with the procession, and both of us reflected on his time in New York.

He described what a revelation it was for him to see things from the other side of the fence. Before, the United States was just a black hole that so many people from his country seem to disappear into.

I told him it was hard for me to conceive of the millions of Americas that exist in the imaginations of people of other countries.

"There's a lot of money here, that's for sure," he said, "and as long as that's the case, this place will dominate the world's fantasies. But this trip I've seen a lot of places where people can't get their hands on even a little bit of it. That's the thing that you really can't understand until you come here."

Towards the end of the three weeks, I asked him what his favorite part was. Patti Smith at the Madison Square Garden Ralph Nader rally? The bar at the top of the World Trade Center? Seeing a real Picasso at the Museum of Modern Art?

He described a moment I didn*t ever remember at first; when we emerged from the Bleeker street subway station into a surreal scene: two prostitutes talking to a man in a Hawaiian shirt with a huge snake around his neck, and at that moment, a low rider going by pumping out Chicano music. "That kind of moment you don't see in the movies, or anywhere else," he said. "In my life, being where I'm from, I've seen so many different images of America, been sold so many ideas of what America means. That was just a silly little moment that's all mine."

I'm Tatiana Harrison for the Savvy Traveler.






Return to Feature Archive