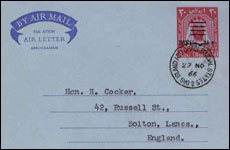 Are you the kind of person who has trouble relaxing on a vacation? Writer Mary Lou Weisman and her husband, Larry, have come to fear free time on the road, like the time a sudden downpour forced them to while away the hours in a Turkish carpet shop. We remember Mary Lou saying that by the time the rain stopped, she had signed on as the store's US rug rep. And since then, not much has changed. She sent us this postcard this week on another experience she's had with the risks and rigors of relaxation.
Postcard: Doing Nothing

Boredom has a way of getting us into trouble. In the Spring of 1993, we got stuck in Paris during Pentecost, a holiday weekend so holy that it lasts for four days and everything is ferme (closed). The only place that was open was a pharmacie. We roamed the aisles pretending the place was the Louvre: Every L'Oreal was a Leonardo, every toothpaste a Tintoretto, and every shampoo-conditioner a Toulouse-Lautrec. Weary, Larry the art-lover went off to Notre Dame to count the gargoyles. Bored, I made a desperate purchase, went back to the hotel and dyed my hair champagne blonde. It was something to do.
Like me, Larry will do almost anything to avoid doing nothing on vacation. Luckily, he's a workaholic. When we're in the US he calls his office at frequent intervals. When we're abroad, he's particularly vulnerable to the siren song of international advocacy. So what if he's not allowed to practice law in foreign countries.
In the fall of 2000, we stayed in a friend's authentic thatch-roofed cottage in a tiny village on Galway Bay. After three extremely quaint days, we reached our tolerance for inner peace and outer rain and were ready for some utter chaos. It came just in time in the form of a land dispute that Larry learned about while hanging out in the local pub. Contractors from the big city were threatening to build 23 tract homes, and the villagers wanted to fight back.
Larry let it slip at the pub that night that he was a lawyer with a specialty in land use. One of his more sober potential clients brought up the matter of the relevance of Irish to American zoning laws, but Larry assured them that the issues were basically the same: Would the increased traffic adversely affect the free-grazing cows? Would the proposed houses interfere with the neighbors' view of the broken-down castle? - matters, Larry said, he dealt with all the time in Connecticut.
The papers had to be filed in three days. For the balance of our stay, the neighbors gathered in our living room to plot and plan. The builder's blueprints were permanently unfurled on our kitchen table, surrounded by Padraic McKinney, Connor Joyce, Prather Houlihan, Kathleen Donovan, and Larry O'Lawyer.
Larry was no longer doing nothing. Neither was I - I was a barmaid, serving pints of Guinness. We were on vacation. There was work to be done.
Return to Feature Archive