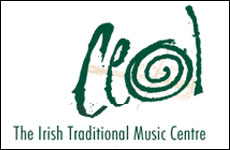 We should mention that Sunday March 17th is St. Patrick's Day. And one way to get in the spirit of things is to have plenty of Irish ceol (kee-OHL) on hand. No, ceol isn't an exotic dish or some kind of green beer - it's the Irish word for music. But to The Savvy Traveler's Cash Peters, whether it's Irish food or music, it's still an acquired taste. We sent him to Ceol - The Traditional Irish Music Centre in Dublin - for what turned into his latest Bad Taste Tour.
Feature: The Bad Taste Tour Goes Ceol

Cash and Random Man: "What d'you know about the Ceol?" "The which?" "Ceol." "The Ceol Museum?...errrrrrrr, very little." "Have you ever been there?" "Errrrrrrr - no."
And I can't say I blame him. Ceol is a new museum dedicated entirely to old-time Irish music, Ceol being a Gaelic word, meaning: [LOUD SINGLE BLAST OF ACCORDION MUSIC]. The head of the museum, Sally Buckley, offered to show me round - something she would later regret.
Cash: "Yeah, we're in the coatroom, the first section in Ceol, and we have real life coats and jackets hanging up on the wall here..."
And before you say, hell's bells, what a rip-off - passing off the cloakroom as an exhibit - actually, it's not what it seems. It's an amazing sculpture made up of hundreds of coats. They've hung them on hooks, covered them in plaster, and now they project little films onto them. It's very clever.
Sally: "The room symbolizes musicians taking off their coats and jackets - leaving the rest of their clothes on, obviously - taking up an instrument and starting a session. So it's the start of the tour."
Cash: "It wasn't, like, your customers came in, hung up their coats, went round the museum, and came back to find them covered in plaster?"
Sally: "We always encourage people to leave one or two behind."
Cash: "I bet you do. What a cheap way of having an exhibition."
There's lots to do in the museum. You can watch a guy tap-dancing on a glass ceiling above you and look straight up his pants - I got my money's worth right there - or, when that gets dull, you can sit and listen to some toothless old peasant singing sea-shanties.

I shouldn't laugh. That's probably shooting up the Irish charts as we speak. In short, the museum gives you the chance to see what people who can't afford television do in their spare time. In fact, let me save you the entrance fee: They drink, they sing - that's it. And I swear I don't recognize half the performers.
Cash and Sally: "You might recognize the Dubliners..." "That's the thing about Irish musicians, they're not famous." "The Dubliners, the Chieftans, Michael Flatley." "Besides those, name three I'll have heard of." "The Clancy Brothers." "No." "Milholla Soogowan." "No." "Martin Hayes." "No." "Sharon Channon." "No...Have you got a whole area dedicated to Enya?" "No."
I rest my case. Anyway, the museum is very atmospheric and beautifully laid out and, considering it's about a bunch of peasants playing fiddles, there's an unusual amount of technology here - including, for people who love pushing and pressing things, lots of things to push and press, in particular a room filled with musical floor-pads for you to jump on. It's one of the cleverest and most innovative ways to sprain your ankle I've ever come across.
Cash and Sally: "You step in a floor pad, they're all different colors, and you can play a tune." "Oooh, this is like 'BIG'" "I'm so simple, I would do this for three hours and be quite happy." "D'you never get sick of the music, working here? D'you go out of here with a migraine?" "No, you get used to it and you get more interested as it goes along."
Somehow I doubt that. Incidentally, for copyright reasons, they would only give me permission to broadcast a limited portion of this music. And that portion runs out...[MUSIC STOPS]...there. So, next stop: The interactive dance floor, featuring another bunch of peasants showing you how to barn dance. You can either join in with them, or just do what we did - stand and laugh at what they're wearing.
Sally and Cash: "There are two different screens, with dancers on them and on either side of the screens are mirrors so you can practice what you're seeing on screen." "Have you seen how cheap their clothes are? You wouldn't wear any of these clothes yourself, would you?" "But they're quick on their feet." "They'd have to be. They probably stole those." "These are dancing shoplifters we're watching."
Cash and Sally: "I'm an awful dancer." "Well, I can't dance either - let's dance. You be the woman." "The woman always leads in Irish dancing." "Oh, well, I'll be the woman, then. We're dressed too well for this." "You do a certain number of steps and swing around. Forward, backwards, forward, spin around, spin around. Backwards, and forwards in a line. Wooop!" "Oh my God, I'm exhausted." "It's a very physical sport, is Irish dancing. You've got to be fit." "Okay, I'm done."
It was hopeless. We danced like a line of riot police. But even though I probably snapped a couple of ribs, this for me was the best part. To be honest, Ceol is not a place you'd want to go to twice; or even once, in most cases. But if you enjoy looking up men's trousers, or if, when you listen to this...
[OLD MAN MUMBLING]
...and you think you hear a tune, it's probably for you. In Dublin, Ireland, I'm Cash Peters for The Savvy Traveler.




Return to Feature Archive