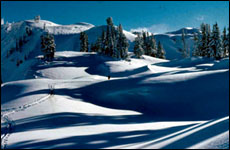 Teaching a child to ski is an arduous process filled with crashes, runny noses and lost mittens. But still, parents spend lots of time and money coddling the next generation of skiers. Pippen Ross has invested years teaching her kids to ski. Now she faces an alpine version of the empty nest syndrome.
Feature: A Ski Family

Crammed in the car, enroute to Stratton Mountain in Vermont, my 12-year-old son Nick, my 14-year-old stepson Tom, and their best friends Chris and Jeff psyche themselves up for a weekend of skiing with a favorite adolescent pastime - trashing their elders.
Tom: "Yeah my dad acts like he's a pro skier. So my dad says, Tom I'll see you at the bottom, yeah dad. And he gets off the ski lift and he falls down...oh it must be the skis, sorry...I don't fall when i get off the lift!"
Like parenting - teaching your kids to ski can be a thankless job. For all the fun we've had and all the places we've skied, the kids always seem to remember the bad stuff. Getting whacked in the head by the chairlift, for example. Nick's clearest memory of Stratton is when he peed in his snowsuit at ski school and was too shy to tell anyone.
Nick: "I'm still traumatized from it and i will be for the rest of my life. Don't go to ski school. That's all i have to say."
Do go to ski school. Trained professionals know what they're doing. Besides, you should be paid to teach a young person to ski - it's a tremendous amount of work. That's a lesson I learned in hindsight.

Walking around Stratton's base lodge, I see I'm not alone. Everywhere, there are parents, like this poor guy - on his hands and knees in the snow - prepping his kid.
Poor Guy: "Ready? What? You want your thing? Where is it...?"
We're way past that stage. My boys have been skiing for nine years. They carry their own skis and poles. They keep track of their own gear.
The Family: "When did you last have it? Right here...are you sure? I only got two of those. What hat is in your pocket? You have a hat in your in your pocket...he won't look in his pocket...you have a hat in your pocket? Pull it out? You guys i just did!"
Okay, so the pay-off isn't apparent in the preparations - it is on the chair lift. There was a time when we had to hold the boys by the scruffs of their jackets to keep them from slipping off. Now, they don't even want to ride with us. Watching the boys goof off in the chair ahead, my husband John indulges in a moment of parental satisfaction.
John: "And y'know they aren't watching tv, they aren't playing Nintendo and they aren't online...they're doing something that's good for them...and...I like it to."
I love it. I love the fact that i can finally ski as hard and fast as i want to...
Pippen: "Nicky? You're in trouble now...nobody passes the mother..."
But as liberating as it is to no longer have to stop and wait and wipe tears and dust off hats, it's a little unsettling the boys ski as fast and hard as I do.
Pippen: "Ah! You're right behind me...please son, don't leave me in the dust! Oh my God I'm completely out of breath..."
I used to worry about their safety. Now i worry about my own. Before, I was encouraging...now i'm just plain competitive.
The Family: "Who's going to say mark, get set, go? I am. Shut up..mark, get set, go...argh! Oh my God...Oh Tommy, are you alright? Are you okay? He caught a tip..."
Tom was okay. I was a bit shaken up though. Not by his spill, but from the flash of annoyance i felt having to stop and tend to him...I was winning!

Curious if my maternal instincts are messed up - or perhaps dried up - I sidle up to a large group of parents watching their kids compete in a giant slalom race. These kids are really good skiers. Raising skiers, skiing parent Pamela Cross explains, is a metaphor for parenting:
Cross: "A micro-incapsulated version of the big picture."
It's the specter of aging, says race coach Skip Fox. He's struggling with the fact that any day now, his 15-year-old daughter is going to whoop his butt.
Fox: But i'll be happy for her - I really will - mostly! Ha ha!
I regroup with the boys determined to let them go - to let them become skiing men. When suddenly, there's a pay-off I never anticipated.
Pippen and Son: Oh...the woods. I don't really want go. Mom, this is fun, this trail is fun, trust me..."
All those years of parenting return to me in the encouraging words of my son.
Pippen and Son: Come on lets go. Wait a minute. I'm afraid i'm going to hit a tree...or you are. Mom we're not going to hit a tree, okay. You're good enough skier so you're not going to hit a tree, and if you do, I'll let you beat me in a race, okay...there's a deal. Okay, you go, I'll follow you."
Return to Feature Archive