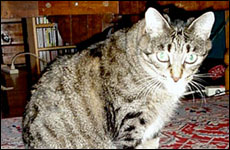 One of the biggest problems animal lovers face when planning an extended trip or even a quickie weekend get-away is finding a cat or dog sitter. Someone once said "dogs have masters, cats have staff." Well, whether you're the boss or an employee, chances are you'll do anything for your pet. Alice Furlaud never likes to leave her cat, Miss Pudding alone for even a single day. But when it comes to finding a sitter for Miss Pudding, Alice is hard to please.
Feature: A Good Cat-Sitter is Hard to Find

Miss Pudding is a fearful, fluffy, black-and-tawny cat, about 14 years old, who came out of the woods in 1989, needing a home. She adored my husband, and since he died, two years ago, she's been my best friend. The trouble is, I'm HER only friend. She won't speak to anyone else, and she goes into hiding the minute there's a knock at the door. Last year, I had to go to New York for a whole week. I thought it might be impossible to find a trustworthy person to stay with my precious cat. I was lucky.
While working on a radio feature about a Boston church choir, I interviewed THomas Pickering Jones, the tallest man in the bass section. He turned out to be not only a cat lover, but a former international business executive. After a spiritual transformation he had given it all up, and now devotes himself to helping others. He earns a subsistence living as, among other things, a cat-sitter. Who wouldn't trust a cat-loving chorister with their best friend?
It wasn't until Tom's fourth visit the other day that he actually made physical contact with Miss Pudding. I witnessed the meeting.
Tom: "It's okay...she's a good kitty! Yes. Oh, Miss Pudding, I'm your friend. I'll be - don't run off now! Don't run off. You're going to be okay. Oh, there she goes under the bed. Oh dear..."
I'll bet Tom Jones hasn't got many cat-sitting clients as unfriendly as Miss Pudding. He told me about one - a ginger-colored cat named Sasha who lives in an elegant part of Cambridge.
Tom: "Sasha is a rather...slightly reticent cat. She's not as reticent as Miss Pudding, but she isn't nearly so pretty."
Alice: "What do you do? Now, do you go and stay there, or what happens actually?"
Tom: "Well, actually many times I've stayed with Sasha for days or even weeks at a time when her owners go away. Other times, I've actually, um, taken her to my place...one time unbeknownst to them, I might confess."
Alice: "Why was that?"
Tom: "I felt sorry for her because it was Christmas time and she was going to be alone, and I didn't feel like being away from home at Christmas time so...I thought well, maybe she'd like to come and have Christmas with a couple of other cats, and so I napped her and took her home. Friends of Mine actually brought her presents, so she had a lovely time under the tree on Christmas morning playing with a dog, actually, that dresses in Barbie Doll clothes."
Miss Pudding wouldn't have liked being kidnapped. She hates being picked up, and she's never been away from home, unlike Tom Jones' own tow cats.
Tom: "I have one who's a mongrel Siamese, who was found by a dear friend in Reno, Nevada. She flew him to L.A. - where I was living at the time. There's another, Tigger, who is a tabby cat found on a golf course in Teluca Lake. Tigger and Cowley have both moved with me to Washington, DC, for several years, and then to Saudi Arabia for another several years, where Tigger actually had a run-in with the prayer call in Riyadh. He was rather frightened by the aplified prayer call, and it took him some time to get over it."
It's terribly chic to have a world traveler as a cat sitter, but Tom can't drive the two hours from Boston to Cape Cod to spend only one day with Miss Pudding. Fortunately, an old friend and neighbor, John Worthington, also the owner of two cats, has a local reputation as an excellent cat-feeder.
John: "Now that I'm retired, I've been pet-sitting as experience. It's mostly dogs. I'm walking fourteen dogs at this time, and looking after nine cats-off and-on."
I require more from a day care-provider than just feeding. I need to know that the visitor has seen Miss Pudding. She's an indoor cat, with access to a screened-in porch via a cat door set into the kitchen window. But I need constant reassurance by phone that she's alright. Given Miss Pudding's expertise at hiding, sightings are quite a task. John Worthington does his level best.
John: "I have yet to get a glimpse of this cat. I start by going upstairs and looking under the bed. That's the most logical place. But there's no way I can find the cat under anything upstairs. So I go into the kitchen and prepare her meal. When she still hasn't appeared, I leave and position myself behind the door, looking between the door and the frame at the cat dishes, waiting for the kitting to come eat. One time I waited an hour and a half."
I don't insist that John get down on his knees and look in the back of the cupboard under the sink where Miss Pudding often hides among the brushes and pails. But I do give him simple but necessary instructions about food.
Alice: "Dinner is a jar of baby food...Gerber's, turkey in turkey broth. And you add a little hot water making it a very smooth mixture."
John: "Uh huh."
Alice: "And to this you add one sixteenth of a teaspoon of Barley Cat, which is a wonderful dietary supplement."
John: "One fifteenth?"
Alice: "Sixteenth. And this is the water dish that you change every day. Wash it around, not with soap."
John: "No no!"
Alice: "And put in spring water."
John: "Yes."
Alice: "And then you place it on her eating matt which is in the parlor, and be sure that the word 'Kitty' on the dish is facing outward."
John: "I understand."
But the most crucially important task is to make sure Miss Pudding doesn't get out the kitchen door when the sitter or feeder comes or goes.
Alice: "The thing to do is to open the inner door and hold it sort of behind you so that when you open the storm door, you slither out between them...and you're opening the storm door while closing behind you the other door."
John: "Well, now, are you sure I'm going to be able to squeeze through that storm door?"
Alice: "I'll show you the drill."
John: "You're going to slither."
Alice: "Yeah....Why don't we have you enter? Luckily, you've kept your coat on."
John: "I'm going to open this door and slither in as you've explained it, and then shut the door on myself before I enter the second door..."
Alice: "No no...you can be opening the second door while closing the..."
John: "The handle isn't working properly...the door has been LOCKED!"
All of this trouble for a cat that John is unlikely ever to lay eyes on. But remember when I said I was Miss Pudding's only friend> It's not quite true. She has one other friend, Claudia Goldstein, a woman in her fifties who has never in her life owned a cat. On Claudia's rare visits, Miss Pudding comes into the room, joins in a game of Throw the Pingpong Ball, and let's Claudia give her a rough and tough massage!
Claudia: "Shall we have a lap session? Come on. Such a soft underbelly. Purrrrrrrrrrrrrrr."
During the massage, Miss Pudding purrs so loud that can even hear here over the roar of our awful old oil furnace. But alas! Claudia can never come and stay with Miss Pudding. She's going to college, and it takes up all of her time. Worse, I haven't been able to nail Tom Jones down to cat-sit for my next trip to New York. Word of his superb animal companion work has gotten around. He seems to get a new upmarket client every day.
Tom: There are two chestnut labradors, called Buttercup and Chesapeake. They have the luxury of an electronic fence, so they have these collars and they stay around the place, so to speak."
Alice: "Does that mean a fence that gives them a shock if they get anywhere near it?"
Tom: "Yes, but they only get near it once."
Poor Buttercup and Chesapeake. And poor Miss Pudding. Who will give her the tender loving care she needs when I'm away if Thomas Pickering Jones is occupied with all of those fashionable Cambridge cats and pedigreed labradors? Oh dear! A good cat-sitter is terribly hard to find.




Return to Feature Archive