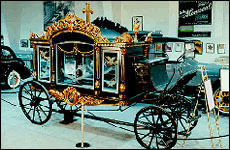 Now, if you want a tour that encounters the unexpected, you might want to tag along with our Cash Peters. He scours the globe looking for the most bizarre tourist destinations and now, he's found one that some folks are just dying to get into. In Cash's case, he's dying to get out. Our stop? Houston's National Museum of Funeral History on today's Bad Taste Tour.
Bad Taste Tour: Where Can You Put the "Fun" in "Funeral"?

Announcement: "Ladies and gentlemen, may I have your attention please?"
Oh, okay.
More Announcement: "I am Captain..."
Sorry, I thought he was going to say something interesting for a moment. But that's one of the videos showing at the National Funeral Museum in Texas, which is where I met Gary Sanders. He's part curator, part cabaret, and frankly a little too chipper to be running a funeral museum.
More Announcement: "We all know we're gonna die. At the museum we have a saying - 'any day above ground is a good one.'"
See what I mean? He makes death sound quite attractive. Although, to be honest, after ten years in radio journalism death does sound attractive. But the museum covers about 20,000 square feet, big enough to hold the hundreds of exhibits, and possibly a small commercial aircraft. The space is filled with an amazing array of funeral carriages and novelty coffins - they even have a computer for tracking the graves of famous dead people.
Cash: "Find a name."
Gary: "Which state?"
Cash: "Let's see who's famous who's buried in...South Dakota."
Gary: "Okay."
Cash: "It's under S."
Gary: "How about Sitting Bull?"
Cash: "How about Potato Creek Johnnie? Who the hell is Potato Creek Johnnie?"
Gary: "I don't know."
Cash: "Thank God he's dead, I say."
You know, I watched this video for ten full minutes and it never gets interesting. But actually it doesn't matter, cuz there are just so many other great things to do. You even get to climb inside a hearse.
Gary: "Let's pull this open."
Cash: "Let's defile the dead."
Gary: "Here we go."
One thing to beware of, though, when you're touring the museum: Any story you're told that begins with the words...
Gary: "Back in the 1860's..."
...and most stories do - is gonna be dull. Better instead to head straight for the funny-shaped coffins.
Gary: "These are coffins from Ghana. They're the creation of a man named Kani Kwei. He was asked to build a coffin for his dying uncle. His uncle was a fisherman, so he built a boat."
Cash: "Oh my God."
Gary: "This is a fishing canoe."
Cash: "He's not in there now, is he?"
Gary: "No. Over there behind you there's an eagle, and the only one for a lady - a chicken."
Cash: "So tell me honestly. How many of these have you laid in?"
Gary: "Not a one."
Although it's tempting, I'm sure. Anyway, after seeing a bunch of coffins shaped like canoes and chickens, I was ready for a new challenge. And right around the next corner, there it was: A coffin shaped like a gigantic vegetable, built by the same guy.
Cash: "This is a leek, is it?"
Gary: "No, this is a shallot, like an onion."
Cash: "Who would be buried in an onion?"
Gary: "It was for a family who raised this type of crop."
Cash: "You know, I'd be so embarrassed if I was buried in an onion."
Then, Gary: "Back in the 1860's..."
Er - no thank you. To be honest, I've never seen the point of having an elaborate casket. I mean, youspend all that money and you never get to enjoy it. But some folk are nuts. They go to incredible lengths. Sometimes they even have family-sized caskets built so that they can be buried along with their friends. You know, make an occasion of it.
Gary: "One of the most unusual caskets we have here is this casket for three."
Cash: "It's basically just a bed with a lid."
Gary: "It looks like a grand piano."
Cash: "Let's get in now."
Gary: "No."
Cash: "It'd be so much fun. We could lie there 'til somebody finds us...obviously that idea didn't appeal to you."
Gary: "This is a solid glass casket."
Cash: "You're not as much fun as I thought you were."
Gary: "I can be fun."
It's true. In fact, on his desk Gary has a little corpse in a coffin that shouts.
Corpse: "Get me outta here!"
That's how much fun he can be. Anyway, where was I? Oh yeah, towards the end of the tour, that's when you see the seriously weird stuff. Gary: "We have here a one-of-a-kind collection of mourning clothing - this is made from human hair." Cash: "Yeeeeeerrrrrrr."
Gary: "Look at this brooch...look at this necklace...they're all human hair. When my mother passed away, I kept her hair too. I'm going to have it braided into jewelry."
Cash: "Ooh, pump organs!"
Well, I had to get away from there somehow, and I'd just spotted an old funereal organ. Probably dating from back in the 1860's, though I don't know for sure.
Cash: "Does it work?"
Gary: "Yes it does. Do you want me to play something?"
Cash: "Play something from Grease."
Gary: "No, I can't do that."
Cash, singing: "You're the one that I want." [HE PLAYS NOTES]
Cash: "No, that's 3 Blind Mice... [SINGING] You're the one that I want, ooh, ooh, ooh."
Gary: "No, I'm sorry, I'm not that talented."
Cash: "Hhh, it was just an idea to brighten up your life."
And, well, that's the National Funeral Museum for you - you should go, it's fun. Well, it's more marginally more fun than not going, let's put it that way. In fact, if you do go, why not ask Gary to guide you around personally? He'll love me for saying that. In Houston, Texas, I'm Cash Peters for the Savvy Traveler.




Return to Feature Archive