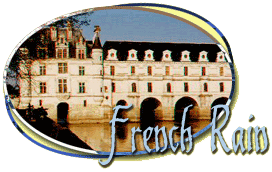 French Rain
by Nanci Olesen
Dear Rudy,
French rain. Doesn't it sound like the name of a movie or something? And it was like that. Like a movie. I swear. My Minnesota family: 3 kids and me and my husband, at an 11th century chateau on the Loir River. In July. But it rained for all seven days. Which I guess was the magic of it too. We sat by the hearth in the huge living room, drinking coffee and eating chocolat and speaking in rudimentary French to our hosts, our friend Dominique's elderly parents.
My French would have been magnificent if the weather was better. I could have run by the patio in the middle of a sunny afternoon, shouting, "Je vais faire du bateau maintenent!" on my way to row the flat-bottomed boat to the stone bridge nearby. Or I could have said "Maintenent nous faisons une promenade dans le jardin,"as my two little girls and I went walking in the lovely long garden, full of magnolias, roses, clematis...
We did go rowing, and walking in the garden, and into town - all through the veil of rain. But because we had to take so many breaks by the hearth drinking coffee or wine with our hosts, it became apparent that neither my husband nor I nor our three darling children can really speak more than a few words at a time in French.
Dominique has lived in the United States for 25 years. So when he was in the room, the conversation flowed quite easily: English, French...French - English. Sarah, his American wife, speaks French about as well as I do. We often turned to each other in frustration or polite exhaustion and burst into laughter, or just rolled our eyes and filled our wine glasses.
It rained...and we grew more comfortable at the chateau, and I continued to search for meaningful things to say in French: "That table is made of wood. At my house I also have a wooden table." Madame Serrand, our host, fretting about the weather, the work of keeping the chateau going, or her aging body giving out on her, would simply turn to me and say "Oui." And sigh. And close her eyes.
Then the children and I would explore a part of the chateau we hadn't seen: The upper room of the tower. The chapel. The mill. In the afternoons, I chopped onions and peeled garlic and murmured "Oui, Oui" when Monsieur Serrand asked if I would like more wine. As the dusk came on, we ate a six course meal in the elegant dining room.
I will remember our week at the Chateau Bazouges forever - the spiral stairs in the tower, the fires burning in the hearth, and our good friends.
And if I get to go there again, I swear I'm going to study French 'til I'm fluent. In case it rains and I need to keep the conversation going.
Nanci Olesen is the host and producer of MOM-bo, a mom show which airs on the Pacifica Radio Network. She lives with her three children and her husband in Minneapolis MN.