When you plan a European itinerary, it's usually full of things you won't find in this country - like centuries-old castles, palaces, and monasteries. If you're headed for Spain, you can see all of those without ever setting foot out of your hotel. The Spanish government runs a group of hotels called Paradors, most of which are in renovated historic buildings. Naomi Lewin had the urge to sample how the other half - or the other precious few - used to live, so she went Parador hopping in Spain.
Spanish Castles
by Doña Naomi Lewin
I had the usual misspent childhood reading fairy tales, which did not prepare me for the real world. In fairy tales, the princesses all live in beautiful palaces, and for years, I've dreamed about what that would be like. Thanks to the Spanish Tourist Office in Chicago, I got to find out. O.K., so it wasn't happily ever after, but I did spend five glorious nights as Sleeping Beauty in the Paradors of Spain.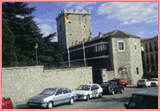 The Parador in Avila began life as the 16th century palace of a royal dignitary. Today, it's a four-star hotel with every comfort a Spanish grandee could have wanted, and then some: heat, air conditioning, and splendiferous indoor plumbing.
A small garden separates Avila's Parador from the medieval city wall, which is still completely intact. Juan de la Torre, director of the Parador, recounts a bit of history connected with the garden.
Legend has it that before there was a palace - and before she became a saint - Teresa of Avila played here under a mulberry tree. Nowadays, so that Avila's favorite saint will smile on their union, bridal couples flock to the Parador every weekend to have their pictures taken under the current incarnation of the mulberry tree. My visit fell during the week, so I didn't get to see any brides. And I also missed out on an attraction that lands on local rooftops in December.
Juan de la Torre imitated the sound of tapping stork beaks for me. Their nests decorate the ancient gate to the city, across from the entrance to the Parador. On my travels, I found any number of charming stories in and around Paradors - more than one with an avian theme.
The town of Santo Domingo de la Calzada lays claim to a 14th century miracle involving a pilgrim, a serving girl, a silver goblet, and a roast chicken. Ever since, live chickens have been kept in the cathedral.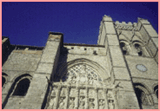 In the cathedral.
The Parador is right next to the cathedral. In the 11th century, King Sancho III had his vacation castle here; in the 21st century, the hotel sports a gym and a jacuzzi - and they're building a golf course nearby. My room was in the oldest part of the Parador. Floor-to-ceiling wooden shutters on the windows opened to reveal the tiny cobblestone square. And in the morning, singing worshippers turned up for the festival of Saint Pilar.
Another magical Parador moment. Parador is Spanish for "stopping place" - traditionally, somewhere a "cut above" for people to stay while on the road. In the late 1920's, the Spanish government started a chain of hotels that would either preserve national monuments, or provide new places to stay in scenic, but more far-flung, locations - at a reasonable price. By now, there 80-some Paradors around the country.
I wanted to stay in the largest Parador - the former Monastery of San Marcos in León. But even though I enquired two months ahead of time, there was no room at the inn for a Saturday night in October. So I had to content myself with lunch at the restaurant there. Boy, did I ever content myself. After consuming everything from foie gras to half a dozen different kinds of fish, I came face to face with the dessert tray.
Did I let the fact that I was stuffed to the gills stop me? Ooooooh, no.
When I rolled out of the restaurant, I was grateful to walk off my meal with a tour of León's Parador. That's when I discovered why it's booked solid on weekends: weddings. People come from all over Spain to be married here, because the place affords one-stop weddings: in addition to food and lodging, the monastery's original chapel is still in operation. Guests sip drinks on a balcony overlooking the cloister, which is also occasionally used for concerts.
The star-filled summer sky formed a roof over the arches of the cloister, and - in what Concierge Miguel Garcia calls "that mysterious silence" - the Spanish Television Choir sang Handel's Messiah.
My visit to the crown jewel of the Paradors - in Santiago de Compostela - also had a musical connection. Once upon a time, when I studied music in Santiago, they only allowed us student riff-raff into the Parador for concerts to entertain the guests. Living well being the best revenge, I took mine by spending two nights there, in the Hostal de los Reyes Católicos. The "Catholic monarchs" in question were Ferdinand and Isabella - in 1499, they built a hospital for pilgrims who'd finished the arduous trip to Santiago.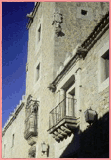 This magnificent edifice served as Santiago's only hospital until 1954, when it was converted into a five-star hotel. Out with the multi-bed wards; in with the Parador decor: antiques, paintings and tapestries. By now, accommodations include marble bathrooms and comfortingly anachronistic CNN. And if you really want to live like a king, there's a royal room overlooking the cathedral and the Plaza de Obradoiro - the heart of Santiago.
I wish I could tell you that I slept in the royal room with a view, but apparently American radio reporters aren't that V.I.P. My quiet chamber off one of the four inner courtyards was princely enough, though - it felt almost sinful to festoon it with my dripping laundry. And just outside my regal abode, there always seemed to be musicians to serenade me.
I definitely suffered from Cinderella let-down the night before I flew home, when I had to stay at a normal hotel in Madrid. But thanks to everyone in days of yore who built castles in Spain, my princess soul is satisfied. For the Savvy Traveler, just call me Doña Naomi Lewin.