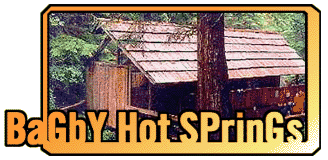 Nature has a way of healing and renewing the spirit. Many weary travellers head to the mountains, a desert or the ocean when they need to find peace of mind. Producer Gretchen Lehmann went to Bagby Hot Springs in the foothills of Mt. Hood in Northern Oregon. She found the healing she was looking for, but learned a lesson about losing yourself in the great outdoors.
Bagby Hot Springs
by Gretchen Lehmann
The hike into Bagby is what I imagine it would be like walking through the scene of a Wordsworth poem. The old growth forest looks almost untouched with its stands of towering cedars and the century-old pine trees that have fallen and decomposed on the hillside. Curtains of pale green moss drape over every bush and branch. On this winter day, the air is so crisp and cold that when you talk, you can see your breath. I suspect the poet would have proclaimed Bagby a place where "we see into the life of things."
Pegar: "In wintertime, you can see different animal tracks along the trail. you know, bobcat and deer and rabbits and squirrels."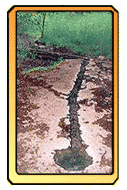 Doug Pegar spends his free time at Bagby as a volunteer, one of many who look after the springs. And today, he's leading my friend Damian and me on a special tour.
Pegar: "There is a legend here - that we call the "Bagby Legend" - that when Native Americans came here from different tribes, different warring situations, that they would come to the springs, and they would set their weapons in the outer circle and they would all bathe in peace. And that's what we hope, even modern "native" people will come and bathe in peace."
Doug has such an earnest look when he talks about Bagby. As we climb down the last ridge of the trail towards the springs, I notice out of the corner of my eye that he keeps looking at Damian and me, checking our expressions to see what we think of his favorite haunt.
Damian: "It's very pretty with all the steam rising right now."

Pegar: "Yeah. You know when it's really cold, that steam in the morning will just cover everything."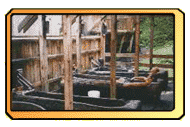 The bathhouses are made of rough wood slats and cedar shake roofs, and steam seeps from every crack and crevice; I half expect to see a wood nymph come floating out in a swirl of mist. Instead, there are several bathers - some walking around, wrapped in towels; others, dipping into an open-air tub, wrapped in nothing at all.
Pegar: "I always bring a bathing suit with me and I follow "suit" with whatever group I'm with. If they're wearing bathing suits, I wear my bathing suit. If they're in their birthday suits, I wear mine."
Naked in the great outdoors - the idea appeals to the poetry-spouting romantic in me. I did pack a suit, but when Doug shows us a private bathing room, I know my purple spandex won't fit in. Every fixture is made of aged cedar; there's only half a roof, so we can bathe under a canopy of trees. And the tub - an eight-foot long, carved out cedar log.
Lehmann: "It almost looks like a really old coffin (laugh)."

Pegar: "Yeah."

Damian: "Or part of an old canoe."

Pegar: "Yeah. Well, it's a dugout. And you can have one person sitting or laying there, one person here. Or most usually they sit together, so someone is directly in front of you so you can get three or four even."
I can't wait any longer. The forest, the steam, the crisp air, the sweet smell of cedar. But then it hits me: there's that little matter of having to take my clothes off to get in.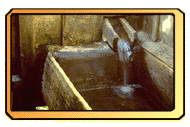 Lehmann: "It's cold! (laugh)-ok, ok, let's do this thing."

Damian: "It's really cold, it's very cold."

Lehmann (shivering): "Ok, ok, ok."
How would Wordsworth handle a moment like this? Maybe he'd quote his poem on Tintern Abbey:
In this moment there is life and food
For future years.

Yes, when I'm old and gray, I'll remember this experience with fondness - and it will feed my soul if I start to dwell on life's disappointments and despair. Maybe. But while I'm still young and brunette, I'm getting in the steaming hot water.
At Bagby Hot Springs in northern Oregon, I'm Gretchen Lehmann for the Savvy Traveler.