Every once in a while, a daring reporter agrees to bare her soul for the science of traveling. Our own Judie Fein does some very personal research in a very public fashion. Her only guides in this uncharted territory are the stars.
Astrocartography
by Judie Fein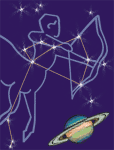 One night at a party, I overheard a woman talking about astrocartography. As I sipped my bubbly, I listened to her explain about an astrology company that uses the exact time and date of your birth to determine where it's cool or really un-cool for you to travel. I sent them 20 bucks and my birth specs. A few days later, I had a telephone conversation with Corrie Cooperman, one of their top astrocartography experts, who had made a world map with my vital statistics. I asked her about the theoretical basis of her work.
Corrie: "In astrology, it is important which planet is just rising or setting or directly overhead or below us. At the time of your birth, Venus was rising or setting somewhere in the world. The astrocartography map shows where Venus was rising or overhead. That area becomes a special place to be for a romantic getaway."

Judie: "So where was Venus when I was born? In other words, where in the world do I shlepp my husband if I want to get lucky?"

Corrie: "You have a beautiful Venus influence running down through Nova Scotia."

Judie: "Nova Scotia? The closest I've ever gotten is eating lox. I could cash in some frequent flier miles. But before I do, do I have any other love options?"

Corrie: "We follow that lovely Venus line and it comes out near Rio de Janeiro."

Judie: "Oh, yes. It will be really romantic for me if my husband meets the girl from Ipanema and all her friends in their dental floss bikinis."

Corrie: "The southwest coast of Australia is very hot for you, in particular Esperance... to the east of Perth."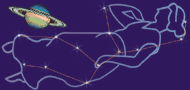 So where will it be? Nova Scotia or Perth? Perth or Nova Scotia? Hmm. The world is full of love nests for me, but a little, annoying, nagging voice inside of me wants to know where I would be most likely to... well, get a divorce. According to Corrie, "That little voice knows what it's talking about." Wherever the planet Pluto shows up on your map, chaos, danger and complications are likely to follow. Corrie tells me to beware of Egypt, Cairo, Yemen, Madrid. Then she gets closer to home.
Corrie: "West of Phoenix. The Grand Canyon... Moab..."
Oh, damn. I love it there. Now I'm going to be afraid to even look at pictures of the Grand Canyon. I ask Corrie what people can do if they find themselves in their Pluto places.
Corrie: "They can take more precautions. Maybe going down a Class Five river in a kayak wouldn't be the best thing."
Corrie pauses for a moment, and then starts talking about where I can travel that would be favorable for my work and career.
Judie: "There's that little voice again. Is there a bad place for me in terms work?"

Corrie: "I wish there weren't, Judie, but those same planets, Pluto and Saturn can bring about struggle and difficulty. You have a Pluto line going straight through Tokyo... risky business."

Judie: "But I love Japan. This is terrible. If I go there for The Savvy Traveler, they'll wrap me up like a sushi and send me home..."
I'm thinking now, "Hey, if she can tell me where to go for love and for work, can she tell you where I might want to move?" I mean, I've already lived abroad for l0 years. What if I wanted to do that again? Corrie suggests India, Mexico City and Acapulco.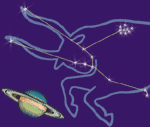 Judie: "Ask The Savvy Traveler how many pieces I've done on Mexico! I am fanatic Mexicophile! This astrocartography thing is great. And what about my new favorite country, Tunisia?"

Corrie: "Very spiritual. Neptune is associated with spiritual growth. It goes straight through Tunisia."
Now that everyone across America knows my intimate planetary life, I feel it is my duty to expose one of my favorite hosts the same way. Get prepared to go astrologically naked, Rudy Maxa. Behind your back, I sent Corrie your birth data. She made a map for you. So, where is a good place for you to travel? Are you ready, Rudy?
Rudy: "Judie, I'm a nice, calm, conservative kind of guy. I'm not so sure about this."
Judie: "Corrie, Rudy, can handle it. Go for it."
Corrie: "My number one suggestion would be Rome. He has a combination of Venus and the moon, the moon bringing out the sensitive side the nurturing side of him and Venus bringing out love."
Judie: "And where shouldn't he go?"
Corrie: "The place that was so special for you, Nova Scotia... Halifax. Rudy might do better to let you go there."
Judie: "Great. So I have to go to Nova Scotia in the middle of winter, and you're going to Rome?"
Rudy: "Thank you, Judie, and thank you, Corrie. Don't forget to send me a postcard from Nova Scotia and I'll be booking my trip to Rome tomorrow.