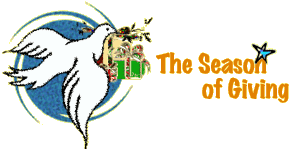 Hear about an unlikely Santa Claus in Mexico. A postcard from Carmen Delzell, whose "Letters from Mexico" come to us in care of producer Jay Allison as part of his series "Life Stories."
The Season of Giving
by Carmen Delzell
Dear Rudy,
Every time I go back to Texas, I run around looking in people's trash cans and gathering up used toys, shoes, clothes, and anything else that might be useful to one of the hundreds of people I know in Coahuilla, Mexico.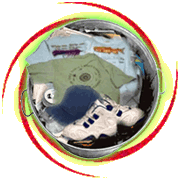 It's easy to get the stuff. Most thrift shops like the Junior League and the Ladies of Charity will gladly let me haul off as many bags of discards as I can carry. Friends, too, will order their teenagers to go through their rooms and come up with t-shirts they never wore and McDonald's prizes that have been under their beds since they were four.
The hard part is organizing it well enough to sneak it across the border. It's illegal, you know. Something to do with NAFTA and taxes.
Trying to explain why you have twenty pairs of children shoes can make you feel like you're trying to smuggle arms to the Zapatistas.
I usually buy about ten ugly suitcases that sort of stretch. I don't know what they're made of but nobody uses them anymore and you can usually get them for free or under a dollar. Then I pack them, starting with the kids shoes, then men's clothes and top them off with things that could conceivably be mine. I like to put bras and underpants at the very top because the soldiers are embarrassed to dig through feminine dainties. Then I stuff every corner with hair clips, miniature dinosaurs, and anything else I've managed to scrounge.
In the front seat I usually keep all the Megadeth and Guns 'n Roses-style t-shirts for the homeless boys who wash your windows whether want them to or not. They live in makeshift camps along the highway. They like blankets and backpacks too.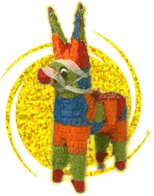 Mexican kids pretty much want what kids anywhere want. If you have kids, ask them to fill a shoe box with all those free prizes they've accumulated over the years. Crayons or any school supplies are a good gift too because they're practical and fun and can be shared. Sharing is an important part of Mexican culture. That's why piñatas were invented. What I like to do when there's enough time and money is buy a piñata and fill it with the toys I've collected, plus a couple dollars worth of candies and nuts. Believe me, they'll know what to do with it.
Last Christmas I almost couldn't bring anything. Things were worse than usual. The brakes on my Isuzu were bad so I couldn't pass inspection or register my car. Without that you can't buy insurance. To cross the border into Mexico legally you need all that, plus a credit card...a real one. And of course I didn't have it.
But this time, I guess in the spirit of Christmas, they just waved me through.
I drove into a dusty little ranch town called Candalaria Coahuilla, where I was sure nobody had gotten much for Christmas. As soon as I stopped a group of children and grownups formed around me and began to bombard me with questions.
Most of the boys were wearing worn out shoes without socks and many of them were barefoot. It was a chilly day too. Sometimes I say I'm a missionary when the adults ask me who sent me. I'm not. It's just that I don't want anyone to feel they have to thank me, or owe me anything.
It was my idea for us to sing a Christmas song together but that was just to break the ice so to speak. I had plenty of clothes, too. Even I was surprised there was so much.
Maybe it was foolish of me to set off without good brakes, the proper papers or even a spare tire, but I didn't have anything better to do. There's this feeling I get when I know something is going to work out right like somebody's looking out for me. Maybe they are.
Hasta luego and Merry Christmas,
Carmen
Carmen Delzell's "Letters from Mexico" come to us care of producer Jay Allison as part of his ongoing series "Life Stories," which is funded by the Corporation for Public Broadcasting.