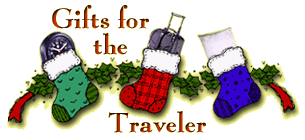 It's that time of year. You go to the store, stare blankly at the merchandise, and try to recall why everyone was so disappointed last year and you were still paying it off in July. We asked travel explorer Wesley Weissberg to go in search of some travel gifts for the weary holiday shopper.
Gifts for the Traveler
by Wesley Weissberg
Here's a hint. Forget antiqued globe book ends, stationery collaged with airmail stickers, scrapbooks...there's a travel enthusiast who would enjoy these things, but if the person you're shopping for is anything like me, it's not what he's looking for. I don't want to celebrate travel. I want to make the getting there less of a hell.
I begin at the Sharper Image. For $69 they've got fiberglass luggage carts that weigh nothing and carry a ton and fold to fit easily inside your luggage. But nothing ever fits easily inside my luggage, not even this. There are suitcases with wheels in all shapes and sizes. Travel clocks with built in CD players. None of it grabs me. None of it will make the inevitable circling over the runway any easier.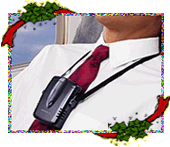 And then I spy the Ionic Breeze Personal Air Purifier. Disguised to look like a pair of binoculars slung casually around your neck, it silently directs cleaner, moister air toward your nose and mouth. Maybe the reason long flights seem so much longer isn't the leg room but the stale air? I ask a store customer who's been testing out the Shiatsu Barcalounger for the last half-hour to try it out for me.
Customer: "It's on? Is it on?"

Wesley: "Yeah, it's on."

Customer: "I feel a breeze...is that what it's supposed to be?"
When he vacates the chair I take his seat and give the Ionizer a try. I breath deep.
If they could replace the seats in coach with these massage chairs you'd be cheering every delay. But few of us are in a position to redecorate the interior of the cabin. So we are left with the ionizer which, as much as I could tell, didn't do anything.
I make my way across the mall to their rival in high-tech novelty -- Brookstone.
For $35 they've got an iron and hair dryer in one, a light, sleek little item that I felt a fondness for despite my total distaste for ironing and blow drying.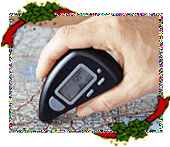 A digital map measurer, good for driving and hiking, you trace your route on the map and it electronically calculates the distance. Gone is the need to add up the little red numbers between the points.
And then, best of all, the Swedish-designed temper-pedic heat sensitive eye pillow. I tested it.
Needlessly expensive, this whole line of temper pedic pillows. A horseshoe neck pillow, the roll-up travel pillow, each for $75, and the eye pillow for $30 are dreamy. I once flew business class and tried out the conventional eye mask along with everything else in the complimentary toilet kit (it was Quantas so the facial creams were exotic marsupial extracts). I hated the elastic around my head and had an uncontrollable urge to blink. It felt claustrophobic But the Swedish Brookstone variety doesn't rest flat on your eyes. It forms a little triangle bridge so you can wear it with your eyes open. Why would I want to do that? I can't really explain.
It was strangely soothing to sit in total darkness in Brookstone with my eyes resting on their own little pillow. Maybe sensory depravation, more than clean air, is what we all need when we're circling the runway. Short of free tickets to some exotic locale, the best gifts are the ones that make us forget we're traveling altogether.
I'm Wesley Weissberg for the Savvy Traveler.
Savvy Resources for Travel Gifts: