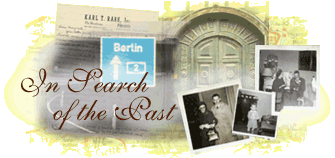 There is a legend in reporter John Rabe's family. It was always said that the first Rabe came to America from Germany to escape the Kaiser's draft. That story is probably just as likely as the one that another great-grandfather, a cobbler, had a beard so long he tied it behind his back like an apron when he made shoes.

It's easy to see how legends arise. When people die, the details of their life stories often die with them. So it is in the Rabe family; death leaves holes in even the recent past.

John Rabe traveled to Germany this spring to learn what he could about his mother and father, Americans who tied the knot in Berlin at a pivotal point in that city's history, but died before he could get all his questions answered. He takes us along on his journey.
In Search of the Past
by John Rabe
It's raining and my German cousin Ulf is waiting in the car, smoking a cigarette, while I poke around the outside of a little white chapel. It's locked, and when I peek through the windows I see mildewed carpet, stained ceiling tiles, and a few metal chairs. No pews, no altar, no candles. But I guess I should be glad it hasn't been demolished.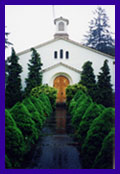 If you're looking for metaphors, this is the place: the chapel at the McNair Barracks, a U.S. military installation in Berlin. It could stand for the re-marriage of East and West Germany, for the convergence of past and present, or for the American presence in Germany.
But the chapel also stands for my roots...because this little stucco building is where my parents, two Detroiters named Maryann Rady and Bill Rabe, were married in 1952. They died in the early 1990s. I'm the first of the six Rabe children to see the building that legitimized my five siblings and me.
The main reason I finally decided to go to Germany was to understand what my Dad did in the military there. My father spent his life as a public relations man, an expert at turning nothing into something. He specialized in offbeat promotions, like the Stone Skipping Contest, which he tried to explain to Charles Kurault in 1987.
W.T. Rabe (from CBS's "On The Road"): "In one year, the year they invented the drip-dry trouser, I think the sport jumped ahead by leaps and bounds."

Charles Kurault: "Because then the skippers could get right out there in the water..."

W.T. Rabe: "...and their wives didn't get mad at them."
In the Army, my Dad's job was more serious, but it still amounted to P.R. A veteran of the Pacific Theatre in World War II, Lieutenant Bill Rabe was called up from the reserves in 1951 to be not an infantryman but a psychological warrior.
Announcer: "In the short space of 175 years, the United States Army, realizing the importance of this concept, which we shall call psychological warfare, established the first psywar school in the quiet seclusion of Fort Riley, Kansas."
This film, which my father wrote, is meant to be funny, but the trainees had a serious mission. The Army gathered journalists, broadcasters, writers, and P.R. men at Fort Riley and taught them all they knew at the time about using propaganda against the enemy. Some went to the war in Korea, where many were killed. Others went to the Cold War in Europe, like my Dad and John O'Keefe.
John O'Keefe: "Oh, he was a great guy. We all loved your father."
Talking with O'Keefe and my Dad's other Army buddies before I went to Germany made me realize just how much I didn't, and still don't, know about my father...like what he did and where he went when he was my age. I'm 33.
O'Keefe was eager to talk about my Dad. He saw it as a way to repay my father for rescuing him from Army life.
O'Keefe: "He understood what it meant to be in the Army, during the Korean war, stationed in Germany, with really nothing to do."
"Nothing to do" because broadcasting propaganda to the East Germans or dropping leaflets -- both of which they trained to do -- would have been considered an act of aggression had they done them. So O'Keefe says my father got permission to do what amounted to P.R. for psychological warfare: they made films, wrote plays and traveled around Germany teaching American soldiers about propaganda.
Voice: "Restricted Security Information. Prepare the Psychological Warfare Exhibit for movement to Munich military post. Be prepared to deliver from one to four hours of instruction."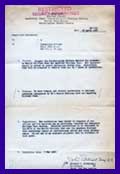 My Dad talked a lot about the service. He told us about building airstrips in the Philippines and about Japanese kids begging for Hershey bars. He told us it was a mistake to stay in the reserves, which led to his tour in post-war Germany. But O'Keefe told me a story my father never did. The two of them visited Dachau, the concentration camp outside Munich.
O'Keefe: "I think we were all so shattered that mostly we were crying, and I think we would have held on to one another."
O'Keefe told me he hadn't thought about that in a long time, that day they went to a camp where only a few years earlier, some of the worst atrocities of the war were committed.
O'Keefe (emotionally): "I remember looking out onto the...out onto a hill which surrounded the concentration camp, and there were people having a picnic, sitting there having a picnic while we were going in. And I remember coming out and they were still there and I pointed to them and we just sort of shook our heads. Your father. There wasn't much you could say we just thought 'How do you live with that?' And obviously some of them could."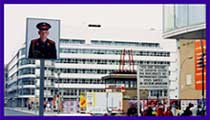 Germans were also dealing with the forced partition of their country, and in the early 1950s, Berlin was at the epicenter of the rift between the United States and the Soviets. It's Saturday morning, and I'm at Checkpoint Charlie, the former crossing between West and East Berlin; and a natural stop as I trace my father's footsteps. Here, Berlin's past and the present exist together: you can see many of the seven-hundred construction cranes that nowadays dominate Berlin's skyline, and you can touch a piece of the old wall.
My German cousin and tour guide, Ulf Eike-Battre, says it would have moved my father to come back to this spot.
Ulf Eike-Battre: "I think for your father there are several reasons. First, he got married here in Berlin, so he remembered Berlin in a positive way. I hope so. And because of the history, it is this special place, Checkpoint Charlie, but maybe the youth of Germany have forgotten this place."

Rabe: "Really?"

Ulf: "I think so, yes. You will not learn so much at school. That's a problem."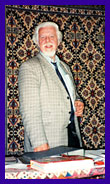 If John O'Keefe is my link to my father when he was my age, Ulf is my link to the Rabes' ancient past in Germany, and -- as a modern post-war German -- the Germany of today. Ulf, a traveling Oriental rug salesman, is a handsome man who looks very much like my father. He's got my Dad's full head of hair, the same green-gray eyes, and his nose and belly.
I probably wouldn't know Ulf today if the postal service hadn't been so diligent with a letter addressed: "Karl Rabe, Louisville, USA."
Karl T. Rabe: "February 5, 1947. Your letter finally received last week. I have not lived in Louisville since 1916."
Karl was my father's father, by then a florist living in Detroit. He was responding to a letter from his German cousin Margarete. Her family was struggling to survive after the war. They were hungry. My grandfather wrote back:
Karl T. Rabe: "We mailed a parcel of food today. Hope it reaches you in good condition. Sincerely hope that conditions will improve for you soon."
They did improve. Margarete and her family ran a little store that soon began to thrive. In 1948, Margarete's daughter gave birth to my cousin Ulf, who would continue the tradition of corresponding with the American Rabes.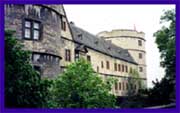 I mentioned Ulf is a sort of traveling salesman, a profession that crushes a man who doesn't care about people and their stories. On the back roads between his hometown, Lippstadt in western Germany, and Berlin in the east, Ulf gave me a tour of German history and my history. We started with the little town of Wrexen, where the Rabe grain mill stood, until it burned some time ago. Rabes still live on the property. Ulf also took me to the old castle in the hilly village of Wewelsberg. The castle was once an S.S. training center; now it's a youth hostel. At an ancient sprawling monastery, we saw the grave of the man who wrote the words to the German anthem "Deutschland Uber Alles." In the twilight we walked through the ruined beautiful streets of Quedlinberg, which like many Eastern towns, could manage only to keep up the town square while the side streets decayed. Ulf was the consummate tour guide: he explained the political posters, translated graffiti on an abandoned guard tower on the old East-West frontier, and wouldn't let me pay for a thing.
In Berlin, after checking in at Checkpoint Charlie, we tried to find yet another significant point in the Rabe family geography: an address on Pucklerstrasse, the home of Colonel and Mrs. Higgins, who hosted my parents' wedding reception on Saturday, November 1, 1952.
The house is a white bungalow on a wide, shady, and wealthy street near yet another abandoned U.S. military installation ... the old U.S. Marines headquarters. The place looked dark but I jumped a gate and rang the bell. And waited. After a long time an old man in a coat and tie came to one of the tall ground floor windows. He laid his cane on a table in front of the window and looked at me through its iron grate. I tried to explain what I wanted while Ulf translated. His wife, also immaculately dressed and very old, stood next to him, without speaking. They looked like tortoises a little angry that I'd disturbed a nap.
No, they were not the Higginses. They were the owners of the house, which had been occupied by the Americans for about ten years after the end of the war. Both of them were nearly a hundred years old, and so they might have owned the house before World War II. But the old man did not elaborate and I didn't push. It's quite possible they were not exactly charmed to meet the son of a serviceman who basically threw a big party in their house. Maybe it didn't help that I showed up on V-E Day.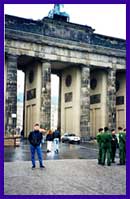 That was the vibe I got, anyway, although I really wanted to talk with these people who probably remembered not just Hitler's rise to power, but Hindenberg and the Kaiser; and who may have, in Berlin's notorious days, closed down a cabaret or two. It's okay. I have pictures of my parents' wedding party so I know what the inside of the house looks like.
When we got to Berlin, the bombing campaign against Serbia was underway, and on this particular Saturday, vans full of police were posted at the Brandenberg Gate anticipating an antiwar rally. The police let us take a few pictures and gave us directions to the final place I needed to see: the McNair Barracks Chapel, where we started our story.
The single guard at the gate of the huge depopulated barracks compound was happy to let us through. The Americans had left in 1994, he said, and the chapel would probably be locked. He was right, so I headed into the only building with cars in front.
Inside were fifty or so Germans who, unlike the old couple at the Pucklerstrasse house, seemed delighted to meet the son of a serviceman. It turns out most of them had worked for the Allies at the base, which in the early post-war years must have been a good job to have. Even though McNair closed years ago, they still gather weekly to smoke and drink and reminisce. And one of them had the key to the chapel. A bunch of us went across the street, including a young woman named Bianca Spingler, whose mother had worked for the Allies.
Even without the pews and altar, the chapel where my parents were married in 1952 is quietly pretty. But I might be biased. Bianca just thought it was rundown.
Bianca Spingler: "...Because no one came and wanted it. That's why we have that club because the Germans forget already. They forget very soon because they say '94, it's over. The Americans are away, the British people are away, the French are away. So who cares?"
Bianca, at least one American -- me -- and as many as six -- the Rabe children -- do care about the little church at McNair.
When I was a kid, I hated driving with my Mom because she'd always gush over the beautiful scenery; and I dreaded the end of meals at restaurants because the adults would always have one more cup of coffee, and sit and chat. But now, in my thirties, if I had kids, I'd be torturing them in exactly the same way.
We were all on good terms with my Mom and Dad when they died. At least I didn't have any giant unresolved questions. But I have missed getting to know them as adults, and it's bittersweet to think that now that I'm finally old enough to appreciate Berlin not as an impatient teenager, but from their point of view, they're not alive to show me around.
We can't, for instance, linger over coffee at Kempinsky's and watch Berliners shop on a Saturday afternoon. I got a taste of this, but I'm sorry I can't get a better sense of how exciting and impossibly romantic it must have been to be young and in love in such an intriguing place.
But here's the sweet part of the bittersweet: preparing for this trip made me dig deeper into my history than I normally would have. Plus, it makes me proud that I've paid tribute to my folks by seeking out the place where they proclaimed their love to the world. Now, when I return to Germany, and I definitely want to go back, I'll have done my homework, and will be seeing it through my eyes.
From Berlin, I'm John Rabe for The Savvy Traveler.
Savvy Resources for Searching for the Past: