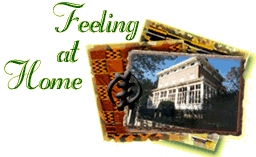 Some people prefer the intimacy of a bed and breakfast to a hotel; a B&B may offer a home-cooked meal or a window onto the life of the area. The best, according to Monique Greenwood, reflect the identities of their owners. Greenwood belongs to an association of more than 25 African-American-owned bed and breakfasts across the country. Hers, the Akwaaba Mansion, is not located in a small, rural town in New England, but rather in a grand old mansion in the heart of Brooklyn. Akwaaba means "welcome" in Twi, the language of the Akan people of Ghana. The Savvy Traveler's Marianne McCune went for a visit.
Feeling at Home
by Marianne McCune
When you're black, says Monique Greenwood, you're not always made to feel at home -- even by those with the best of intentions. Greenwood remembers a New England bed and breakfast whose owner tried a little too hard.
Greenwood: "The morning I woke up at her place, I awakened to classical music, which I love, and I came out and she immediately started to apologize and said, 'What station do you listen to?' I said, 'This music is fine.' And she said, 'Are you sure? You like classical music? What is it that you all like? You like rap?'"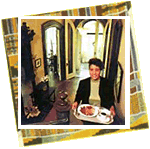 Greenwood says she detests rap. And though she collects black memorabilia, she didn't much appreciate the Mammy and Pappy salt shakers her host picked out for her place setting at breakfast.
Greenwood: "I just thought, hmmmm, not a very good idea."
Now she sets out breakfast for her own guests in a primarily black, brownstone-lined, historic district of Bedford Stuyvesant, Brooklyn.
Greenwood's mother never taught her to cook -- she was to focus on school, not grits and fried apples. So the executive editor of Essence Magazine is still a little insecure at the griddle.
Greenwood: "My guests get so at home that they come in the kitchen while I'm cooking and some of my guests are older southern woman and think, oh my goodness, Is this how you've been doing it for forty years? Cause it's how I've been doing it for two years."
An antique radio in the hallway calls guests to the table with some morning jazz.
Guest: "You prepared this yourself?"

Greenwood: "Yes ma'am."
Somehow, on top of the non-stop life that inspired her e-mail address, "tenjobs," Greenwood has learned to make breakfast. So with mouths watering, this morning's guests pull napkins out of West African holders and scoot in towards a grand Victorian-style dining room table for French toast and fried apples.
Greenwood: "So often, African Americans don't have the opportunity to go into spaces that reflect who they are. I know that when my husband and I married, we tried to find a location that would also celebrate who we are, and you know, there were catering halls with paintings of women with gray hair and blue eyes, and it was beautiful, but it wasn't us."
When Greenwood found and opened this 1860 mansion in the early nineties, she went for a sort of Africana-meets-Victoriana aesthetic, true to the house, true to the neighborhood, and true to her -- and many of her guests' -- heritage.
Preston Smith: "I walked in and looked in the parlor and I could see my father sitting in there, my mother, my grandma; it just brought back everything."

Miriam Smith: "Like in our room she has suitcases stacked up with a pair of old shoes. My husband opened the door and said, 'No, this isn't our room, someone's occupying it.'"
Preston and Miriam Smith are staying in a suite called the Regal Retreat, which Greenwood decorated in paisleys and stripes to please a man in a photograph: a black 1920s aristocrat with a bowler hat and high-collared shirt.
Greenwood: "I looked at that face and said, "Okay, what kind of room would he be comfortable in?" So there's a set up of old shoes over here, shoe polish, a Stetson hat box and a pack of Lucky Strike cigarettes from the fifties."

St. Clair: "Each room has its own life, so to speak."
That's St. Clair Boatwright, here with his wife Lisa to celebrate their one-year wedding anniversary.
Lisa: "You definitely leave here with something more positive than when you came in the door."
The Boatwrights are, naturally, in the Jumping the Broom suite. Above the fireplace mantle is a color print of a 19th century black bride and groom jumping high above a wooden broom -- it's a tradition African-American slaves invented to sanctify their marriages behind the backs of their disapproving masters. One guest to this canopied bedroom used it to propose to his wife.
Greenwood: "He blindfolded her as the car came to us. Then when he took off the blindfold, she saw candles, I had candles everywhere, rose petals sprinkled across the white bed spread, I had the bath drawn. And right then and there he said, 'Will you marry me?' And I hear this squeal, squeal. And the next morning I found out that indeed she said she would."
There are two other guest rooms - one filled with black memorabilia, another with African décor; the bed is draped with a Ghanaian print cloth, the walls lined with wooden artifacts, and Ashante symbols of determination or the omnipotence of God.
Outside on the roomy front porch, Greenwood's seven-year-old daughter Glynn and her good friend Ariel suck on a couple of drippy popsicles and speculate on why or why not having an African-American bed and breakfast is important.
Glynn: "If there was people down there who had their own hotel for white people and if there was no hotel here for black people, then where would they be able to come and stay and do all this stuff?"

Ariel: "But Glynn, you have to remember that it's not about racism no more."

Glynn: "I think you have a point, because we're not talking about racism or anything, but it's okay to see how black people came here and see what their ancestors did and struggled through and all of that stuff. And if white people come they can see and think back on what their ancestors did to us to make us look like that, having those chains, moved to be slaves and all that stuff.
Monique Greenwood welcomes anyone who can pay $135 a night to the Akwaaba. About a fifth of her guests are not African-American. But the people for whom she first opened her home are those like herself: African-American strivers, people aiming, in some way, to change history for themselves and each other.
Greenwood: "I really want my people to recognize our greatness and I want them to feel like the kings and queens they are. And I want to help deliver whatever it is that's going to empower folks and really energize people to do the larger work that has to be done in our communities."
On days when Greenwood forgets why she spends her weekends serving breakfast, she flips through one of the guest books to find her favorite entry. "We've slept long," it says, "but without a sense of being late, touched by spirits, we are at peace."
For The Savvy Traveler, I'm Marianne McCune.
Savvy Resources for Akwaaba: