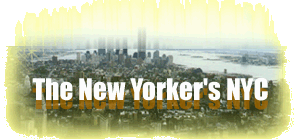 In New York, like most cities, you don't really see the locals and tourists connecting...unless of course it's in a hotel or souvenir shop. It makes you wonder, as they study their maps, and gawk from air conditioned buses, what these sightseers actually think of the natives. New Yorker Wesley Weissberg ventured into the world of the tourist to find out.
The New Yorker's NYC
by Wesley Weissberg
I normally see the visiting tourists out and about, pointing their cameras, riding their double-decker bus. But here, in the enclosed courtyard of the New York International Hostel, at the corner of Amsterdam and 103d, just below Columbia University, they were at rest. A Japanese couple sat on the stairs, leisurely studying a map. A Dutch family at the picnic table discussed their itinerary and beneath the shade of the high wall, on a cedar bench, sat a young man in a flannel shirt staring off into the middle distance. He was my mark.
Kevin: "My name is Kevin Lithgow. I'm from Edinburgh in Scotland. I've been working at summer camp in Miami...just, well, a little town called Boca Raton just off Miami, for the summer, and then I've been traveling around American with friends, and New York's my last stop and I'm flying home soon."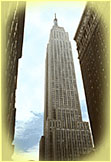 He had bought a guidebook before he left Scotland on backpacking in America, which gave him the address of the youth hostel, where he was staying 12 to a room for $30 a night, but wasn't a great help in the city. Eighteen years old, the first in the family to come to this country, Kevin was visiting the sights he had heard of.
Kevin: "I've been in New York for roughly three weeks. I've seen the Statue of Liberty three times. I've seen the Twin Towers, Empire State Building and Central Park."
He hadn't heard of the Village, Soho, or Tribeca. To save money, he'd eaten only at McDonald's and Burger King, and, until I came over with my microphone, he hadn't met us -- any of us.
Kevin: "I've met lots of like German, Dutch, Australian, English, Irish. Quite a few Irish people here. But New Yorkan people? Rare."
What sort of New Yorkers did he want to meet?
Kevin: "I wanted to meet the daft American ones...the ones you see on TV that look off their heads; they just look really mental and they talk nonstop and they smoke cigarettes every second and I'd like to meet one of them." [Laughter]
And so I asked if he'd let me help him find his daft American. He agreed and we headed up town.
Kevin: "You come to New York thinking everybody's going to be so...I don't know...rog."

Wesley: "So what?"

Kevin: "Rog. Do you know what that means?"

Wesley: "No."

Kevin: "Like hyperactive and over-the-top and...in New York, you think there's going to be a celebrity walking past every minute. That's what I thought."

Wesley: "Are you disappointed?"

Kevin: "Well, not disappointed. I just thought I'd see a couple of celebrities. I went to when the MTV awards were showing and it started to rain, so you couldn't see nothing and it was raining. So I just come home and watched the MTV."
We approached several students at Columbia who had no interest in talking to us, but at the corner of 110th and Amsterdam, at an outdoor table at the Hungarian pastry shop, we found our guy. A young man in a baseball cap, reading alone, named Jeremy. I asked him to give Kevin some advice on what to do before he leaves.
Jeremy: "Without any money? If you have the patience, you want to go down and jump into a show after the intermission, you could see the second half of a show. But if you're ambitious and you really want to see something, you get up at 9:00 in the morning and go to most of the Broadway theatres and get $20 student seats."

Kevin: "We went and saw Miss Saigon for $20 on Broadway."

Jeremy: "Cabaret, Death of a Salesman all have very cheap seats. And they're much better shows. And they're uniquely American."

Wesley: "He also thought that he would maybe see some celebrities and he hasn't seen any. Where should he go looking for them?"

Jeremy: "Well, B-Bar is a great place and Cafe Luxembourg, if you could endure the people at either place. There's definitely a lot of celebrities, yeah. Or you could sit in Times Square with a forty of, oh, St. Ides, a pack of smokes, and wait for them to pass you by."
I had a suspicion that Jeremy was what Kevin was looking for. Under his baseball cap he hid a pretty face, and he was reading a screenplay, not a novel, so I asked.
Jeremy: "I am famous, actually. I am. [to Kevin] Hi. It's nice to meet you."

Kevin: "I've met my celebrity now!"

Wesley: "You've met your celebrity!"

Jeremy: "It's about time, man!"

Wesley: "Now, would he have seen you in anything?"

Jeremy: "Um, I was on 'One Life to Live' for a really long time. It's a soap opera. [to Kevin] Take care, man."

Wesley: "That's your celebrity."

Kevin: "That's the celebrity."

Wesley: "Was he daft?"
Kevin considered the question, imagining Jeremy's rise to stardom, and the inevitable daftness that would follow."
Kevin: "I could say he will be daft when he's older."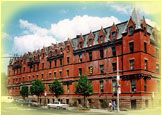 We headed back toward the youth hostel. Kevin was going to a nearby Internet cafe to check messages from his new camp friends who he planned to see next year back in Miami. We talked about the people he saw in that city and I asked him what he made of this city.
Kevin: "A big mixture. I would say a big dolly mixture of everything."

Wesley: "A big dolly mixture?"

Kevin: "Yup. Do you know what a dolly mixture is?"

Wesley: "No."

Kevin: "Do you know when you buy candy, a mixture of different candy? So I would say it's just like a mixture of everything here."
>From the dolly mixture, feeling a little rogged and a little daft, I'm Wesley Weissberg for The Savvy Traveler.
Kevin: "If anyone asks me about the dangerous parts of New York, I'll just say definitely not, on a rainy day, walk up Fifth Avenue, because the umbrellas poke your eyes out."
Savvy Info on Tourism in New York: