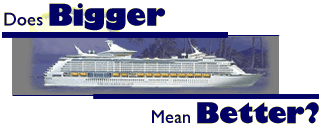 Is it a cruise ship or a country? How big does a cruise ship have to be for passengers to feel like they never left dry land? Mary-Lou Weisman sent us this postcard.
Does Bigger Mean Better?
by Mary-Lou Weisman
Ahoy Rudy!
Just when we thought that everything was up-to-date in cruise ship city, Royal Caribbean International announces that it is about to launch the world's largest cruise ship ever. She is called 'Voyager of the Sea' and weighs 140,000 tons. This makes her one third larger than the current record holding cruise ship. Starting this month, she will leave from Miami on periodic seven-night round trip cruises, visiting Hispaniola, Ocho Rios, Jamaica and Cozumel.

Voyager is so large that the people who wrote the press release announcing her maiden voyage were driven to extremes of analogy: "as long as a 17-car freight train" "the size of three football fields." "faster than a speeding dolphin." And, should you wish to send five Goodyear blimps on a cruise (hey, it could happen) Voyager is the only cruise ship in the world that could accommodate them.
Continuing the nautical theme, Voyager also has a nine-hole miniature golf course, as well as a jogging track, a basket- and volleyball court, and eight places to eat dinner, including an all night diner. The fully equipped gym has 20 treadmills, all with an ocean view. I don't know about the rowing machines.
There's also a 1,350-seat theatre (the "La Scala") which has been especially constructed with extra space above the stage, to allow for flying in case of Peter Pan.
Bigness abounds. And when there's no bigness, there is muchness. Bye, bye boutiques. This cruise ship's got a mall, the Royal Promenade. It runs through the middle of the ship and is "longer than a football field," and "four decks tall." Shop 'til you drown

In addition, there are conference rooms, a casino, a day care center (as long as you're toilet trained) and a 3,000 book library. Do you like a little water when you cruise? There are three pools and six whirlpools. There's also a spa with 14 multi-purpose treatment rooms. Should you wish to be a game show contestant, the ship has its own TV studio.
Perhaps you'd rather marry? Take one of 14 guest elevators to the 15th deck where you'll find the Skylight Wedding Chapel. With all that, there's still room left over for two more nautical innovations -- the first ever on-board ice skating rink, and the first ever ocean-going rock climbing wall.
The 3,838 guests who will cruise on the Voyager are no slouches themselves in the bigness department. It is estimated that during a typical week at sea, they will consume among other food and drink, 1,500 pounds of tenderloin, 5,000 pounds of fresh vegetables 20,000 cans of beer, 40,000 eggs and 1,500 pounds of chicken, which is found in abundance at sea. In addition, they will breathe in 65,331,779 cubic feet of air conditioned sea air every hour.
Frankly, I'm a bit underwhelmed. Voyager is big, sure, but is it big enough? It seems to me that Royal Caribbean has barely scratched the surface when it comes to creating a cruising experience so ultimate that the passengers will swear they're on dry land.

Why, for instance, doesn't the Voyager have a bus terminal? Where are the multiplexes, the parking lots, municipals buildings, teen shelters, pigeons, taxi cabs, and all the features of life on earth that people who go on cruises have every right to expect? The ice skating rink and the climbing wall are nice additions to life at sea, but a vessel just isn't worthy of the name "cruise ship" unless it's got a subway system.
In order to compete effectively in the new millennium, Royal Caribbean and other cruise companies are going to have to offer their passengers and the world of cruising something more substantial. The World Trade Center, for instance. It would look grand on the foredeck, along with Mount Rushmore,the Golden Gate Bridge, the Sistine Chapel, Livermore Labs, the Smithsonian Institution, the Long Island Expressway, the Arc de Triomphe and the five Goodyear blimps. Then there would still be room in the back for Hispaniola, Ocho Rios, Jamaica and Cozumel -- a convenience for passengers, and a savings in fuel.