There are combinations that just naturally go together...peanut butter and jelly, Abbot and Costello...but classical music and white water rafting? Yup. Turns out that there are several rafting companies which offer live classical music as part of your journey. We sent The Savvy Traveler's Tom Verde to the river canyons of eastern Utah where he spent a week soaking up the sun and the culture.
Bringing the Music Outdoors
by Tom Verde
Desolation Canyon, 125 miles north of Moab, Utah is, as its name implies, a harsh and barren place...a serpentine, 1500-foot deep gouge in the earth's stubborn crust, carved an inch or so deeper every couple of centuries by the silty, brown waters of the ineptly named Green River.
But the sheer, sandstone walls and watery floor of this empty gorge are hospitable to the delicate strains of string music...a natural concert hall, more than a hundred miles from the nearest outpost of civilization.

Harrison: "When you play that quartet up against one of these canyon walls and hear it echoing down to the river, it can be really magical."
Mary Harrison is a violist with the Boulder Philharmonic. She's also something of an amateur booking agent for Bill Dvorak's Kayak and Rafting Expeditions, the oldest whitewater rafting outfitter in Colorado. It's not Harrison's job to book clients for rafting trips, but rather musicians who are willing to come along and play in what is probably one of most unusual gigs in the business.
Harrison: "I think my first question is, 'Are you a camper?'"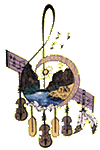 That's because, the musicians in this case a string quartet...two violins, a viola, and cello...all sleep in tents, eat outside and paddle with the rest of the guests, instruments and all, on the 90-mile journey down the river in inflatable rafts...which, says Harrison, usually leads to the next question.
Harrison: "Everyone asks when they hear about this trip, do you play on the boat?"
Actually, the concerts are held on the riverbanks at the end of each day·a cocktail-hour oasis of culture in the heart of wilderness.
Just as it takes a certain type of musician to come along on a gig like this, which, by the way, pays nothing more than room and board, it takes a bit of specialized equipment to handle some of the challenges of river travel. Cellist Harry Gilbert.
Gilbert: "Wind is certainly one of them. We have to bring heavy-duty clips for the music to keep it on the stand and oftentimes the stand will blow over with the music on it. The weather, the hot dry conditions plays havoc with the instruments, it will make them sound a little squirrily. String instruments were very much designed for indoor use, but I call it my picnic cello.
Gilbert's picnic cello, like all the other instruments on the trip, is an expendable, less expensive version of the one he plays professionally.
Still, the instruments need protection while bouncing along fairly rough, class three white water. So, all musical gear is stowed in the music box, an eighty cubic foot waterproof, insulated aluminum footlocker strapped to the gear boat, usually paddled by trip leader and company founder Bill Dvorak.
Dvorak: "It's pretty big. It's a huge sail back there when the wind blows, I can tell you that much. When you gotta row against the wind it's damned hard."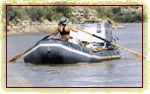 Dvorak offers two musical rafting trips during the summer, this one on the Green, and the other on the Dolores River in Colorado. He says he came up with the idea of bringing musicians along on his rafting trips 15 years ago, after one of his clients, a violist with the Los Angeles Philharmonic, heard the reverberating sounds of someone playing a harmonica in a side canyon.
Dvorak: "And the guy said, God this would just be a wonderful place to play classical music because the acoustics were so good. And we said well, let's do it. So the next year he came back and he brought a violinist and we had a duet. And then one of them knew a gal who was with the Santa Fe Symphony who played flute, and so she came the next year and we had a trio. And then we sort of conceptualized the idea, well maybe we oughta go ahead and market a classical music trip."
Dvorak grew up on a ranch in Wyoming, spent time in the Australian outback, and has lived much of his life in the outdoors. Still, it's no coincidence that this rugged river cowboy has an affinity for the high culture of classical music. He is, after all, a distant cousin of the great Czech composer, Antonin Dvorak.

So, it's also no coincidence that plenty of Dvorak is played on the trip, together with Beethovan, Brahms, Mozart and Handel, whose water music suite in F, first performed in 1717 on the King of England's royal barge as it floated down the Thames, seems particularly appropriate.
The pace of this rafting trip is relaxed, eight days as opposed to the usual six it takes to get down river. The meals -- well, they're elegant, by river standards...shrimp cocktail, Dutch oven-baked chocolate cake, and wine with each meal served in delicate stemware.
Passengers pay about $1700 for the trip, a trip which attracts everything from blank stares to applause from other rafters. And it's no wonder -- it's not every day you come upon a string quartet playing in a field of wild grass or along a riverbank, out in the middle of nowhere. Yet it's the location, especially at sunset, when the canyon walls are bathed in red and orange, and the stars begin to twinkle overhead, that adds dimension to this musical experience, a dimension which an auditorium can't begin to touch.

But aside from the natural beauty, the informality and camaraderie of the musicians themselves make listening to classical music here a more human experience. Removed from the high altar of a traditional stage, and stripped of their tuxedos and evening gowns, the members of the quartet are just people, joking around the campfire, wearing bathing suits, swatting mosquitoes like the rest of us. And the feeling, says violinist Debbie Ellet, is mutual.
Ellet: "There's an interaction there that I just don't get an opportunity to have very often 'cause I'm usually up on a stage under lights and the audience is far away, and they clap, but you don't see faces, and you don't see how your music is affecting people."

Ellet: "But in a setting like this, you can see very clearly that what you just did communicated something to somebody, it touched somebody in a special way and that's a very satisfying thing."
On the Green River in eastern Utah, I'm Tom Verde for The Savvy Traveler
Article Resources:
To book a trip with Dvorak Expeditions, contact:

Bill Dvorak's Kayak and Rafting Expeditions
17921-B U.S. 285
Nathrop, CO 81236
800-824-3795
719-539-6851
(FAX) 719-539-3378
E-mail: dvorak@rmii.com
Web: http://www.vtinet.com/dvorak

Dvorak's offers two classical music trips per year, one on the Dolores River in Colorado and the other on the Green River in Utah, in addition to numerous regular rafting trips out west, as well as on rivers in Australia, New Zealand and Mexico. Custom and corporate charter trips, group discounts and family trips also available.
Other Trips and Resources:
Canyon Explorations/Expeditions
This outfitter offers two string quartet, classical music trips per year through the Grand Canyon. For more information call (800) 654-0723 or visit their Web site at http://www.canyonx.com.

Moki Mac River Expeditions
Moki Mac has offered classical music trips through the Grand Canyon for the past fifteen years and just this year switched to blue grass. For more information call 1-800-284-7280 or visit their website at http://www.mokimac.com.

For more information on white water rafting, try visiting these sites:
http://www.gcroa.org
http://www.travelsource.com/rafting/

For more information on visiting Colorado, visit the Colorado Tourism Board's official Web site at http://www.colorado.com or call 1-800-COLORADO (800-265-6723).
Getting There:
American Airlines serves Denver International Airport and other major cities out west. To make reservations, call American at 800-433-7300 or visit their web site at http://www.aa.com.

Support for this trip provided in part by:

The Colorado Springs Convention and Visitors Bureau
104 S. Cascade, Suite 104
Colorado Springs, CO 80903
1-800-888-4748
http://www.coloradosprings-travel.com