Kansas City: one of the cradles of jazz and a place where some of the greatest musicians got their start. You can go out any night of the week in Kansas City and hear jazz or blues in any number of venues. But on Saturday night there's a place where you can have an unusually intimate and authentic jazz experience. The Savvy Traveler's Laura Ziegler takes us there.
Kansas City Jazz
by Laura Ziegler
On Kansas City's east side, just down the block from the corner of 18th and Vine, the heart of Kansas City's rich jazz heritage, sits a small pink stucco building. Every Saturday night at the Mutual Musicians Foundation, the ghosts of Kansas City jazz legends like Count Basie, Coleman Hawkins and Charlie Parker sit in with aging musicians and young students of their work to keep a tradition alive: the Saturday night jam session.
The sessions began in the 20's and 30's when this was the union hall for the black musicians' local. It was called Musicians Protective 627. After their gigs around town, players would bring their instruments here for jam sessions that often lasted well into Sunday. Crowds of people would come down to listen.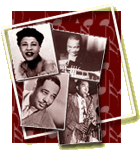 The impromptu sessions helped establish the riff- and rhythm-based improvisational style that came to distinguish the Kansas City sound.
Sonny Kenner, a guitarist who once jammed with Louis Armstrong and Charlie Parker, grew up at the sessions.
Kenner: "This is the spot. Every Saturday night I used to come down here and stay till daybreak and be jammin'."
Although things have changed, the place still has a jazz joint kind of feel. No plants, no big windows letting in light. No one smokes or drinks here anymore but the place still reeks of cigarettes and booze.
Everyone's welcome and admission is free. On any given Saturday night, you'll find a mix of races and ages, locals and tourists.

The audience sits behind long tables in vinyl-seated chairs where, from the first row, you can feel the saxophone player's spit.
Yellowing photographs of big bands and soloists that line the walls tell of a time when the musicians' union was one of the largest and most well-respected black locals in the country.
Because of a political machine that controlled city hall during the Depression and later, clubs in Kansas City stayed open all night. Liquor, gambling and prostitution were rampant. Kansas City and the Saturday night jam sessions at the pink stucco house became a Mecca for musicians from all over the country, says sax player Ahmed Aladeen.
Aladeen: "There were no jobs anywhere else but plenty of jobs here. This is where all the musicians would come and hang out. This was a center for jazz."
It's been a struggle for the foundation. A lot of the legends aren't around anymore. In the 70's and 80's, the city had plans to tear the building down as part of urban renewal.
Disco and other kinds of music became more popular than jazz. But bass and drum player Don Cox says in recent years Kansas City has come back to jazz. There's work in venues all over town and some of the old timers who helped establish the tradition are coming back to the foundation on Saturday nights.
Cox: "We've been synonymous with having jazz here at the foundation forever and a day. We're the mother ship of it all. I'll have to say, this is the Mutual Musicians Foundation 'Saturday Night Live.' " [Laughter]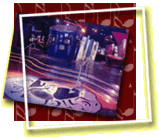 The foundation, one of just two spots on the National Historic Register in the Kansas City area and a block for a dazzling new jazz museum, is open to anyone willing to venture to a neighborhood in transition and willing to sit in on what feels like a late-night rehearsal.
So come to Kansas City. Start your Saturday night with some famous barbecue or steak and by the time you've digested it, it'll be midnight...and time for the jam session at the Mutual Musicians Foundation to begin.
In Kansas City, I'm Laura Ziegler for The Savvy Traveler.