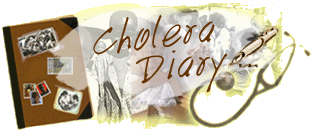 The Savvy Traveler is the proud recipient of a 2000 Gracie Allen Award™ from American Women in Radio and Television for our feature "Cholera Diary." AWRT said the piece "displays superior quality and effectively portrays the changing roles and concerns of women."

American Women in Radio and Television, Inc. is a national, non-profit organization dedicated to advancing women in the electronic media and related fields.
Cholera Diary
by Joelle Pouliot
I'm sure you heard that the humanitarian group Doctors without Borders won the Nobel Peace Prize last week. For those of you who don't know, Doctors without Borders is the world's largest independent, international medical relief agency. These physicians aid the victims of war and natural disasters who don't have health care because they live in remote areas of the world. The volunteers do everything from emergency surgery to vaccinating children to training local medical staff. Today, we hear the diary of Joelle Pouliot, a physician from Canada, who joined Doctors without Borders to help others...and ended up learning quite a bit about herself along the way.