We all know how vulnerable the environment is to air and water pollution, but light pollution can take its toll as well. The glowing nighttime waters of many phosphorescent bays in the Carribean and Hawaii, for instance, no longer appear as bright, because of competing lights from nearby urban sprawl. That's why it's nice to visit a place like the Star Hill Inn in northern New Mexico, where the stars are the only lights illuminating the night sky. This unusual and isolated resort, in the foothills of the Rocky Mountains, caters to those devoted to star gazing, either with the naked eye or through one of the resort's high-powered telescopes. The Savvy Traveler's Tom Verde decided to check it out.
Star Gazing
by Tom Verde
From nursery rhymes to Shakespeare to popular science fiction, the stars have captivated the minds and imaginations of poets, philosophers, and dreamers, not to mention scientists, for eons.
What is about these cosmic balls of gas and chemicals glittering in the night sky that draws us towards them?
Mahon: "If you accept the current thinking on that...of the universe as a continuity of chemistry and matter...we're connected to the stars and our connection is our chemistry and our bonding and how we're put together."
Phil Mahon runs the Star Hill Inn, an astronomy resort in Sapello, New Mexico, about an hour east of Santa Fe. Though a Mecca for amateur and even some professional astronomers, in search of clear night skies, free from artificial light, Star Hill is open to anyone with a curiosity about or appreciation for the stars.
Mahon: "Astronomy is the kind of hobby that lends itself to pursuit at many levels. You can do it on a level of a lawn chair and just looking up at the night sky or you can be sitting behind the telescope with electronics and computers and recording images and trying to figure out patterns and times that things happen and so on."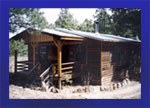 With its rustic, yet comfortable cabins and its setting among the rugged ponderosa pines of the Sangre de Cristo Mountains in the southern Rockies, this 200-acre resort is not unlike other mountain retreats...with the possible exception of the 20-foot high, five-ton, rotating, steel-framed observatory smack in the middle of the grounds.
Mahon: "This telescope and observatory used to live on Mount Evans at over 15,000 feet, Mount Evans in Colorado, and the facility that owned the telescope was upgrading to a larger instrument and Star Hill was contacted by a third party who purchased this instrument and put it here at Star Hill where we use it with our program of guests who come to visit using it."

To give you an idea of how much bang you get for your buck from this baby -- which, incidentally, rents for about $100 an hour, over and above the $80-$140 per night for a room at Star Hill -- the lens can focus in on objects six to seven billion light years away. Now for those of you who don't know what a light year is -- and believe me, I had to ask -- that's the distance light will travel in a year at 186,000 miles per second, roughly six trillion miles. Now, the closest star to planet Earth, with the exception of the sun, is Proximus Centauri, a mere four light years away. Still, neither you nor I, nor anyone else listening to this broadcast is about to get there in our lifetime.
Mahon: "If you were to get on a commercial airliner and fly to Proximus Centauri at four light years away, jet airliners go about five hundred, six hundred miles an hour, it would take you 33 generations to get there."

Though you have to go south of the equator to see Proximus Centauri, the observation deck at Star Hill is the perfect place to view countless other stars and constellations, with the help of several of the Inn's electronically controlled telescopes, much smaller in scale than the one in the observatory. As I mentioned before, you don't have to be an astronomer, amateur or otherwise, to appreciate the night sky here. Viewed with the naked eye, this sparkling canopy stretches from horizon to horizon, as if someone dipped a paintbrush in a can of stars and wiped it across the heavens. Still, there's no experience like one's first glimpse of the moon through a high-powered telescope.
I'll tell you, those craters looked as big as continents, the so-called seas were clear and pronounced while the terminator, the line separating the quarter moon's light from darkness was shadowy and kinda creepy. The moon is an easy target for those new to astronomy because it's so big and bright, but with a little guidance from Mahon, and once you learn how to keep your eyelash out of the lens, it's not so tough to locate some of sky's most stunning formations like Antares, a brilliant diamond-like star in the constellation Scorpius, or the lagoon nebula, a grayish cloud of new stars...new being a relative term, meaning somewhere between ten and twenty thousand years old. Some visitors, like Harald Bardenhagen of Cologne, Germany, travel half way around the world, and stay up all night once they get there, to see such objects in the skies over Star Hill.
Bardenhagen: "It's a very good site for star-gazing because the sky is dark. But this is such a nice sky, it would be a shame to sleep now."
That sure is my heart's desire for a dream vacation...star-studded nights, and sleep all day long.
In Sapeillo, New Mexico, I'm Tom Verde for The Savvy Traveler.
Resources and Information:
For reservations and information about Star Hill Inn, contact:
Star Hill Inn
PO Box 1A
Sapello, NM 87745
505-425-5605
http://www.starhillinn.com

Getting There: The Inn is located a little over an hour east of Santa Fe and ten miles north of Las Vegas, NM. Albuquerque International Airport is 2.5 hours south; there is also a small public airport in Las Vegas. AMERICAN AIRLINES is one of several carriers offering service to Albuquerque International Airport. To make reservations, call American at 800-433-7300 or visit their web site at www.aa.com.

Reservations/Rates: Reservations are required, with a minimum stay of two nights, and discounts for stays of six nights or more. No credit cards; personal check, traveler's checks or cash only. Rates are $80-$120 per night, single; $90-$140 per night, double.

Accommodations: Seven cottages, with fully equipped kitchens, private bath, porches, and fireplaces. No meal service is provided, but groceries and restaurants are located twenty miles away, in Las Vegas, NM. No pets allowed.

Observing: Rental telescopes and "star tours" available. Star tours are $45 and include guide and telescope for one hour. Other telescopes and astrophotography equipment available, from $15 to $125 per night.

Other: Reference library, hiking trails, labyrinth and meditation garden on the grounds.
Nearby Attractions and Accommodations:
What to do when the sun is out and the stars are not? Here are several daytrip destinations within striking distance of Star Hill:
Las Vegas, New Mexico:
This is the original Las Vegas, a charming, western town with a variety of shops, restaurants, movies, etc. and a major stop on the historic Santa Fe Trail. The historic Plaza Hotel (a member of the Historic Hotels of the Rockies; www.historic-hotels.com) is worth a visit. Founded in 1882, the Plaza was a favorite hangout of Billy the Kid, Doc Holliday, and others.

For reservations and information, contact:
The Plaza Hotel
230 Old Town Plaza
Las Vegas, NM 87701
800-328-1882
e-mail: plazanewmex@nmhu.campus.mci.net
web: www.lasvegasnewmexico.com/plaza or www.worldplaces.com/plaza/

For information on Las Vegas, contact:
Las Vegas/San Miguel Chamber of Commerce
PO Box 128
Las Vegas, NM 87701
800-832-5947
www.lasvegasnewmexico.com

Fort Union National Park
Established in 1851 to guard wagon trains from attack along the Santa Fe Trail, Fort Union stands in silent ruins on an empty plain about 25 miles north of Las Vegas. Visitor's center, museum, and self-guided walking tours available. Park is open from 8 a.m. to 5 p.m. daily. For more information call 505-425-8025.
El Santuario de Chimayo
Called the "Lourdes of America," this early nineteenth century mission-style chapel was built on the site where tradition says a crucifix miraculously appeared. Also famous for its colorful "reredos," a series of sacred paintings. About a three hour drive from Las Vegas, through the scenic Sangre de Christo Mountains. Call 505-351-4889 or 505-351-4360 for more information.

For information on visiting New Mexico, contact:
New Mexico Department of Tourism
491 Old Santa Fe Trail
Santa Fe, NM 87501
800-733-6396
http://www.newmexico.org
E-mail: enchantment@newmexico.org