Okay, you're in the airport, biting your nails, praying that you're suitcase is going to show up on that endless carousel filled with other people's bags. Then, you see it...wedged between a baby stroller and an army duffle bag. You're halfway home...now you just have to pray that the baggage handlers were kind and left your suitcase in one piece. Sound familiar? Since we all know the angst of baggage claim, we decided to send The Savvy Traveler's Kitty Felde to a luggage convention, to hear about the latest innovations in the world of baggage.
Trends in Luggage
by Kitty Felde
When I go shopping for a new suitcase, the first thing I look for is a reasonable price. But the folks at the luggage convention say you get what you pay for. Travelpro French is the company that invented the crew series of luggage -- those upright, square bags with wheels and a pull-up handle made popular by flight attendants and now dragged along by millions of passengers in every airport around the world. I asked CEO Kim Ballis why I should spend more of my travel dollar on my luggage.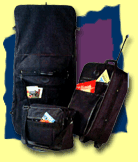 Ballis: "In some cases, you may want to buy least expensive suitcase that you find, if you're not frequent traveler. But a frequent traveler finds out the hard way that the inexpensive luggage will cost him more in the long run than if they make a purchase of a quality piece of luggage initially."
The biggest challenge for baggage builders is making a suitcase that will withstand manhandling by dozens of baggage jockeys. Newer bags include tougher ballistic nylon, retractable handles, and wheels like those on in-line skates. Of course, there is another strategy in the world of luggage survival: choose a bag that looks unique -- one that would be costly to repair if it got roughed up. Doug Tharpe of Boyt Manufacturing says baggage handlers are known to be more gentle with unusual bags.
Tharpe: "We just assume it's the difference when guy dragging the piece of luggage off. He looks at a piece of tapestry and it stands out and he assumes this is a more expensive piece than the other and we believe they don't want to fix that piece as much as they do the cheaper products."

The most successful manufacturers at this year's convention seemed to carve out a niche market. There was luggage designed for the business traveler: a three-piece suit and a laptop all in one carry-on bag; there was luggage designed for the upscale market: imported leather gorgeous enough to be written into your will so your heirs won't fight over it; and then there's luggage designed especially for the youngest travelers. Nick Johnson of Travelers Club Luggage says in the old days, kids would pack their clothes in their parent's bag.
Johnson: "Now they have opportunity for the kids to carry own luggage, which gives them training and responsibility early on in their lives. It makes them feel a little more important, too, because they're carrying their own things. Not only that, but they're also helping out mom and dad, which makes them feel better."
Juvenile luggage comes in every color of the rainbow and most contain some special accessory, such as a buckle strap that blinks on and off -- an easy way to spot your kid in a crowd. Women are another niche market. According to industry surveys, women make 70 percent of all luggage purchases in America. About half the bags are for the men in their lives -- and most of those bags are the basic black ballistic nylon variety.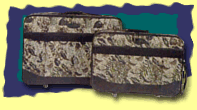 Several manufacturers are showing bags made of floral upholstery fabric to appeal to feminine buyers. But Gloria Archibald of Gloria Ray Accessories says women want more than just pretty luggage. They want bags and compartments that will hold all the travel items a woman needs to bring on a trip.
Archibald: "They need something for jewelry. They need something for cosmetics. Sometimes, they need something for toiletries. And believe me: they don't all pack the same."
So-called "body bags" were also a hot item at the luggage show, with buyers lined up three-deep waiting to take a look at these black bags made of woven Italian microfiber. These are mail sack-shaped purses that fit snugly against a woman's hip. I asked Toni Ray of Hobo International why the bags are so popular.
Ray: "If you ever put one on, you'd understand why. They're just incredibly comfortable and they really work and they give you a lot of freedom of your hands."
Felde: "Show me."
Ray: "Okay..."
Felde: "I'm putting it on over one shoulder."
Ray: "They don't stick out like regular handbags. They're close to the body, they're secure, limit amount you can pack slim silhouettes and, um, they're just kind of cool."
But Rick Saez of Eagle Creek says women aren't the only consumers looking for better packing solutions. He showed me what looked like a large envelope, fastened with Velcro. Inside was a thin plastic board with folding instructions.
Saez: "The idea is to fold your shirts or pants around the board, slip the board out and slip in packet envelope type thing."
Saez claims the packing envelopes will do for your luggage what closet organizers do for your closet. Of course, if he saw the disaster that lurks inside my once professionally organized closet, he might change his sales pitch.
From the American Luggage Dealers Convention in Long Beach, California, I'm Kitty Felde for The Savvy Traveler.