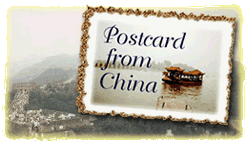 A postcard from one traveler who had a journey inward when she journeyed all the way to China. The lessons you can learn when you immerse yourself in another culture. Reflecting on how travel can make you rethink everything you've ever known about your place in the world.
Postcard from China
by Mary Jo Pehl
Dear Rudy,
I accidentally went to China. Last May, a friend of mine found a really cheap package deal to Beijing, and there I was -- out of a job and broke -- so I panicked, said okay, and a week later, we were on a plane to Beijing. We were ten hours into the flight when I remembered that I don't like Chinese food.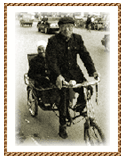 Beijing is enormous and bursts with people, cars, bicycles, and more people. While we were sightseeing, I was stopped several times by denizens wanting to take my photograph. One young woman wanted to take a picture of me with her friend but she was laughing so hard she couldn't take the picture. My friend pointed out that I am possibly the whitest person on the planet. I'm nurse's uniform white. And big and blonde. Suddenly I understood what it was like to be so distinctly a minority in a homogeneous culture. I imagine families throughout China pouring over photo albums, reminiscing fondly, and then trying to explain the big white girl standing there with them like Zelig.
One morning we learned that the Chinese Embassy in Belgrade had been bombed by NATO during the night. The information was vague and it all seemed very far away -- until I remembered that I was in China at that very moment.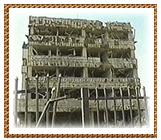 We rented bicycles and biked through the morass of Beijing traffic. We passed huge crowds of demonstrators marching in protest against the bombing. I felt panicky and found myself thinking, This is something I'm supposed to be seeing on TV! I don't know how to be in the middle of this! I don't like Chinese food!
Our Chinese guide translated the angry slogans on the banners, written in vivid and beautiful Chinese lettering. He shook his head sadly and said, "America does not understand China." We found ourselves apologizing to whomever we encountered: bell-boys, shopkeepers, waitresses. I apologized for something I couldn't comprehend to people who couldn't comprehend what I was saying.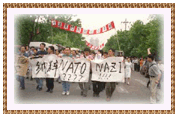 We decided to leave the next day. We wanted to slip out quietly, like guests at a party who have committed a grave faux pas. I wish I could recount some dramatic escape, like we were trapped in our hotel for weeks, then the French Foreign Legion stormed the hotel, and a strapping soldier named Pierre grabbed me and we rappelled down the the side of the hotel where a helicopter awaited us in the Beijing night. But I had had enough drama. We simply boarded our flight back to Minnesota where I look like all the other big white people and the food is off-white. And I didn't find it very comforting.