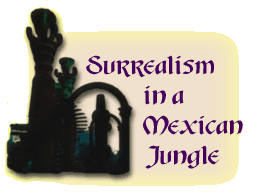 Sometimes traveling, when you stop long enough in one place, becomes simply... living. And then, you've no longer left your troubles behind; you just make new ones. That is, as our friend Carmen Delzell learned, until you start traveling again. She sent us this postcard.
Surrealism in a Mexican Jungle

Dear Rudy,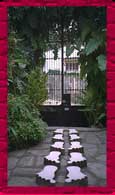 I first heard of Xilitla, a small village in the state of San Luís Potosi, by accident. I was looking for a pair of suitable office shoes in the second-hand shoe department of a thrift shop in Austin and overheard a woman talking in broken English about her homeland. At that moment I had no hope of going anywhere. I had less than $5 and a dog-eared bus ticket to the border in my pocket. I was wavering between staying at the Salvation Army or returning penniless to my rented adobe hut in Mexico.
You see, about once a year I really do consider moving back to the United States and looking for a job. I make a good effort too. I polish my worn-out shoes, wash my hair, and dig enough lipstick out of my free sample tube to pink my lips one more time and head down the streets of Austin looking almost normal, elegant even. But it never lasts. The dress begins to wilt. My high heels hurt my feet, and my skin begins to wrinkle in the Texas sun. My résumé seems irrelevant to the few jobs I apply for and the interviewers are suspicious of me from the get-go. Where have I been for the past five years, they ask. And if I am really a writer, why don't I know how to type?
All I really know how to do is travel.
I remember the Mexican lady in the thrift shop said parrots and orchids. The huasteca, she said. The rainy jungle.

The next day I picked up a copy of a magazine called México Escondido -- hidden Mexico -- and there were were these pictures of this incredible surrealist sculpture garden that was half Dr. Seuss and half Watts Tower. The magazine said it was the creation of an eccentric Englishman who, along with his lover Plutarco and a host of slaves, tried to make a Garden of Eden. This place was in the very town where the lady in the thrift shop was talking about. Xilitla. Spelled with an X. And don't expect the person at the bus ticket window to automatically know where it is. It's not on their computers. But you'll find it on the map if you look hard enough.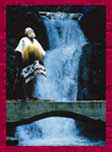 As I rode the air-conditioned bus I read about the fabulously wealthy Edward James, who was rumored to be the illegitimate son of King Edward. After his mother died he inherited an almost unlimited fortune and first tried to make a name for himself in Paris among such artists as Cocteau and Salvador Dal' in the 1930s. Disillusioned with the art world he somehow ended up in the Jungles of the Huasteca and for the next thirty years built what many people called his last folly.
I really can't do justice to the spookily beautiful gardens themselves but if you're willing to pay about $40 a night you can actually live in Edward James' castle. It's called El Castillo in Spanish and has been beautifully restored by an arty couple who had the good sense to remove all the shag carpet.
I wanted to stay there, but I was more attracted to a little house covered with bougainvillea just down the road. It was even older than the surrealists and was occupied by a Nahuatl family whose ancestors never even spoke Spanish. When I asked them if I could peek inside they invited me to spend the night and later invited me to stay with them as long as I wanted.
The father of the family, Don Antonio, and his graceful wife, Dontilda Oralia, took me in and treated me with the same hospitality Edward James probably found seventy years ago.
As I lay in my narrow bed listening to the sounds of the jungle it occurred to me that they probably hadn't changed much either.

Hogs, ducks and children playing woke me up each morning and I was brought a cup of the coffee that the family harvested from the nearby mountainside. It was exactly right.
There is a famous painting by Frida Kahlo where she has her hair braided with yarn in a crown on top of her head. That's how Doña Oralia was wearing hers as she and her family waved goodbye to me from the flowered porch. And she was wearing one of the blouses I had bought in the same thrift shop where I first heard of Xilitla.
I really wanted to stay, and imagined myself moving into one of the thatch roof huts that made up most of the Indian side of town, or trying create my own paradise like Edward James and the stream of artists who followed. But finally, I was content to leave. I'm not an Indian, or a coffee picker or a weaver, and I didn't have the independent means to stay there and pretend that I am.
Just before I left I found a live hummingbird and held it in my hand for a minute. I had always wanted to do that. It was iridescent blue and green but I knew I couldn't keep it and was glad when it suddenly flew away on its own.
Hasta luego,
Carmen
Carmen Delzell's "Letters from Mexico" come to us care of producer Jay Allison as part of his ongoing series "Life Stories," which is funded by the Corporation for Public Broadcasting.
Savvy Resources for Xilitla: Surrealism in a Mexican Jungle