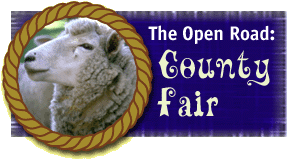 Summer's officially over, but the good news is it's that time when local fairs start springing up around the country...and there are over 3000 across America to choose from. Fairs are a great weekend getaway and a wonderful window into the traditions of rural communities. The Open Road's Hal Cannon recently spent a day at his local fair in northern Nevada.
The Open Road: County Fair
by Hal Cannon
Hal: "We're at the Elko county fair goin' down the commercial lane. Here's a jewelry booth. Lot of barbecue. Nachos and in the west you always find Navajo tacos or Indian tacos, mesquite-cooked barbecue. Awesome Ossie's Bloomin' Onions here."
There's a different quality to light in September--the sun slants lower, illuminating the snow cones and cupie dolls. People are streaming through a welcoming arch, the murmur of a crowd from the back of the grandstand is a magnet drawing me and hoards of others through the gates. I think the races are about to begin.

Every fair has its draw, hawkers, hoochie-coochie girls, big-name entertainment, are all bait to get people in the gate. The main draw here is horse racing, and being Nevada, the betting's wide open.
Announcer: "They're all in line for the running of the Elko Line Futurity..."
I've picked a dark chestnut horse named Idaho Wildcat...real sleek and flighty. Looks like a winner to me.
Announcer: "Idaho Wildcat starting to move up..."
Hal: "Let's do it!"
Announcer: "Idaho Wildcat..."
Hal: "He's in the lead. Come on! [Laughs] Yahoo! It is Idaho Wildcat. I'm gonna go collect my money."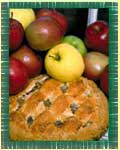 I make enough to buy supper and I'm feeling good. But it's time to explore. Entering the Home Arts Building I'm dazed by a visual feast of mustard pickles, fruit pies, Native American beading, quilts, furniture welded from horseshoes. I bump into an old rancher friend Eloise McQueary, admiring a prize-winning painting done by her granddaughter. We touch on the weather and move on to the hay crop.
Eloise: "That was always the thing...to get the haying done by fair time...then you got to go..stay as long as you wanted to. Yes it was the goal. The day after fair you started to gather cattle."
Hal: "It's back to work, huh?"
Eloise: "It's back to work."

I'm reminded that the foundation of most fairs in America is agriculture and its not by chance that fair time happens at harvest. In fact, this fair is full of events that test the skills of local ranchers' branding, reining, pinning, animal showing. Eloise suggests I cross the grounds to the 4-H displays.
Mostly locals pack the auction barn, where a teenage boy in cowboy boots, neatly pressed white shirt with a green 4-H string tie, nervously leads his steer into the ring. For months, he's risen at dawn to care for this animal and now he hopes to get a good price.
Samantha: "It's very exciting and nerve-wracking."
Fifteen-year old Samantha Cavender is showing her sheep today.

Samantha: "You want to go out there and do the best you can, and show the best you can and have everything turn out for the best."
Hal: "Is it hard to see the lambs sold off?"
Samantha: "Yes, it's very hard to say goodbye, but I understand that this is what they're here for and what I raised them for."
A cowboy friend and I once compared the different chores we did as kids. "If you don't make your bed, you've got an unmade bed" he said. "If I don't feed my animal, it dies?" Now there's a lesson in consequence.

At the turn of the last century every other American lived on a farm or ranch. At the end of this century one in fifty does. But at the fair we can still be part of a life that most of us have lost only in the last two or three generations. Fairs ground us in horticulture and animal husbandry. No matter where you live, you can drive fewer than 50 miles and find one.

From the Open Road, I'm Hal Cannon for the Savvy Traveler.