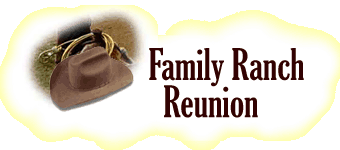 One traveler's observations when he's put on a ranch with his entire extended family. Find out how he got through a vacation with the whole family. Here's a hint: it involved lassos...and spurs.
Family Ranch Reunion
by Hank Rosenfeld
A big howdy Rudy, from Family Ranch, where the water is hard but the livin' is easy! All 14 of us from Michigan and upstate New York playing at being cowboys here in Central California among the scrub oaks and swimming holes. Yeah, Family Ranch is a little bit country and a whole lotta camp. but it sure is a long way from the the HoJo Motor Lodge A&W Drive-in vacations of my youth back east.
Then again, Rudy, you ever travel when you're in your 40s, with your parents who are now grandparents? Seems to be a popular trend, from the looks of all the other families up here on the Family Ranch. At first I was embarrassed when I saw Mom (I mean "Head Honcho" -- we all get cowboy names) had sweatshirts made up with "ROSENFELD RANCH RETREAT" on the front...until I noticed all the other families here have their personalized sweatshirts on too.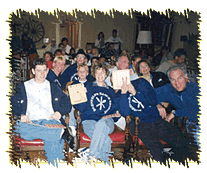 The Rosenfelds playing
Cowboy Bingo
Family get-togethers, no matter what neck of the Sycamore Lodge they stick us in, are all about eating, right Rudy? Chuckwagon breakfasts up the trail, afternoon snacks from the Waggon Tongue Lounge, and last night was a rodeo cookout and talent show in the Cottonwood Room. Ever heard of Cowpoke Karaoke?
Anyhoo, Family Ranch means archery and canoeing and horseback riding, and a petting zoo full of animals all hot and annoyed from all the little kids pulling at them. Well, there's lots of rowdy little wranglers around. I saw my nine-year-old nephew Benny Boy sitting in a circle "meditating" over on the volleyball grass with some new friends. Told me later his new pals are from...West L.A. Figures.
I'm sharing a cabin with my teenage nephew Adam, "The Kid," and he pretty much sleeps all day here. I thought maybe it was something from the chuckwagon, but he explained no, Uncle Hopalong, just the stress of finishing 11th grade.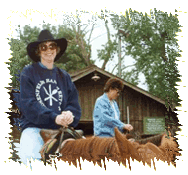 Hank's sister Jill ("Jilly-Jo")
at the Family Ranch
So I'm learning a lot here Rudy: How great grammas look in black cowboy hats, and big sisters up on horseback. And the thrill of seeing my dad, nearing his 80th birthday, how his face brightens like a little boy on the basketball court when his patented two-handed set shot goes in. (Ya see, they put up a nine-foot hoop here at the Ranch so short families like ours can feel like Tim Duncan dunking. They think of everything here!)
Last night I saw some horses out under the moon. I saw a coyote today and some deer near the dining hall at dusk. Right now somewhere across the spread of cabins, my parents are reading a dozen books like they do on every vacation, and my nephews and nieces have given me a few moments of peace to write you all.
On the flipside of this card, Rudy, you can see one of the ranch cowboys. Last night he showed us how, if you shake your binoculars just right, you can turn stars into lassos up there in the sky.
Adios until next time,
Hank