Talk about an ecological disaster! Last month Royal Caribbean Cruises was fined 18-million dollars after pleading guilty to violating Federal water pollution laws in areas from the Caribbean to Alaska's inside passage. And just about a week ago, the state of Alaska filed a civil suit against Royal Caribbean, for the very same reason. If you've ever seen the natural beauty of Alaska, the thought of it's waters being polluted will make you shudder. Alaska is a land of superlatives. It has higher mountains, more glaciers, more wildlife and more natural resources than anywhere else in North America. Conflict over this bounty has shaped the state, and nowhere is this fascinating history more evident than in Alaska's fifth largest city...Sitka, located halfway between Seattle and Anchorage. Today Hal Cannon and Teresa Jordan of The Open Road take us there, as they conclude their ten-day journey up the Inside Passage, the 950 miles of fjords and islands that shelter Alaska's panhandle from the wild Pacific.
The Open Road: Seeing the Sights in Sitka
by Hal Cannon and Teresa Jordan of The Open Road
Hal: Day eight, 5 p.m., our next to the last day here. I can't believe our trip is nearly over. We have just landed on the ferry dock at Sitka. Waves lap against the bobbing sailboats. Many of them fly the state flag, the gold stars of the big dipper against a field of blue, and it's easy to understand why these two colors were chosen to stand for Alaska. Blue for the sky, the sea, the mountains in the distance and gold for the riches that brought people here. There's a glint of gold in the distance - gold crosses that top the onion dome and spire of an ancient church.
Teresa: We walk past streets with names like Baranoff and Maksoutoff...until we come upon an old wooden church. This is St. Michael's, the first Russian Orthodox cathedral in the new world, one of the most popular tourist spots in the city.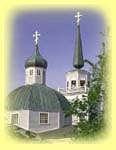 Hal: Inside we're greeted by the church's sub-deacon, Maxim Krioukov, a Russian émigré who's studying for the priesthood. He wears the traditional black robe and looks studious in his wire-rimmed glasses. He asks if we want a tour.
Maxim: "Most of the icons that we have are dated back to the 15th, 16th and 17th centuries. Now the icon on the far right there -- mother of god of Sitka. This icon was brought from Russia when Bishop Innocent came here. It is considered to be a miraculous icon, that's why you see light in front of it burning all the time."
Hal: Before the first Russians arrived in the early 1800's, the native Tlinget people had lived here for millennia, the light from their campfire illuminating their own icons, the totem poles. The Russians developed Sitka into the richest fur-trading outpost of its day. They colonized Tlingit souls as well, but also encouraged native language and trained indigenous people to positions within the church. Tlingit people are now the foundation of the Russian Orthodox faith in Alaska. In fact almost all of the 250 families who currently attend St. Michael's are native.
Hal: As Maxim chants, I can't help but think of how strange this language must have sounded to the Tlingits when they first came face to face with Russian settlers. And I imagine the early Russian monks finding comfort and inspiration in these same prayers, as they struggled to stake out a new life in the harsh frontier.
Teresa: Day nine, early morning. Hal and I just watched a dozen bald eagles soar high over the totem poles in Sitka National Historical Park. Our national bird has only recently been removed from the endangered species list, and Alaska has played a role in its recovery. We decide to visit the Raptor Reh

abilitation Center to learn more.
Hal: The Raptor Rehabilitation Center is nestled in the forest just a mile from downtown Sitka. The cries of eagles, ravens and geer falcons greet us as we step out of the car and walk past aviaries whose inhabitants stare at us as if they could see straight into our souls.
Liz: "We see a lot of injuries that are caused directly due to the intervention of man."
Teresa: Liz Whealy, the center's director, is taking us on a tour. The center rescues and treats sick and injured birds brought here from all over Alaska and the lower 48. Over the past 18 years, the center has treated more than 1500 birds, most of them eagles.
Liz: "High voltage wires, collisions with cars, aircraft...and still today we see about ten percent of our patients due to gunshot wounds."

Teresa: "Is that right? Now it's illegal to shoot an eagle..."

Liz: "It is illegal."

Dean: "We got the whole variety pack here...we got fish heads, we got turkey, we got bear in there, we got salmon scraps."
Hal: It's dinner time for some of the patients and we've walked over to the mews where Dean, a volunteer, is feeding the eagles. We stop in front of a cage with three patients inside. Their names are Bruce, Oboe, and Mystery.
Hal: Bruce drops down from his perch, grabs a chunk of fish and stalks off with it. He is blind in one eye due to a gunshot wound, but he still manages an intimidating glare as he warns his cage mates away from his dinner. As he rips into the raw flesh, Liz tells us that these birds have 2000 pounds per square inch of power in their sharp talons, which is why Dean wears a leather coat and heavy leather gloves.
Liz: "Ripping flesh is what they do, that's kind of their job. You know they perch, they hunt, they eat, and they put more eagles into the universe."
Teresa: The goal here is to rehabilitate these birds so they can return to the wild, but some are too badly injured to fend for themselves. Liz introduces us to Volta, the most magnificent bald eagle I've ever seen. He got his name after he was retrieved from an encounter with a power cable. He can no longer fly under his own steam, but he still logs thousands of air miles a year as he travels by commercial airline, the star of the Center's educational program. Now it's time for one of his favorite activities, his daily bath, and we accompany Volta and John, an apprentice bird trainer, down to the river.
John: "Right now he's leaning a little bit out to one side, and then he's going to lean to the other side and then splash around."

Teresa: "He looks like he's washing under one wing right now."

John: (laughing) "You could say that. It's very funny."

Teresa: "Now how much does Volta weigh?"

John: "He weighs 10 pounds."

Teresa: "He looks like he would weigh much more.

John: "And if you actually put the skeleton of an eagle on one side of a scale and all the feathers on the other side, the feathers would weigh more."
Teresa: Volta spreads his wings to dry, showing off the six-foot span. I can't look at him without a jolt of gratitude. Future generations will see such magnificent creatures because of the dedication of groups like this. Liz tells me that anyone can volunteer at the Center, and many vacationers do.
Liz: "Actually, I think the involvement of all the people who make this place run really tells more about Americans -- there are so many people who help us make sure that this bird isn't endangered again. And I think that's really a story about Americans and how we approach problems."

Teresa: "This has been a wonderful day."

Liz: "It's been our pleasure."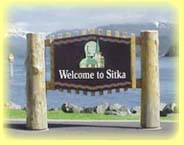 Hal: Day 10 -- Main Street, Sitka: As we wait for a taxi to the airport, a huge white cruise ship begins unloading its passengers for their few hours in Sitka. As if on cue, the shops start waking up: "Ready on the set, lights, camera -- tourists!" Two beguiling girls emerge from nowhere to greet them: Brooke Chapman, nine, takes out a concertina and props the case open on the sidewalk, tossing in a couple of dollar bills for seed; her sister, four, gets ready to sing.
Teresa: These girls are the young pioneers of Alaska, enriched by this place just as countless others have been before them. The Tlinget lived here for millennia, rich in the bounty of nature. Russians came for furs, Sourdoughs for gold, succeeding generations for everything from lumber to fish to something we now call quality of life. We've seen the consequence of increasing population at the Raptor Rehabilitation Center. And now we are here on the docks saying goodbye to this extraordinary state and listening to these bright clear voices enrich the tourists.
Hal: A fitting end to our trip, the Alaska state song, "Eight stars of gold on a field of blue. Alaska's flag to Alaskans dear. The simple flag of the last frontier.
Hal: For The Open Road, I'm Hal Cannon with Teresa Jordan for The Savvy Traveler.
Savvy Info on Sitka and its Sights: