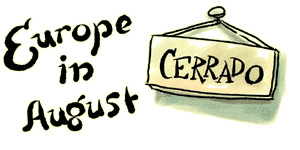 This should be a good time for Americans to take a vacation in Europe. The U.S. dollar is still fairly strong against the euro. And there are some great bargains on many of the transatlantic air routes. But there could be a bit of a problem on the other side of the Pond. Europe just might be closed. This after all is August--the month when many Europeans go on vacation. Stephen Beard investigates the Great August Shutdown.
Europe in August
by Stephen Beard
At any other time of year this street market in the 8th Arrondissement in Paris sells a mouth-watering array of produce, but not in August. Like many small businesses in the French capital, these stallholders have now shut up shop for the summer vacation.
Lenneman: "Paris and the main cities empty because the French like to take long holidays and they disappear for three or four weeks."
Esther Lenneman, a French radio journalist who grew up in Paris, says the city center may be full of tourists in August, filling the shops and the restaurants on the Champs Elysées, taking boat trips up the Seine or congregating around the Eiffel Tower, but the rest of Paris is uncharacteristically tranquil.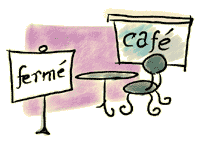 Lenneman: "In neighborhoods where people live everything's closed. You have to walk miles to find your baguette every morning. Can't find a newspaper. And even the local cafés are closed."
In the same way that U.S. pharmacists when closed will direct customers to an alternative pharmacy, Parisian bakeries in August display notices announcing that although they are closed. emergency supplies of bread are available at a neighboring establishment. In spite of such privations, however, Esther Lenneman is not deterred from visiting her native city at this time of year.
Lenneman: "It's the best time. I personally love Paris in August, when it's a bit like it used to be when I was a kid, when you can hear a few cars from time to time. You can park. You can talk to people because they are much less stressed. It's a wonderful time to go."
It's a similar story in Italy and to some extent in Spain. The natives flee the big cities - leaving the tourists room to breathe.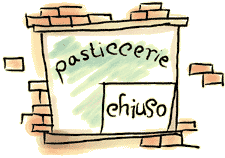 The natives, meanwhile, often head for the beaches in August. American visitors beware, says British travel writer Simon Calder.
Calder: "If you want a beach holiday in August I would say "Go to New England or Oregon or Washington. Don't go all the way to Europe. Everybody wants to get out of the city and get down to the beach which means that the beaches are fantastically crowded."
Calder has another tip for American visitors to Europe in August. If you want to travel by train, make sure you go first class. Otherwise you'll find yourself crammed into a compartment overflowing with young backpackers who've bought the special Interrail Europe-wide ticket for European students.
Calder: "August is just peak time for this trip of a lifetime. You've got one month exactly to get round as much of Europe as you can. And people just go for it. They just live on trains. Good experience if you're eighteen. Not so good if you're a forty-something American tourist wishing to enjoy Europe in some comfort."
Germany is the one European country that has got August organized. School vacations are staggered. They begin and end at different times in different parts of the country. As a result, says Thomasz Schreiber of North German Radio, August in Germany is just like any other month.
Schreiber: "In Germany it's definitely different from France or Italy because in Germany people take their holidays but they don't take them all at the same time. There is no shut down of anything in Germany. I mean, all the museums are open, the shops are open, the restaurants are open. Public transport works."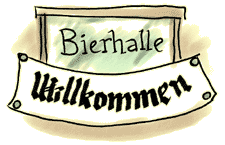 London, the number one European destination for American tourists, doesn't shut down either in August -- although this has less to do with government planning than with the profit motive. These American visitors, lining up outside Buckingham Palace to watch the changing of the guard, say the British capital is bustling and hustling at this time of year.
Tourist: "In fact on Sunday a lot was open. We were surprised to find that the sightseeing buses were going. The Tower of London was open. Everything was open. The stores were open. No problems at all."
Now they'll even be able to be troop into Buckingham Palace at $16 a head. They won't, however, get to see the queen. Every year she opens her home to the public in August, and that's when she takes her holiday.
In London, I'm Stephen Beard for The Savvy Traveler.