Wouldn't it be nice to slow down...really slow down for a while? For example, to take a leisurely ride along the Canal du Midi, a 150-mile-long man-made waterway that meanders across southern France, linking the Mediterranean and the Atlantic. The Savvy Traveler's Tom Verde spent a week last spring navigating the waters of the 17th century canal in a self-skippered rental boat.
Cruising the Canal du Midi
by Tom Verde
Of all the vehicles I've rented while traveling for business or pleasure, I've never once had to worry about falling out of one. That was until I met Vaughn Ashby.
Ashby: "If you fall in the canal, what you've got to do is simply swim towards the edge, and then you'll find you can stand waist high and just wait until people come for you."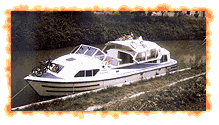 the cruiser
Ashby is a regional manager for Crown Blue Line, a British company that offers self-guided boating tours along the various canals of France, as well as Holland, Ireland and the U.S., starting at $1300 per week. An energetic man with a ready smile and willingness to please, Ashby met up with me in Beziers, 15 miles in from the mouth of canal, about half way between Marseilles and the Spanish border.
Ashby: "Now we'll get the bow line off."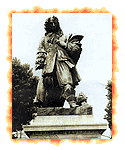 Riquet
After literally showing me the ropes of the 40-foot cabin cruiser Crown Blue Line supplied me with for the week, Ashby filled me in on Beziers and its most famous native son Pierre-Paul Riquet. A royal tax collector, Riquet also happened to be the engineering genius who designed the canal in 1663.
Ashby: "He had a dream of actually making a canal that would join the two seas, the Atlantic and the Mediterranean, and so the engineering feat in those days was quite incredible."
That's because Riquet's design called for a canal that traveled uphill to a point and then downhill the other way, like crossing a bridge, whereas most canals of the day simply descended. The point of the whole thing was to save time and avoid pirates lurking along the straits of Gibraltar, the narrow channel separating Europe from the north African coast.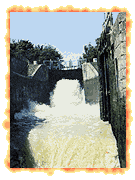 a lock
To help achieve this engineering miracle, Riquet employed the use of locks, staircase-like chambers that fill with water and raise or lower boats from one level of the canal to another. I have to admit, I was a bit nervous about navigating the locks. Prior to this trip, my maritime experience was limited to capsizing a small sailboat and tooling around in a Boston Whaler...once. I was assured by Ashby, however, that if I could drive a car, I could manage a canal boat, with a little bit of help, and maybe even make it as far as the medieval city of Carcassonne, 50 miles inland.
Luckily I had a crew on board: my more nautically adept wife, my 7-year-old son, 8-year-old nephew and my 2-year-old daughter, who didn't help much with the boat, but lost no time befriending some of the locals.
Huge barges, pulled by mules, once crowded this canal, but no more. Commercial traffic began to ebb with the coming of the railroad. Today, the Canal du Midi is primarily the domain of pleasure boaters as well as some enviable souls living on converted barges who've perfected the art of hanging out and enjoying themselves.
Perhaps it's the dappled shade of the plane trees lining the banks like snoozing sentries that puts the mind at ease...or maybe it's the canal's lazy speed limit of five knots, or six miles per hour, that ratchets the adrenaline level down to a bare minimum. Then again, the canal does cut through the sleepy villages of sunny southern France with their ancient chateaus, castles and churches...perfect for a little educational shore leave.
While the boys settled down each evening to record the day's adventures in their journals--the price they had to pay for skipping a week of school--I did as the French do, and enjoyed a glass or two of wine at a dockside café. One night, I was invited to join an outdoor game of boules, the French version of boccie ball.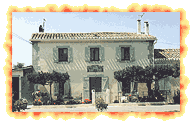 a lock keeper's home
Though my team lost, thanks to me, I'm sure, my teammates -- a trio of ruddy-faced locals -- were still good enough to buy me a beer after the game. Whoever said the French are rude to foreigners clearly never spent much time along the Canal du Midi.
Even the locks weren't so bad after all and the lock keepers were a great help. Their lives are busy ones, working the locks all day long, maintaining the machinery, caring for the canal. They live at the locks in stucco cottages, some blanketed from basement to chimney top with ivy or roses. Though the houses come with the job, the pay is minimal: 84,000 francs, or around $14,000 a year. To help make some extra cash, many lock keepers peddle homemade goods to passing boaters.
Josette: "We sell products of the region, wine from Midi, honey, even sculpture. It's a good way to make our products known to everyone."
Josette Albiges, a middle-aged mother of three, has been the keeper of the lock at Jouarres for 34 years. In that time, she's developed a deep and abiding relationship with what she calls 'her canal.'
Josette: The Canal du Midi, it's a work of art. We're very proud of it here. I love my canal. There was a time when it wasn't being maintained and there was talk of closing it. It made me sick to think that that might happen.


Carcassonne
By midweek, we managed to make it through all 33 locks between Beziers and the magnificent city of Carcassonne, the largest surviving fortified medieval town in Europe. With its crenelated walls, turrets and conical rooftops, the 55-acre citadel is straight out of a fairytale or book about knights in armor.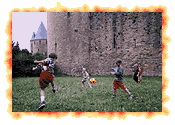 the soccer game
We took the tour, which was very interesting, but I think the most memorable part of the day was watching the boys do something kids do best, no matter where they're from...hook up with a bunch of other kids and play... in this case an impromptu game of soccer in the empty moat of the castle.
Sure, there were plenty of tense moments along the way when the children drove me nuts and I wished there was a brig on board for my wife, but hey, I dare anyone to spend a week on a boat with their family without occasionally having to ask somebody to excuse my French.
On the Canal du Midi in the south of France, I'm Tom Verde for the Savvy Traveler.
Savvy Resources for Cruising the French Canals
Crown Blue Line leases self-skippered boats throughout France, Holland, the U.S. and Germany from April through October, with prices ranging from $1300 per week to $4600 in peak season. The company's fleet consists of more than 450 cabin-cruisers in 26 different models, from 42-foot luxury vessels that will sleep up to 12 to modest 25-footers just right for two. Contact Crown Blue Line at 800-355-9394 or visit their web site at
www.crown-holidays.co.uk.

For a list of other companies leasing boats or for more information on the canals of France, contact the French government tourist office. Call their public information line at 202-659-7779 Mon-Fri., 9 a.m. to 9 p.m. Or visit their web site,
http://www.francetourism.com

Air transportation provided by Air France. For tickets, schedules, and reservations, contact Air France at 800-237-2747, or visit their web site,
http://www.airfrance.com