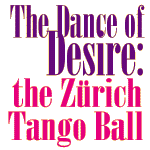 The Dance of Desire: the Zürich Tango Ball
by Rudy Maxa
Although the dance flourished in Argentina, it's believed that the tango was also inspired by African, Indian and Spanish rhythms. What developed, in the end, was what came to be considered a dance of the people, although at first only for the lower classes of people. Tango was considered obscene in its early stages.
It was the compadritos, poor, young Argentine men, who improvised the dance into existence in the late 19th century. They tangoed mostly in brothels. As a matter of fact, it's said that the dance developed as an acting out of the relationship between a prostitute and her pimp. So you can see why Argentina's high society frowned upon it...that is, until it became fashionable in Paris and London. Then, around 1913, tango became all the rage, destined for the silver screen and ballrooms around the world. And now the tango is referred to as the "dance of desire" because of its passionate embrace, sweeping movement and the serious look reflected in the dancers' eyes that displays an intense, wordless communication between partners.
You wouldn't normally expect Zürich, Switzerland to be a hotbed of tango, but for a short time this month, this Swiss financial center became the international tango capital of Europe.
As I speak, Zürich is hosting the annual "Fest Spiele," or summer arts festival. It's a time when the city comes alive in a month-long symphony of classical music, opera, and fine arts. But this year tango's been getting most of the attention. Masters from across Europe and Argentina came together for "Tangostadt Zürich." Dancers crowded the streets and music halls of the city and along the Bahnhofstrasse, the main street leading to the railway station, there was a performance on just about every corner.

Catherine Berbessou's "Quat'Zarts"
At the Corso Theatre, choreographer Catherine Berbessou's sensuous dance troupe "Quat'Zarts" of Paris performed classic and improvisational avant-garde tango creations. Berbessou seems to understand the power of this dance.
Berbessou: "More than special I will say this dance is attractive for me, more than special. Attractive because it is a couple, a couple in the middle of a crowd, in fact, and one couple dealing with themselves. And it's improvisation, there is always something to create, to discover, to...to learn. So it never stops. So this is really exciting. And also maybe special because there are a lot of emotion coming through that dance. So of course this, give passion, passion to people.
And everyone's had the chance to discover tango during the festival...inexpensive lessons made it possible to prepare for one of the largest free public events in Zürich's history -- a tango ball in the city's gigantic railway station.
Walking into the main hall of Zürich's railway station, you're struck by the immense size...like an enclosed football stadium. It's neoclassical in style, and it's lined with restaurants, cafés, and shops, with walls and archways adorned with the original gas lamps.
Picture 3,000 people filling this space, dressed in everything from t-shirts and blue jeans to traditional tango costumes -- the women wearing high-slit, sleek, brightly colored silk dresses with fishnet stockings and spiked heels, and men donned in white shirt, black tails and patent leather shoes. They danced the dance of desire, the dance of the people, long into the early morning hours.
Savvy Resources on Tango
Zürich's International Fest Spiele
http://www.zuercher-festspiele.ch

The official site of TangoStadt Zürich
http://www.tangostadt.ch/

Ballroomdancers.com, with resources and dancing lessons
http://ballroomdancers.com/

For interesting reading about the fascinating history of tango, including great photos, try the book Tango: The Dance, the Song, the Story, by Simon Colliere (Editor), Artemis Cooper, Maria Susana Azzi, and Richard Martin, published by Thames and Hudson.